2020 was a year when many milestones and celebrations had to be put on pause. For students, this meant that their graduations had to be postponed. But as the world went digital, many institutions have found ways to make the most of their virtual graduation ceremony ideas.

With the development of hosting platforms and streaming sites, many institutions were able to give their students the cap off they deserve. Today, online graduation has become a standard and more ideas have been surfacing to improve it. Remote celebrations definitely have come a long way from the usual boring streams.

If you're trying to brainstorm for ways to make your remote convocation more special, try out these simple online graduation ideas and pair it with the best graduation platform around for a truly unforgettable commencement ceremony.
Ideas For A Cool Virtual Graduation Ceremony
With VR and AR, remote participation in celebrations have become more engaging and fun. Both host and participants can add their special touches to an online event, especially with a high quality virtual event platform. Of course, having a good platform is just a part of the equation.

How do you make an online graduation ceremony more special? If you're still not sure yourself, check out these awesome virtual graduation ceremony ideas that you can try: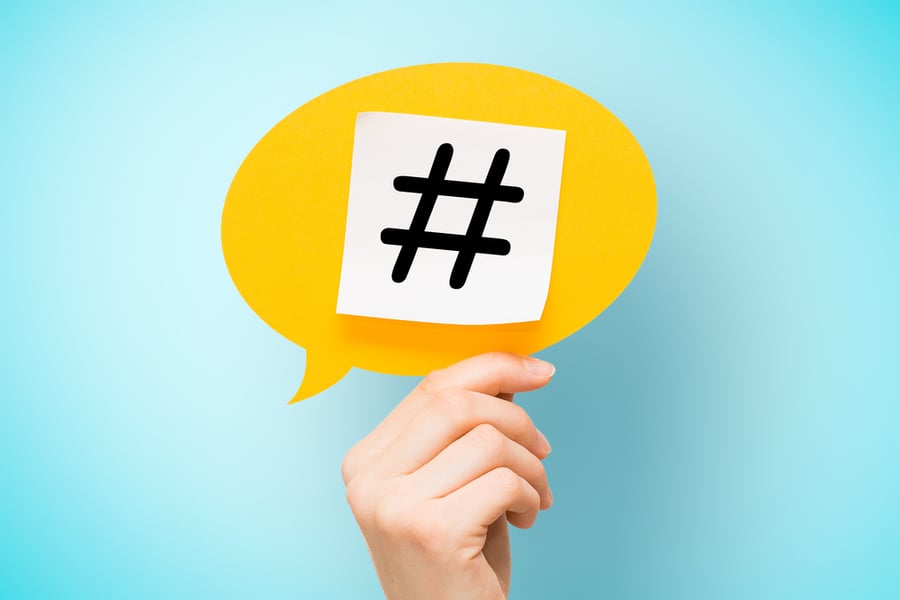 Set an Official #Graduation Hashtag
From concerts to reunions, most celebrations and events use hashtags on social media. Your online graduation ceremony is no different! Give your virtual graduation an official hashtag and see just how involved every student and their family will be.

Another huge benefit to having an official hashtag? Easier compilation! With an official hashtag, it's going to be easier for you to find relevant posts and photos and you can even create a small post-presentation with these posts.
Use an Interactive Environment
One of the reasons that virtual commencement exercises become boring is the lack of interaction. Unlike on-ground ceremonies, online graduations don't have a lot of things graduates can physically hold onto. It's very easy to zone out and get distracted.

If you're looking for ideas to keep your virtual graduation engaging, why not try using a customizable and interactive environment? Paired with a virtual event hosting software, an interactive classroom can easily transform your online commencement exercises. Select one that has engaging features, graphics, and fully customizable features so you can hold onto the graduating class's attention.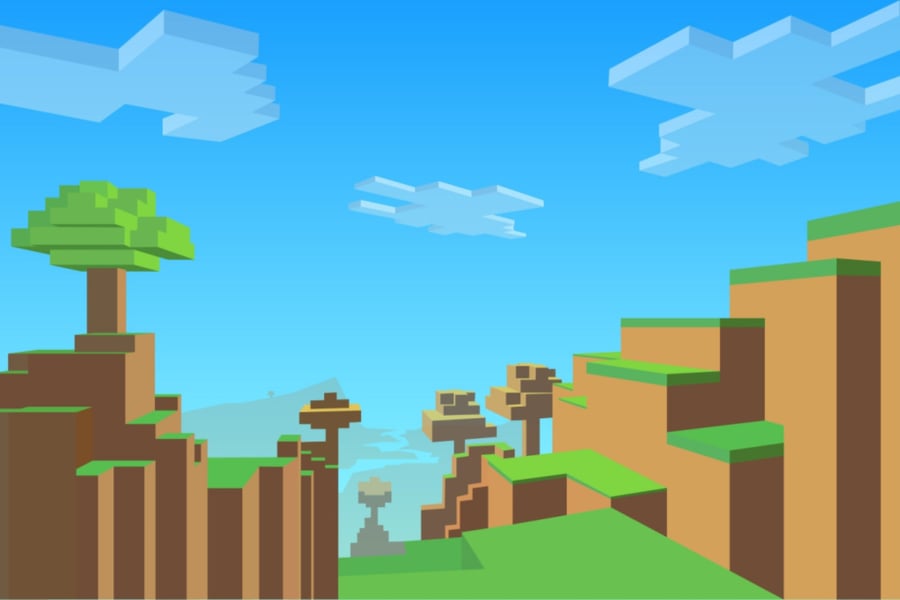 Let Design Shine
Students probably miss their schools and universities to some point. So why not bring them back to your institution's hallowed halls during graduation?

Enter Minecraft, an online game developed by Microsoft. The game has been highlighted because of its various modes, which enable its students to flex their creative muscles. During the pandemic, the game was also used as a creative means to hold two university graduations, namely: Taiwan University and University of Berkeley.

Using online games like Minecraft is a really cool virtual graduation idea. It gives your online celebration a sense of whimsy, involves creativity, and encourages interaction from participants. Of course, if not everyone is knowledgeable about Minecraft, it's also important to have an easy-to-use and reliable virtual graduation platform so everyone can see and participate in your graduation program.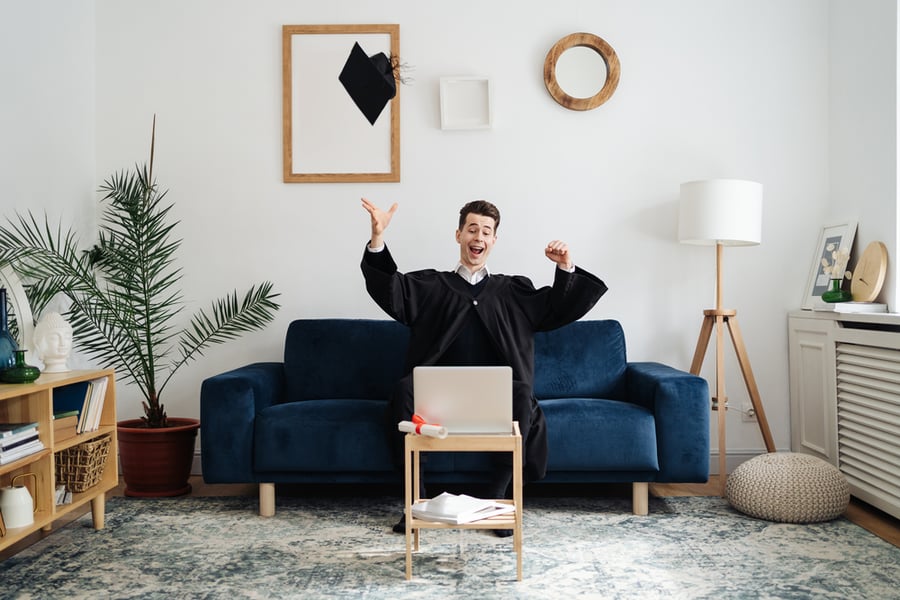 Play Interactive Games and Quizzes
Nothing brings out engagement than a little competitiveness. And if that's the case, what better way to spark up some fun than some online games?

Today, there's a variety of online games and quizzes compatible with a virtual hosting platform. See the graduating class's competitive streak and hear some laughter out loud with spirited games, like a quirky "Bring Me" or even a "Who Said What?" quiz. It's a great way to see just how much the graduating class knows each other and it fuels a spirit of camaraderie too!
Use the Chat Features of Your Online Platform
When planning virtual graduations, it might be tempting to think that the only presentations you can have are video presentations. The virtual graduation ceremony ideas we've presented above shows that that isn't the case. And while you can definitely try out the different ideas we've pitched above, there's one feature that you can absolutely utilize to your advantage.

If you're broadcasting the online event in a decent hosting platform, there is a high chance that you have an incredibly functional chat feature. Elevating online events doesn't really have to be too complicated–and one of the best and simplest ways to do it is to make the most out of built in features in your hosting platform. With the chat feature, you can prompt up conversation and get some insights on what the graduating class feels in real time.
Make Sure to Go Live
Even with a lot of interaction happening on your hosting platforms, no virtual graduation is complete without a live stream. At this point, it's one of the ideas for virtual graduation ceremonies that just stick around. More importantly, it's one way for relatives and family members to see their loved ones graduate, even if they're far away.

Make your stream viewable in both Facebook and Youtube live. Graduation ceremonies are always a point of interest, even more so with the pandemic going on. Maximize your reach and show off your talented graduates–and accomplished speakers–with a high quality livestream on social media.
Cool Ideas for Hybrid Graduation Ceremonies
With the pandemic easing up, hybrid graduations have slowly come into fashion. Essentially, these ceremonies combine online graduation ideas with face-to-face events. While hybrid events still haven't been fully fleshed out, there's enough enthusiasm and excitement in the air for many institutions and graduating classes to have some semblance of past graduations once more.
Utilizing an in-person hosting platform is quite necessary for these ceremonies, but how else can you make hybrid graduations special? Check out some of these ideas: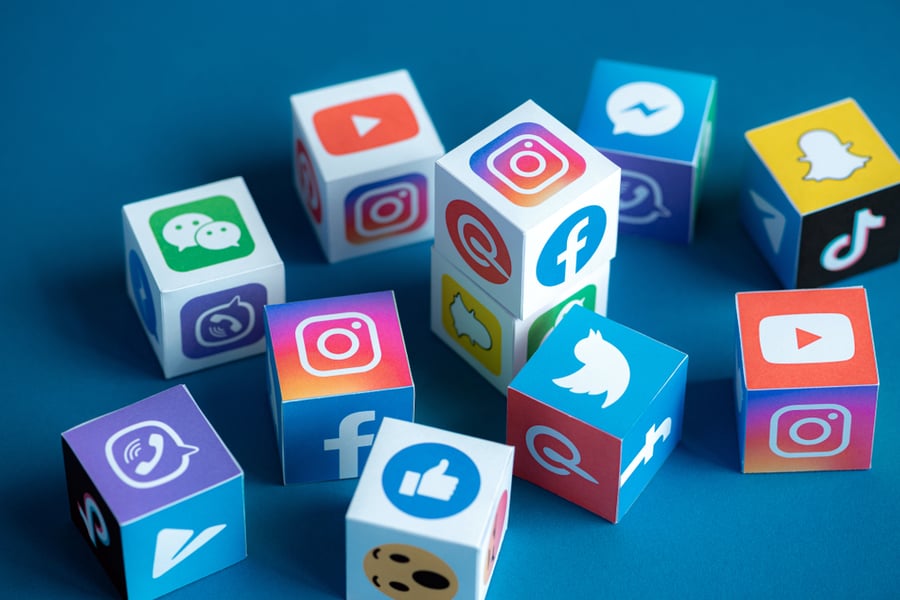 Use Social Media
Social media is an amazing behemoth and it's something any event should make the most of! Whether you're having an online graduation ceremony or a hybrid one, social media can elevate your engagement and reach like no other. Something as simple as a hashtag can do wonders for your event!

For an event like graduation, having a flurry of social media activity is always nice. Ask the graduating class to post pictures, release online announcements, stream live, and use stories! There's a lot you can do on social media that can put the graduating class in the center of attention they deserve.
Pre-record Events
Nothing is more annoying than a choppy wi-fi signal from a key person. It doesn't even matter if it's an online graduation ceremony or a face-to-face one. At the end of the day, everyone will feel an anticlimactic drop in their attention when the dreaded loading icon is seen.

While you can't do anything about wi-fi, there is something you can do to prevent such events from happening. If you're having a keynote speaker talk remotely, it might be better to ask for a video from them. This helps you control the quality of your presentation–although bear in mind that doing so might subtract a touch of personage in your ceremony.

Another thing you can record are performances. Sometimes, protocols might not allow the entire school orchestra or marching band within campus grounds. A great way to get around these complications is to get a pre-recorded performance from your performers.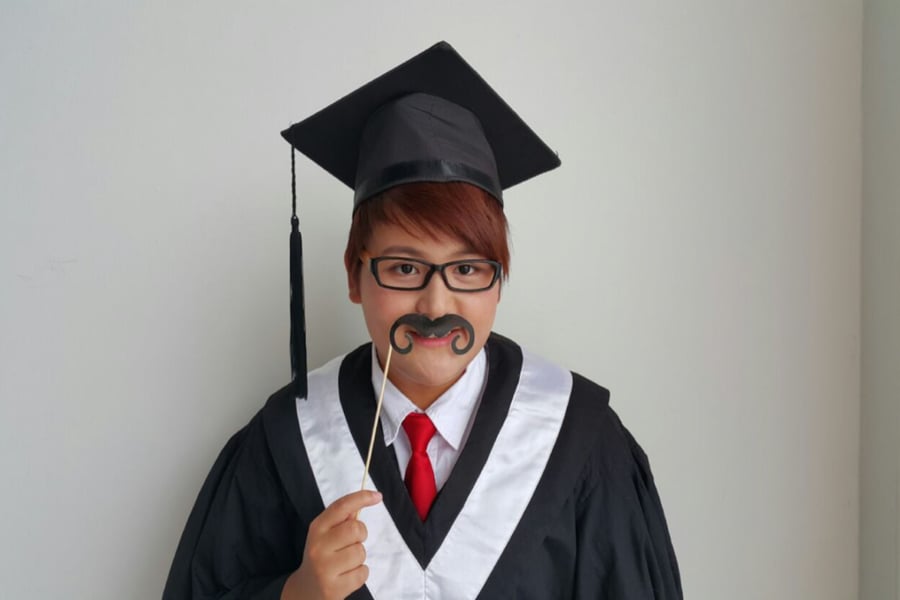 Get Online and Offline Photobooths
An event as monumental as a graduation deserves to have a lot of photos. After all, it marks the completion of education and a beginning of a new stage of life. Many graduates and their families will surely mark the day with photoshoots–but that doesn't mean your institution can't too!

A cool idea for both online and hybrid graduation ceremonies is to have a photobooth. Physical photobooths on the location can have a custom graduation background, while online photobooths can have custom frames and backgrounds. Of course, institutions, students, and their families are more than welcome to have their precious moments captured in these photos.

While photobooths aren't new, they still continue to remain in vogue. No matter what ceremony, celebration, or event you have, adding a photo booth is never a bad idea. Of course, try to keep your borders and accessories classy, minimal, and chic to keep the theme as professional and elegant as possible.
Feature a Post-event Graduation Wall
Memories become stronger when people have beautiful reminders. For a graduation, making sure that your graduating class can have something that they can look back to is essential. This is why graduation walls are a lovely idea for both virtual and offline graduation ceremonies.

Graduation walls let you add a personal touch from the students to your official activities. Once the event is over, gather photos, post, memories, and stories and categorize them on your page. From there, you can have a closer look at how events played out and genuine stories from attendees.

Since photo albums and yearbooks are becoming fewer and less popular over the years, a post-event graduation wall can be a good option for the nostalgic individuals. In fact, you can even have a theme for it. Or if you want the graduating class to be more involved, you can ask them for photos and pictures of their stay throughout the year. It truly will make a bittersweet farewell.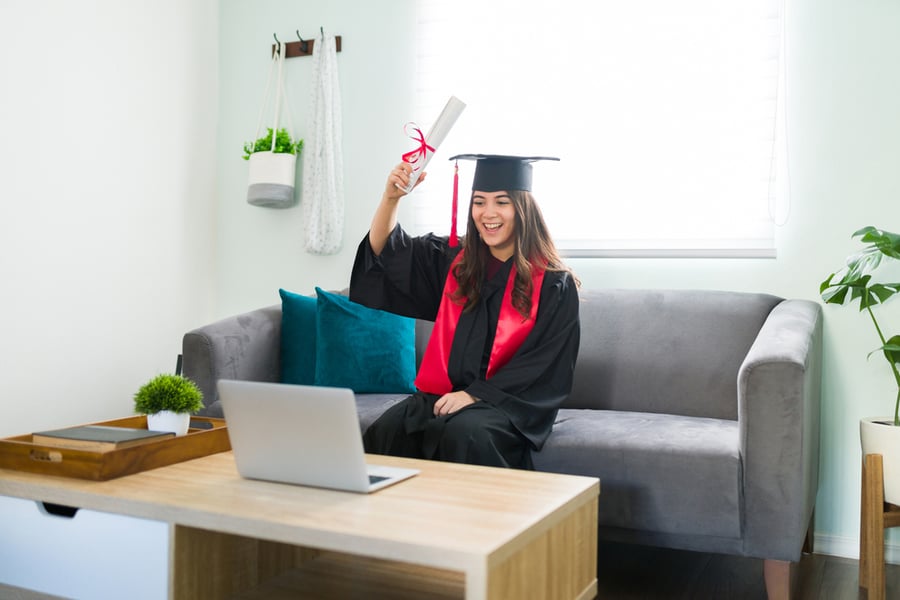 Elevate and Celebrate Your Commencement Exercise
Pandemic or no pandemic, graduations are key milestones that deserve to be celebrated with class and style. After all, you're celebrating the students' hard work and well-earned knowledge. You're also welcoming them to a brand new phase of life.

While the pandemic put a pause in these celebrations in 2020, today is a different story. Long gone are the times when graduating meant receiving an email from the school with a diploma or certificate. Now, there's absolutely no reason to make your graduating class feel anything less than special with a well-thought out online or hybrid graduation ceremony.

Whether you've chosen to go the online route or combine the past and present with a hybrid ceremony, making your graduation perfect is really important. If you're still feeling unsure about what to do, that's alright. Take some inspiration from the virtual graduation ideas from this list and find a way to make your graduating class have the celebration and commencement exercise they deserve.
Interested in our solution?
Are you looking for a great one stop hybrid event solution for your virtual, physical or hybrid events?
You may want to have a chat with our event consultant.