Event lead capture is a fundamental aspect of event marketing, acting as a bridge between event engagement and tangible business opportunities. In today's digitally-driven landscape, capturing leads at events isn't just about collecting business cards; it's about efficiently gathering potential customer data that can be nurtured into meaningful business relationships. This process plays a crucial role in maximizing the return on investment (ROI) from event participation, whether it's a trade show, conference, or corporate event. Effective lead capture strategies ensure that the valuable connections made during these events are not lost but are instead harnessed to fuel the sales pipeline. This systematization of lead data collection also paves the way for more personalized follow-ups, enhancing the potential for successful conversions.
The importance of event lead capture extends beyond mere data collection; it's about understanding attendee interests and behaviors. By leveraging advanced lead capture software, companies can gain insights into which products or sessions attracted the most attention, what queries visitors had, and even gauge their readiness to purchase or engage further. This intelligence is invaluable in tailoring future marketing strategies and product development to meet the needs and interests of the target audience. Furthermore, integrating this data with customer relationship management (CRM) systems can streamline the post-event engagement process, ensuring that leads are promptly and effectively engaged. Ultimately, the goal of event lead capture is to transform event interactions into actionable business opportunities, making it an indispensable tool in the arsenal of modern event marketers.
Benefits for Event Organizers Adopting Lead Retrieval App
Event organizers not only streamline event management and enhance attendee experiences by adopting lead capture and retrieval software, but they also unlock a new revenue stream. This advanced technology simplifies the collection and organization of attendee information, contributing to a more efficient and professional event environment. Its features, like instant badge scanning and real-time data collection, elevate the attendee experience, reflecting the event's quality and sophistication. Moreover, the valuable data insights gathered offer a wealth of information for future planning, enabling organizers to fine-tune their events based on actual attendee behaviors and preferences. An additional, notable benefit is the potential for organizers to sell software licenses to exhibitors. This not only provides exhibitors with cutting-edge tools to maximize their event participation but also creates an opportunity for event organizers to generate extra income, making the investment in such software doubly advantageous.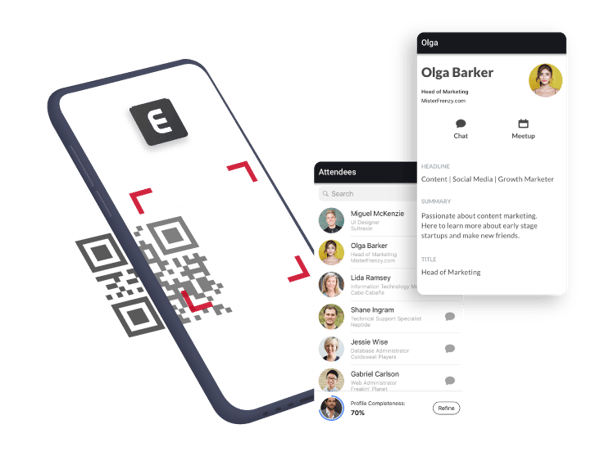 How Event Organizers Maximize Event Success with Lead Retrieval:
Adopt All-in-One Event Management Software: Choose software that provides both lead capture and retrieval functionalities, ensuring seamless integration with the attendee database. This ensures a smooth flow of information and enhances user experience.

App Availability and Compatibility: Ensure the app is accessible via App Store or Play Store. For events in China, verify the app functions well within the local internet environment, adhering to the country's specific internet policies.

Collect Valuable Attendee Information: During the registration process, gather essential information like attendees' purposes for attending, budget, and other relevant details. This data is invaluable for exhibitors in tailoring their engagement strategies.

Inform Exhibitors about Data Retrieval: Communicate to exhibitors that they can access attendee information (with consent) by scanning QR codes on attendee badges, enhancing the value of their participation.

Data Accessibility for Exhibitors: Ensure the app allows exhibitors to download attendee information or export it directly to their CRM systems for effective lead management.

Real-Time Monitoring: Implement real-time monitoring of lead capture data to ensure both exhibitors and attendees are making optimal use of the tool, thereby improving their event experience.

Training and Support for Staff: Train all staff thoroughly on the software and provide continuous support, especially to exhibitors who may be underutilizing the app.

Comprehensive Post-Event Analysis: Utilize the collected data for an in-depth post-event analysis, which is crucial for refining future event strategies and understanding attendee engagement levels.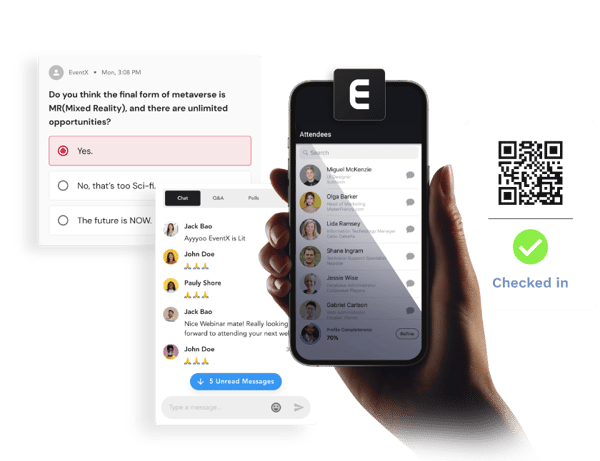 Benefits for Exhibitors Adopting Lead Capture App
Exhibitors can substantially benefit from utilizing lead capture and retrieval software at events, transforming their participation into a more fruitful experience. This technology offers a streamlined approach to managing leads, eliminating the cumbersome process of manually collecting and sorting business cards or paper forms. Instead, exhibitors can instantaneously capture and store attendee information, allowing for efficient and organized lead management. Furthermore, the software aids in better lead qualification; exhibitors can quickly identify high-potential leads based on specific interactions or attendee interests, ensuring a more targeted and effective follow-up strategy. Perhaps most significantly, this software empowers exhibitors to accurately measure their event success. They can track metrics such as the number of leads captured, attendee engagement levels, and the overall quality of interactions, providing them with tangible data to assess their ROI and refine their strategies for future events.
How Exhibitors Maximize Event Success with Lead Capture:
Pre-Event Planning: Clearly define lead capture goals, focusing on identifying target audience profiles and setting specific desired outcomes.

Engaging Content and Tactics: Develop attractive tactics like offering free souvenirs or product trials to draw and maintain attendee interest.

Effective Lead Qualification Process: Utilize the software's lead qualification feature to set custom questions, allowing for tailored lead prioritization and segmentation for efficient follow-up.

Seamless CRM Integration: Directly integrate lead capture data into CRM systems for prompt nurturing and follow-up, enhancing sales potential.

Prompt Follow-Up Strategy: Leverage the immediacy of digital lead capture for quick follow-up, capitalizing on the fresh event experience of leads.

Personalized Communication Approach: Customize follow-up communications to reflect the specific interests and interactions of each lead, fostering more meaningful connections.

ROI Measurement Tools: Employ the software's analytics capabilities to evaluate event success and calculate ROI, guiding strategy adjustments for future events.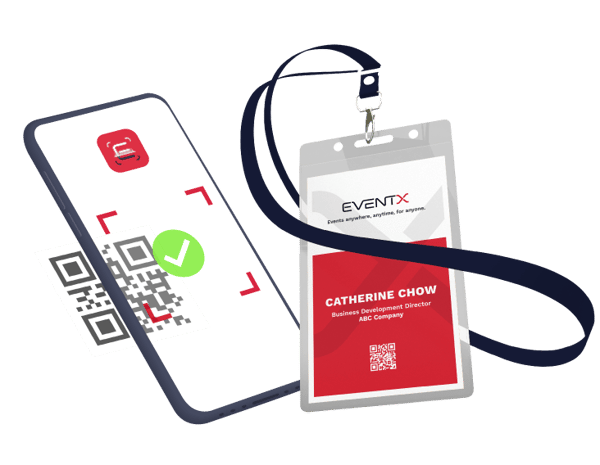 Event Lead Capture Software Key Features
The landscape of event lead capture software is diverse, offering various types with distinct functionalities to cater to different event needs. Some software focuses on basic data collection through badge scanning or business card capture, ideal for quick lead information gathering. Others integrate more advanced features like real-time lead qualification, enabling exhibitors to instantly assess the potential of a lead. Interactive software options exist as well, which engage attendees through quizzes or surveys, simultaneously capturing lead data while enhancing the attendee experience. For a more comprehensive approach, some software solutions offer full CRM integration, ensuring that lead data flows seamlessly into the exhibitor's existing sales pipelines for immediate follow-up. Additionally, there are mobile app-based solutions, providing the convenience of capturing and managing leads on-the-go. Each type of software is designed with specific event scenarios in mind, allowing exhibitors and organizers to choose a solution that best fits their unique event objectives and attendee engagement strategies.
Effective lead capture software is characterized by a set of essential features that enhance its efficiency and impact. Here are the key features:
Real-Time Data Access: Capability for immediate data retrieval and analysis.

Integration with CRM Systems: Seamless integration with existing CRM platforms for streamlined lead management.

Customization Options: Flexibility to tailor data fields and capture forms to specific event needs.

Lead Qualification Tools: Features for scoring and qualifying leads on-site, aiding in prioritization.

Reporting and Analytics: Comprehensive analytics for post-event evaluation and strategy refinement.

Mobile Compatibility: Mobile app support for on-the-go access and management.

Data Security: Robust security protocols to protect sensitive attendee information.

Automated Follow-Up: Tools for automating initial follow-up communications with leads.
Best 6 Lead Capture and Badge Scanner Apps
EventX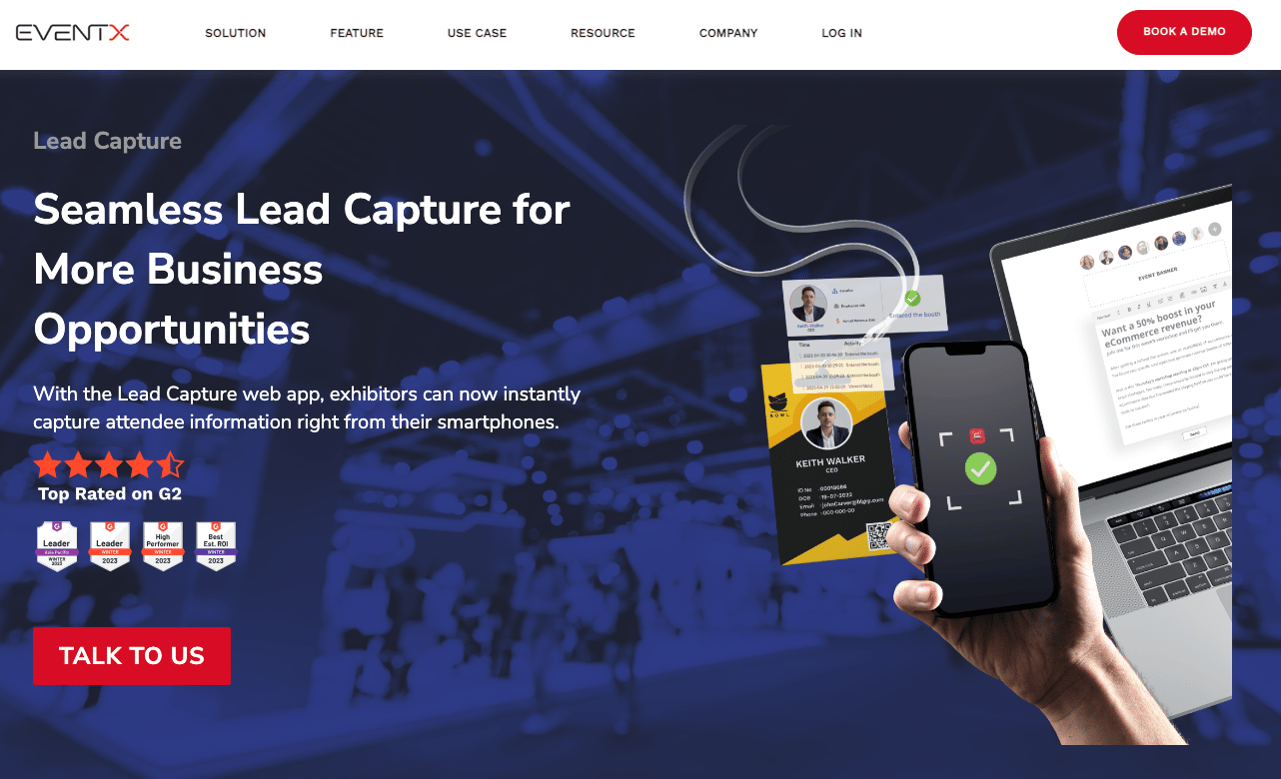 EventX, a prominent player in the event technology landscape, specializes in offering innovative solutions designed to revolutionize how events are managed and experienced. Known for its comprehensive suite of tools that cater to various aspects of event management, EventX has established itself as a go-to platform for event organizers globally. At the core of its offerings is the lead retrieval app, a powerful feature that streamlines attendee engagement and data collection, thereby enhancing the overall efficiency and effectiveness of events.
Key Features
QR Code and Badge ID Scanning:

Enables scanning of QR codes on badges or business cards using smartphones for instant attendee information capture​​​​​​.

Business Card Scanning with OCR Technology:

Utilizes OCR technology for comprehensive business card scanning​​​​.




Custom Question Creation:

Team leaders can set custom questions for Lead Capture team users to fill in as they engage with leads, creating a more tailored lead capturing experience​​.

Event Reporting and Dashboard:

Features a dashboard showing leads collected by each team member or sales rep in a specific event​​.

Contact Synchronization and CRM Integration:

Offers seamless integration with sales and marketing databases and CRM systems​​​​.

Exporting Lead Capture List:

Enables easy export of lead capture lists to email or CRM systems for efficient data utilization​​.

Data Protection and GDPR Compliance:

Adheres to the EU's General Data Protection Regulation, ensuring data security and privacy​​​​.
Pricing Modal
Free version of lead retrieval app.

Flexible pricing structure to cater to various event sizes and requirements
Rating and User Feedback:
4.9

out of

5

on G2 (

123 Reviews

) (Last updated in Dec 2023)

92% of its users giving it a full 5-star score. This rating suggests a high level of quality, reliability, and user satisfaction with the platform as a whole

Available in App Store and Play Store.
Webex Events (formerly Socio)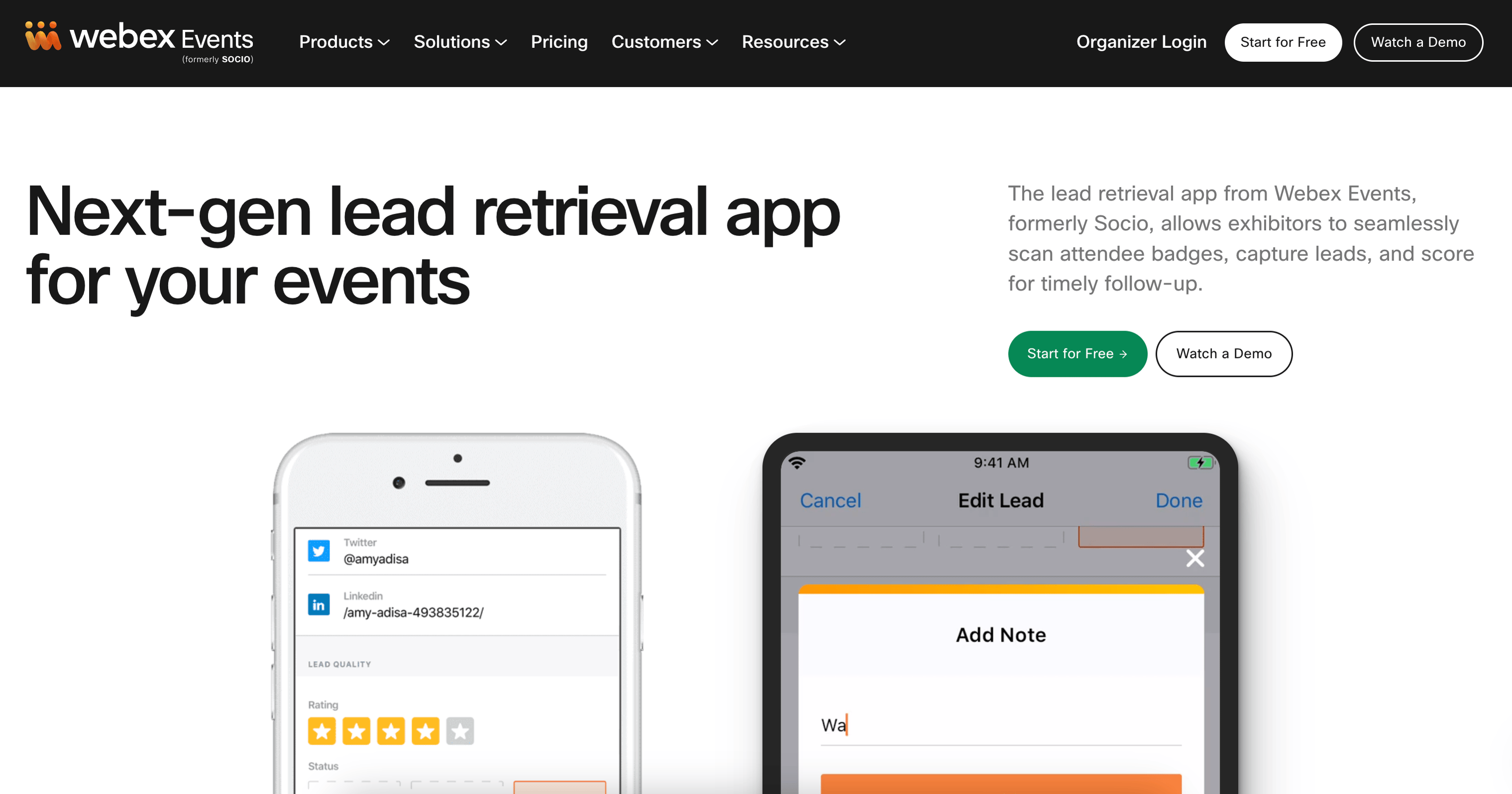 Webex Events, previously known as Socio, stands as a dynamic and versatile player in the event management technology sector. This platform has made a significant mark by offering a comprehensive suite of tools designed to enhance the organization and execution of both physical and virtual events. Known for its user-friendly interface and robust features, Webex Events caters to a diverse range of needs, from small gatherings to large-scale conferences. At the heart of its offerings is the lead retrieval app, a feature that streamlines the process of capturing and managing leads, thereby playing a crucial role in maximizing the return on investment for event organizers and exhibitors alike. This overview sets the stage for a deeper examination of the specific functionalities and benefits of Webex Events' lead retrieval app.
Key Features
Lead Prioritization and Qualification:

The app allows booth teams to qualify and rate leads directly within the app, streamlining the lead management process, especially critical at trade shows and roadshows​.

Collaboration and Personalization:

Exhibitor teams can collaborate on leads by adding notes visible to all team members. Duplicate scans of attendee badges provide additional opportunities rather than redundancies, personalizing the journey for each attendee met

Simplified Purchasing Process

:

Exhibitors can directly purchase licenses for their booth team and download the lead retrieval app without intermediaries

Instant CRM Reporting:

The app allows for personalization of the checkout experience and deeper insights by collecting the most relevant data and capturing it in the event platform​
Pricing Modal
Lead Retrieval License

: For exhibitors, the lead retrieval feature is priced at $200 per license. This feature allows exhibitors to capture, organize, and track leads effectively
Rating and User Feedback:
The app has a rating of 4.1 out of 5 stars on the App Store. (Last updated in Dec 2023)

Users have praised its self-service, intuitive nature, and the smooth scan experience.
iCapture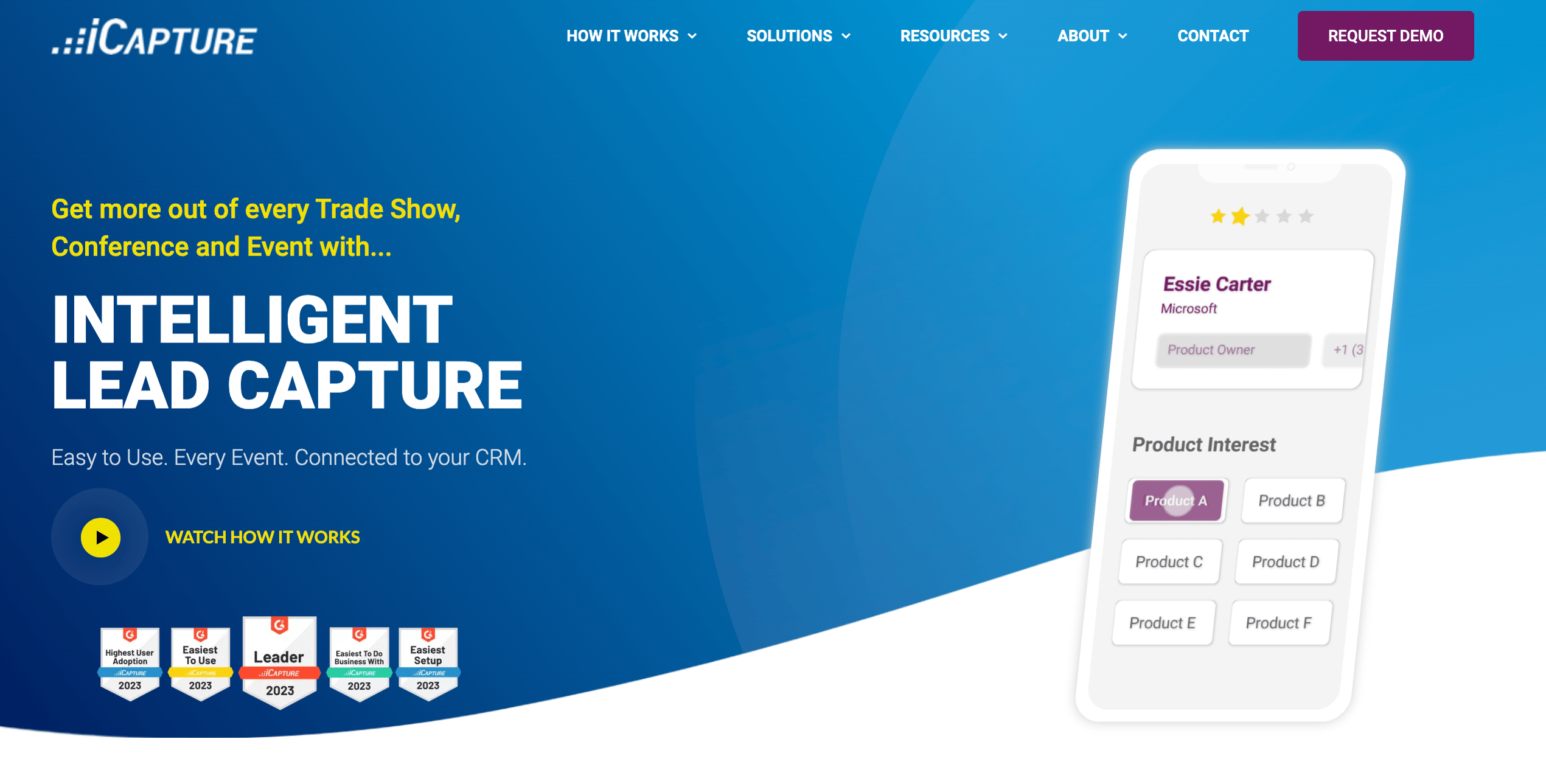 iCapture, a notable player in the field of digital lead capture and data management, provides a comprehensive suite of solutions that cater primarily to the needs of trade shows, events, and conferences. At the heart of its offerings is the iCapture Lead Retrieval app, a cutting-edge tool designed to transform the way businesses gather and manage lead information. Moving away from traditional and often cumbersome methods such as collecting business cards or using paper forms, the app introduces a more efficient and digital approach. Users can effortlessly collect vital lead data using the app, significantly enhancing the quality and speed of data acquisition. What sets iCapture apart is its seamless integration with a wide array of CRM and marketing automation tools. This integration not only ensures that the captured data is easily accessible but also greatly streamlines the entire lead management process. Businesses using iCapture can thus expect a more organized, efficient, and effective approach to handling event-based leads, paving the way for improved engagement and conversion rates.
Key Features
Customizable Data Fields:

Offers the ability to customize data fields to collect specific information from leads.

QR Code and Barcode Scanning:

Includes capabilities for scanning QR codes and barcodes for easy data collection.

Integration with CRM and Marketing Tools:

Seamlessly integrates with various CRM systems and marketing automation tools.

Lead Qualification Features

:

Allows users to qualify leads during the data capture process for targeted follow-up.

Offline Functionality:

Operates effectively even without an internet connection, ensuring data collection is uninterrupted.
Pricing Modal
Annual Service Agreement: iCapture is available with an annual service agreement.
Starting Price: The pricing for iCapture starts at $8,000.
Rating and User Feedback:
4.8

out of

5

on G2 (

81 Reviews

) (Last updated in Dec 2023)

There is a general sense of satisfaction with iCapture's Lead Retrieval app, with users appreciating its functionality and ease of use.
Eventleaf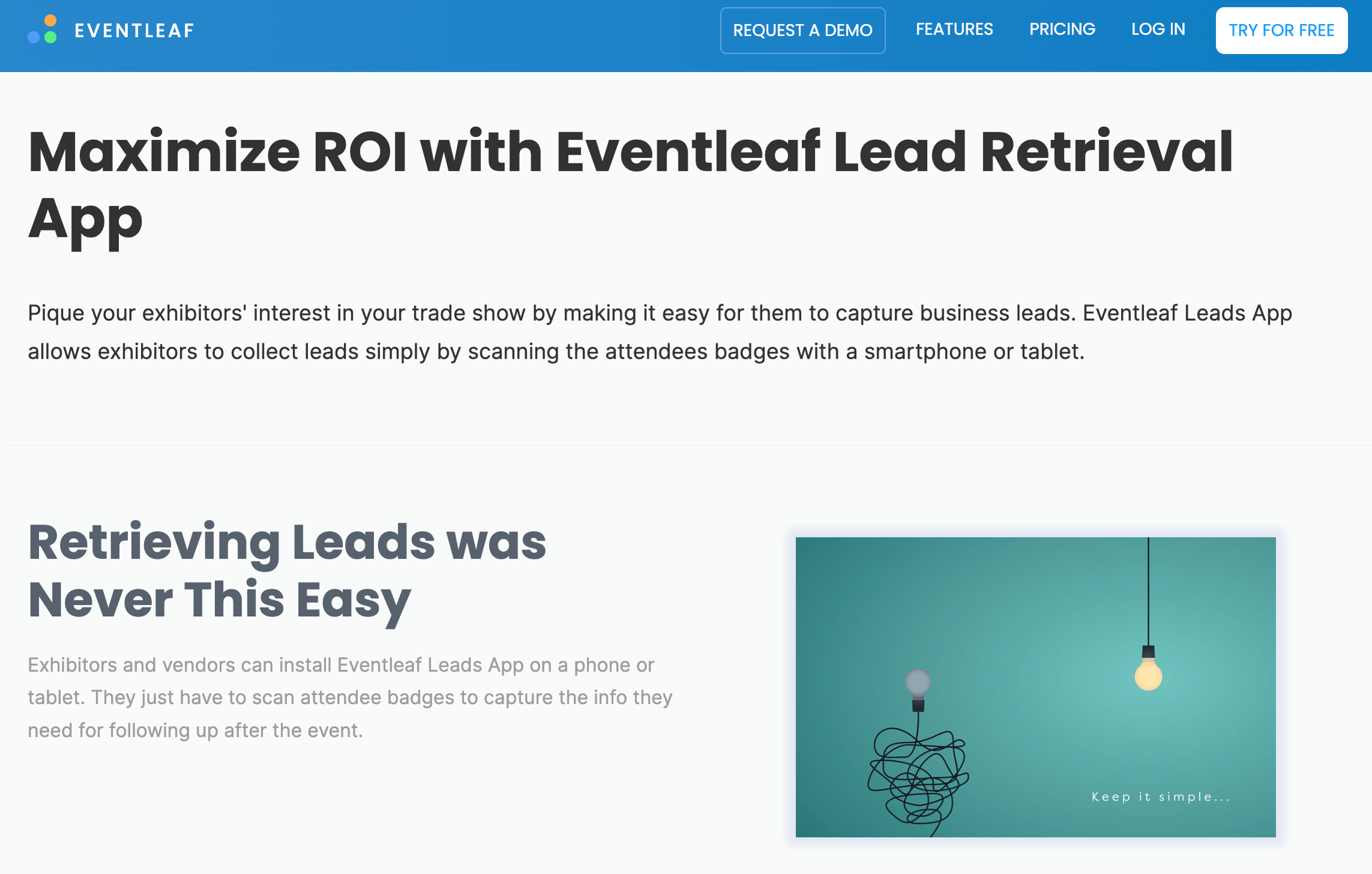 Eventleaf, developed by Jolly Technologies Inc., is a distinguished provider of software for event and visitor management. Based in San Mateo, California, Jolly Technologies is known for its desktop and cloud-based solutions that empower events and facilities teams to offer a frictionless user experience. Jolly Technologies has a broad client base of over 30,000 corporate clients and more than 1,000,000 corporate users worldwide. Eventleaf's Lead Retrieval app, a key component of Eventleaf's all-in-one event management system, revolutionizes lead capture at trade shows and events. With capabilities like scanning attendee badges via smartphone or tablet, and offering over 20 languages, it simplifies and personalizes the process of lead collection and management.
Key Features
Easy Lead Retrieval:

Exhibitors can collect leads simply by scanning attendee badges using a smartphone or tablet​.

Lead Rating and Export:

Leads can be rated based on the attendee's interest, and detailed notes can be added. These leads can then be exported as CSV or Excel files for use in marketing campaigns​.

Multilingual Support:

The app supports over 20 languages, including English, Arabic, Chinese, and Hindi, among others, facilitating a localized user experience​.

Event Management Integration:

The lead retrieval app is a component of Eventleaf's all-in-one event management system, which includes other tools like the Eventleaf Guide App and Check-In App
Pricing Modal
The available pricing information pertains to the Eventleaf event management platform as a whole.

Lead retrieval app is under Ultimate Plan (Custom Pricing), the price for this plan is available upon request.
Rating and User Feedback:
4.7

out of

5

on G2 (

63 Reviews

) (Last updated in Dec 2023)
LeadCapture by Cvent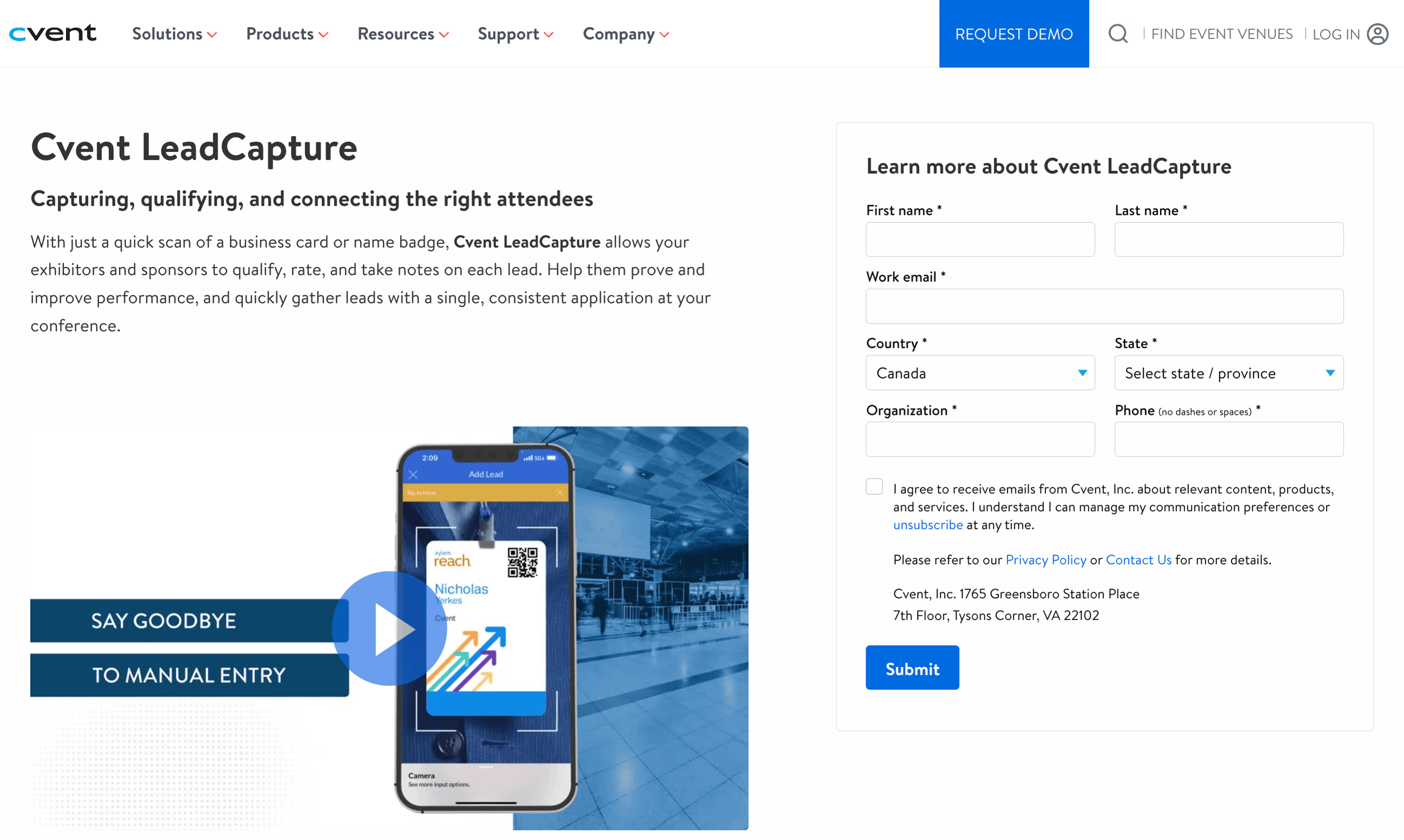 Cvent, established in 1999 by Reggie Aggarwal, swiftly evolved from a small startup focusing on event registration to a prominent player in event management technology. Despite early challenges, including the dot-com bubble burst, Cvent persevered and became profitable by 2004. Their growth trajectory included significant expansions and acquisitions, notably the development of advanced technologies like the LeadCapture app. This app, a part of Cvent's extensive suite, exemplifies their commitment to streamlining event processes. Acquired by Vista Equity Partners in 2016 for $1.65 billion and recently agreeing to a $4.6 billion deal with Blackstone Inc., Cvent's journey underscores their innovation and leadership in the event technology sector.
Key Features
Quick Scanning:

Enables quick scanning of business cards or name badges to capture lead details​

.

Lead Capture

:

Facilitates the capture of leads easily and efficiently​

.

Real-Time Lead Qualification:

Allows for on-the-spot qualification of leads​.

Custom Qualification Process:

Offers a customizable process for qualifying leads​.

On-Demand Lead Export:

Leads can be exported as needed

Onsite Lead Management:

Digitally captures and qualifies leads on the show floor, allowing for better sales qualification​.

Detailed Information for Sales Follow-Up:

Provides detailed information to prioritize leads effectively
Pricing Modal
Customized Pricing

: Cvent's pricing is tailored to individual event needs, sizes, and scales, covering everything from single events to comprehensive event programs.

Event-Specific Packages: Pricing for 1-5 events or a specific event type (like roadshows or trade shows) includes services like event registration, check-in, badging, and mobile event apps.
Rating and User Feedback:
The app has a rating of 4.4 out of 5 on the App Store, based on 113 ratings, indicating generally positive user satisfaction
Hubilo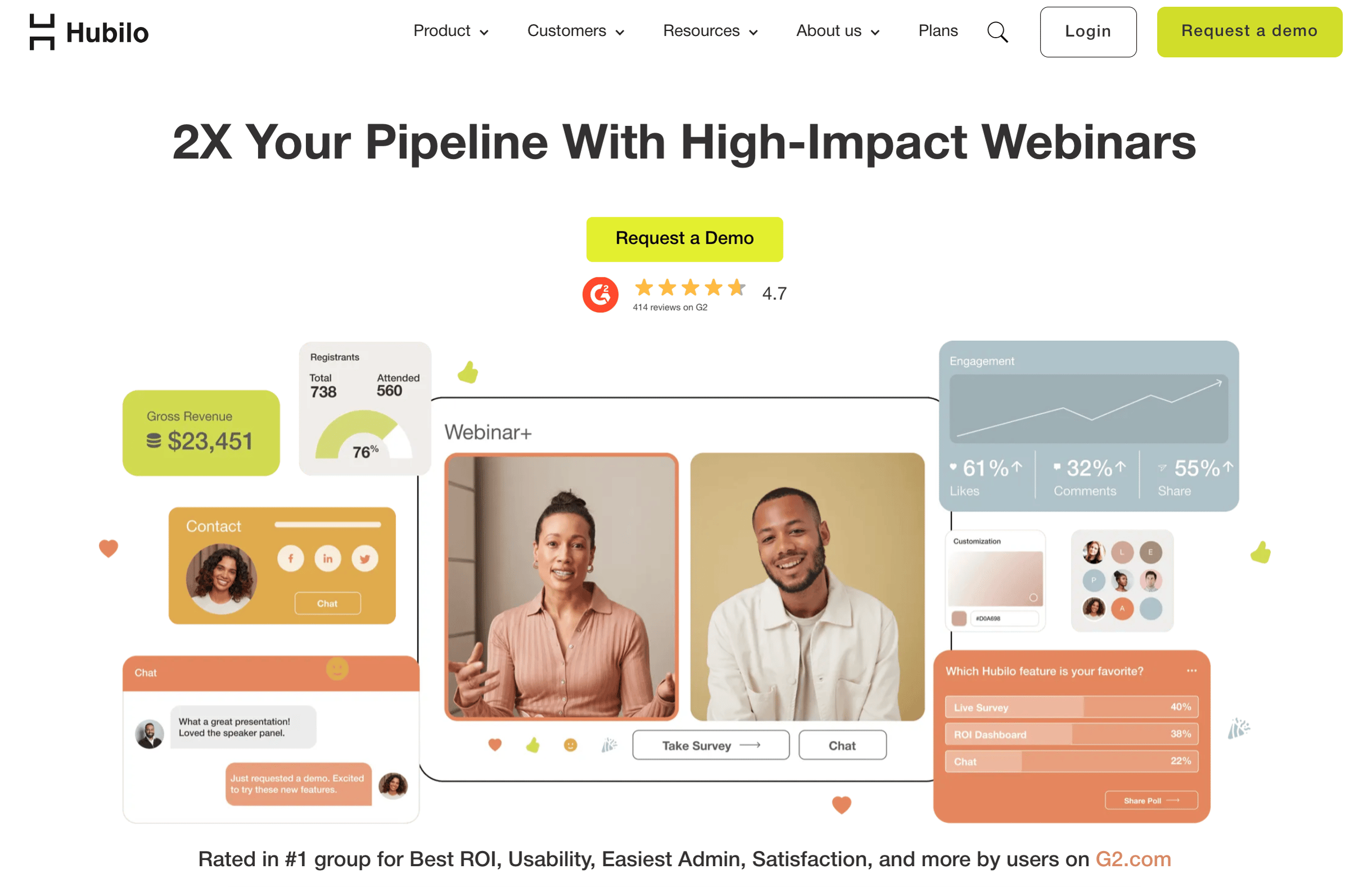 Hubilo Technologies Inc., founded in 2015, is a pioneering force in the realm of virtual and hybrid event management. With its headquarters nestled in the bustling hub of San Francisco, California, United States, Hubilo has carved a unique niche in the event technology sector. Hubilo stands out as a versatile software platform that seamlessly merges experience and intelligence. It excels in hosting interactive online events, offering a global connectivity platform that brings together attendees from various corners of the world. This transformation from a small-scale college festival platform to a global leader in event management software underscores Hubilo's innovative spirit and commitment to excellence in the event technology domain.
Key Features
Availability in Hybrid Events

The lead retrieval feature is integral to all of Hubilo's hybrid events​.

Exhibitor App Functionality

Onsite exhibitors can log into the app as booth members and access the 'Scan Leads' option to scan attendee QR codes​.

Attendee Categorization and Rating

The app allows exhibitors to categorize, rate attendees, and take notes as required​.

Dashboard Features

Exhibitor dashboards capture attendee profiles and include Virtual Business Cards, Dropped Attendees, and Engaged Attendees (both Virtual and Onsite)​.

Analytics and Reporting

User data from scanned leads onsite is available in virtual booth analytics reports. Both booth members and event admins can download these analytics reports​.

Booth Member Tracking in Reports

The engagement report includes details about the booth member who interacted with each attendee, but this is limited to onsite attendees only​.

Simplified Lead Management

The app simplifies the task of event organizers by allowing them to filter relevant leads for future business relations and manage the lead database, which can be downloaded as a CSV file.
Rating and User Feedback:
4.6

out of

5

on G2 (

435 Reviews

) (Last updated in Dec 2023)

User generally appreciated the user-friendly graphics and the convenience for attendees.

Users praised the platform's robustness, ease of learning, continuous improvement, and excellent client experience.
Aligning Event Goals with Lead Capture Software
In the diverse world of event planning, understanding that different events have varying core objectives is crucial when selecting an Lead Retrieval App. The saying "not a one-size-fits-all" holds particularly true in this domain. To further explore what kind of badge scanning tools would be the most suitable for your specific event needs, feel free to chat with our consultants who are ready to provide tailored advice and insights.
Interested in our solution?
Are you looking for a great one stop hybrid event solution for your virtual, physical or hybrid events?
You may want to have a chat with our event consultant.