In today's fast-paced event planning world, event management software has evolved from a luxury to a necessity. This technology is pivotal for efficiently and creatively organizing a wide range of events, from corporate conferences to school job fairs. It has transformed event planning in the digital age, replacing outdated methods like spreadsheets and extensive emails with streamlined processes for registration, scheduling, marketing, and engaging attendees. These tools not only simplify logistics but also enhance the overall event experience. The market offers diverse software options, catering to every type of event, whether it's a small community event or a large international conference. This range of software provides all-in-one solutions and specialized tools, ensuring there's a perfect fit for every event planner's needs.
What is Event Management Software?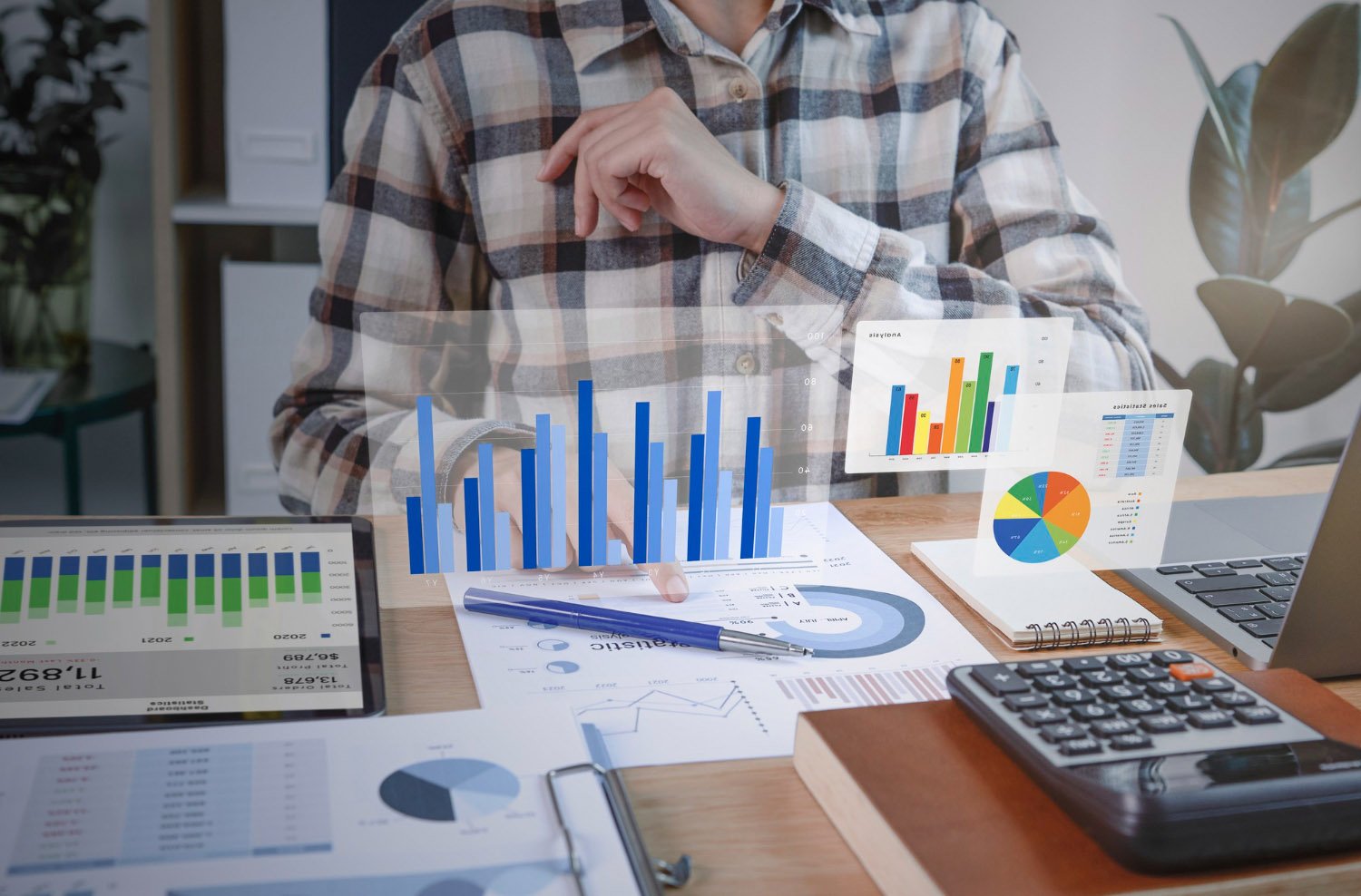 Event management software is a transformative digital tool in event planning, streamlining tasks from planning to execution. This software automates crucial aspects like registration, ticketing, attendance tracking, scheduling, and reporting, freeing planners to focus on creative and strategic elements. It enhances attendee engagement through features like event apps, interactive schedules, and real-time notifications. For virtual or hybrid events, it offers video conferencing and virtual networking capabilities. Adaptable for events of all sizes, this software provides valuable analytics for continuous improvement. Its integrated marketing tools also help in creating effective campaigns, broadening event reach and impact.
Key Features of Event Management Platform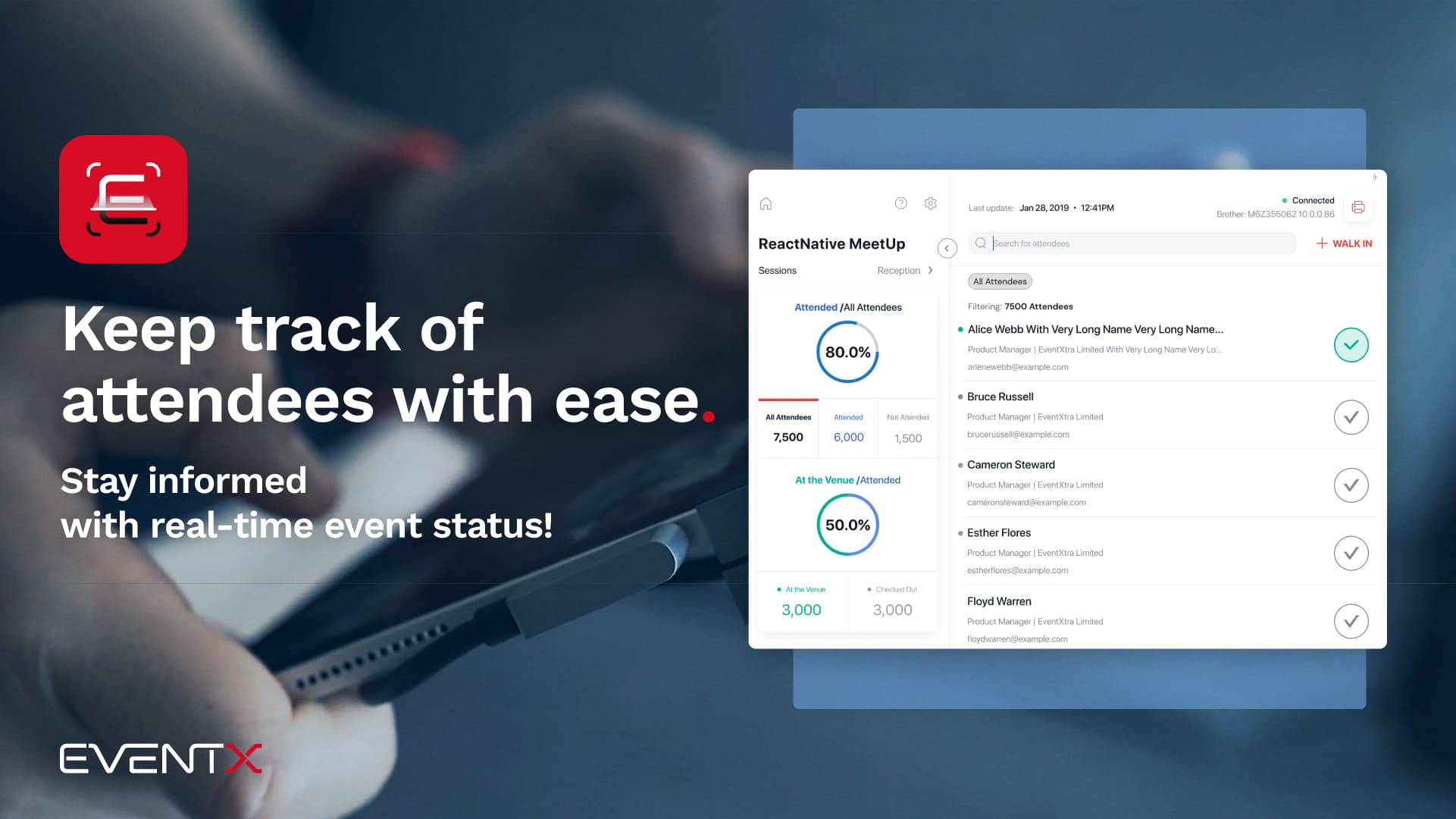 Selecting the right event management software requires an understanding of key features that can make or break the success of an event. When navigating through the plethora of options available, certain fundamental features stand out as essential for effective event management.
Project Management Capabilities

A cornerstone of any event management software is its ability to streamline the entire lifecycle of an event. This includes tools for task delegation, timeline creation, and progress tracking. An ideal software should provide a comprehensive platform where all elements of the event – from initial planning to final execution – are seamlessly integrated and easily accessible.

Registration and Ticketing

Efficient management of attendee registration and ticketing is crucial. The software should offer a user-friendly interface for attendees to register, select sessions, and make payments. Features like customizable registration forms, automated confirmation emails, and easy payment processing are vital for a smooth registration experience.

Marketing and Promotion

In the digital age, the ability to effectively market an event is paramount. Look for software that supports event promotion through email campaigns, social media integration, and targeted communications. Tools that enable personalized messaging and track marketing campaign performance can significantly boost event attend

ance and engagement.

Event Check-in System

Advanced

systems often feature digital solutions like QR code scanning, ensuring quick and accurate processing. Real-time updates to attendee data during check-in can offer valuable insights and assist in session tracking. Enhanced security measures, such as identity verification and controlled access, can be integrated into the system.

Attendee

Engagement

and Interaction

Enhancing attendee engagement is a key objective of modern event management. Event App with features like live polling, Q&A sessions, networking opportunities, and interactive agendas can greatly enrich the attendee experience.

Data Analytics and

Reporting

Post-event analysis is critical for measuring success and planning future events. Robust event management software should offer comprehensive analytics and reporting capabilities, enabling organizers to gain insights into attendee behavior, financial performance, and overall event impact.

Integration and Scalability

The software should integrate smoothly with other tools like CRM systems, payment gateways, and social media platforms. Additionally, scalability is essential; the software must be able to accommodate varying event sizes and complexities without compromising performance.
Different Types of Event Management Software
Event management software varies widely to cater to different aspects of event planning and execution. Here's a breakdown:
All-in-One Event Management Software: These comprehensive platforms cover all aspects of event planning, including registration, scheduling, marketing, attendee engagement, and reporting. Ideal for a unified approach to diverse event requirements.

Event Scheduling and Organization Tools: These tools aid in planning and coordination, offering floor plan design, guest list management, timeline creation, and real-time collaboration. They are essential for detailed event structuring.

Event Promotion and Social Media Tools: Specializing in marketing, these tools help schedule content, engage audiences, and monitor campaign effectiveness. They are crucial for increasing event visibility and reach.

Event Registration Software: Focused on the registration process, these solutions streamline sign-ups, ticketing, and payment processing, featuring customizable forms and automated confirmations. They ensure a smooth registration experience.

Event Apps: Mobile app solutions enhance attendee engagement with features like event agendas, networking opportunities, and real-time notifications. They are perfect for interactive attendee experiences and on-the-go management.
Each type of software provides unique functionalities for various event planning needs. Whether you need an all-encompassing solution or specialized tools for specific aspects like scheduling, marketing, or attendee engagement, there's software tailored to meet those specific requirements.
Choosing the Right Event Management Software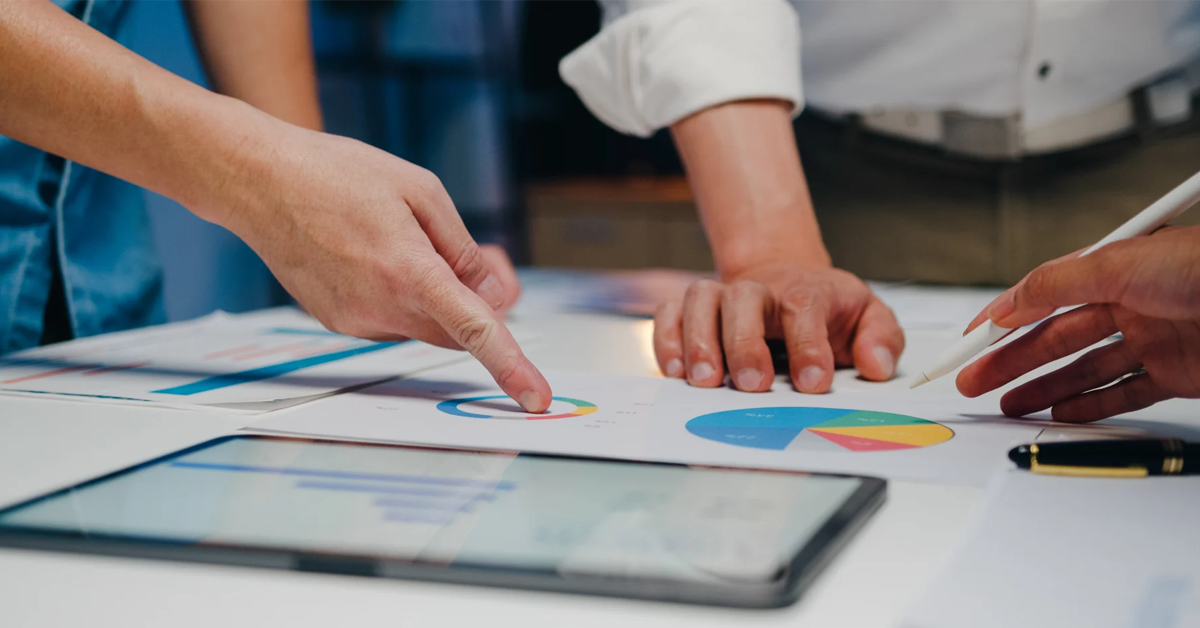 Selecting the ideal event management software for your needs involves several key considerations. Here's how to navigate this decision:
Company Location and Global Presence:

Investigate the software company's headquarters and the extent of their global operations. Companies with a wider international presence are more likely to offer support across various time zones and have a deeper understanding of diverse cultural dynamics, crucial for international events or specific regional needs.

Assess Your Event Needs:

Clearly define the scope and type of your event. Whether it's a large-scale conference or a small workshop, identify essential requirements like attendee management, event promotion, and reporting. Understanding these needs will guide you to software that aligns with your event's specific demands.

Evaluate User Experience:

A user-friendly interface is vital for both organizers and attendees. Opt for software that offers an intuitive design and ease of navigation. The user experience directly impacts the efficiency of event planning and the satisfaction of participants.

Read Reviews and Testimonials:

Spend time reading reviews from other users, especially those who have hosted similar events. Websites like G2 or Capterra, along with social media platforms, can provide valuable insights into the software's performance and reliability.

Customer Support:

Consider the level of customer support provided. Reliable and accessible customer service is crucial for troubleshooting and ensuring your event runs smoothly. Look for companies that offer comprehensive support, including online resources, live chat, and phone support.

Security and Compliance:

Prioritize the security features and compliance standards of the software, especially in handling sensitive attendee data. Ensure the software adheres to industry regulations and data protection laws to maintain the privacy and security of your event data.
By carefully evaluating these aspects, you can choose event management software that not only meets your specific requirements but also contributes to the overall success of your event.
All-in-One Event Management Software Options
EventX, founded in 2013 as Eventxtra Limited, is strategically headquartered in Hong Kong, China. As a company focused on the Asia-Pacific region, EventX specializes in SaaS-based event lead generation and management solutions, catering to the needs of businesses, marketers, and event organizers. The company has achieved a substantial global footprint, serving enterprises in over 100 cities and managing events for more than 5 million attendees worldwide. With an operational team of 100+ employees, EventX maintains a significant presence across multiple Asian locations, including Hong Kong, Singapore, Japan, South Korea, and Taiwan, reflecting its expansive growth and commitment to delivering comprehensive event management solutions in the region.
EventX emerges as a leading name in the event management software arena, offering a robust full-stack package designed to cater to every facet of event planning. Their platform stands out for its user-friendly interface that allows for seamless editing of event registration pages and webinar content, all without the need for any coding expertise. This ease of use extends to the creation of customized registration forms and the ability to showcase speaker profiles, enhancing attendee engagement and simplification of the event management process. Their commitment to providing an all-in-one solution is reflected in their stable and secure platform, priced competitively to ensure accessibility. EventX has garnered recognition as an award-winning virtual event SaaS platform, particularly noted for delivering intelligent event management solutions tailored to both virtual events and hybrid events.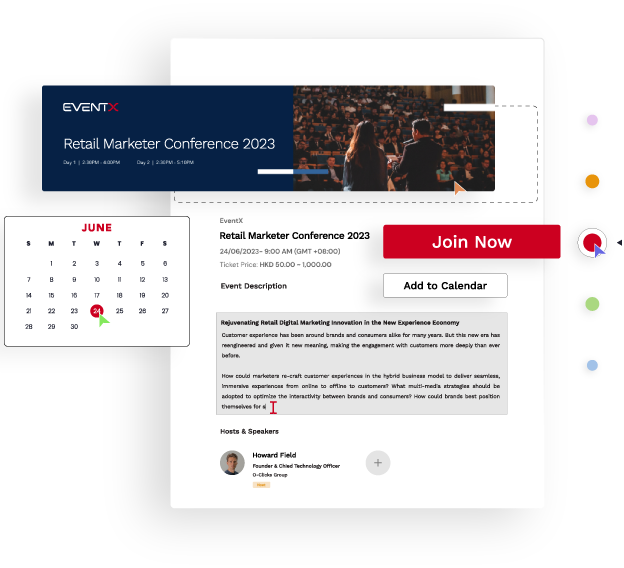 Standout

Features & Service
Streamlined Contact Collection

Set up online forms to collect contacts effortlessly, manage delegate statuses, and communicate via Email and SMS​.

Real-time Engagement

Post-Event Analysis

Assess event success with detailed analytics, report generation, and in-depth delegate surveys​.

China Network Accessibility

Offers virtual event accessibility in China without the need for VPNs, enhancing business outreach​.

Data Security

Asia-based event management platform with ISO 27001 certification, ensuring data security through SSL encryption​.

Lead Acquisition

Access to a living database with over 113 million contacts for high-quality lead generation at a low cost.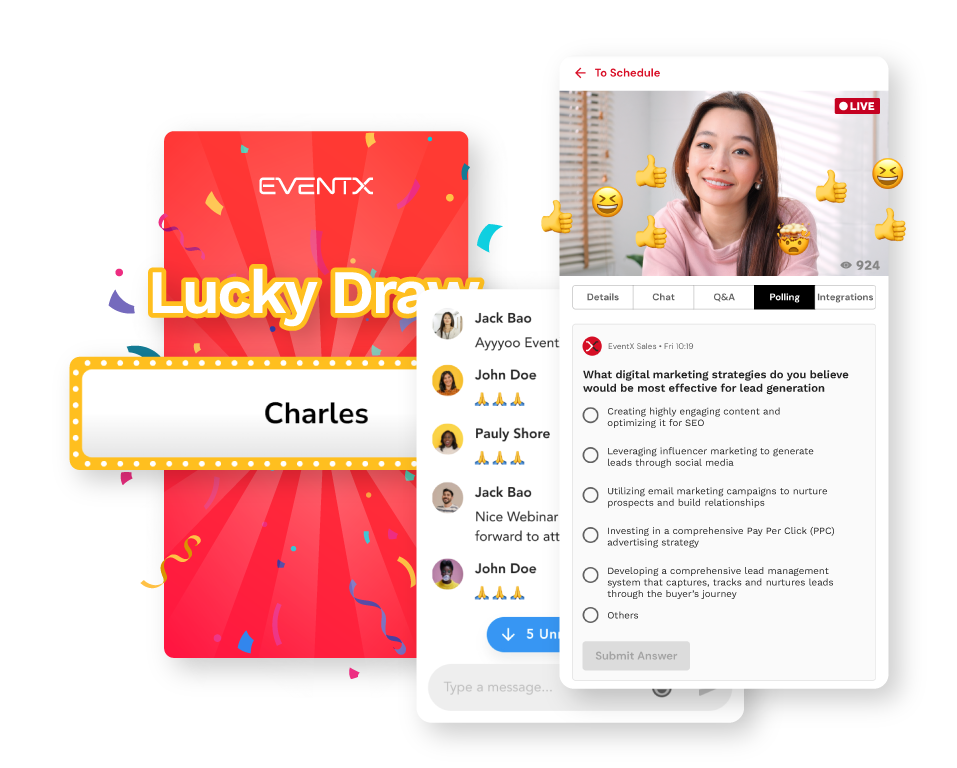 Pricing Modal
Freemium Model:

EventX offers a free sign-up option for small events, providing a taste of their services with EventX Lite.

Tiered Plans:

For medium and large events, EventX Pro and Virtual Event & Expo plans are available, with pricing details accessible upon contacting sales​.

Attendee Limits:

The plans accommodate varying attendee limits, from 100 for small events to unlimited for large events
Rating and User Feedback:
4.9

out of

5

on G2 (123 Reviews

) (Last updated in Dec 2023)



Cvent
Cvent stands out in the landscape of event management solutions as a distinguished provider, catering to a range of event formats including in-person, virtual, and hybrid, as well as webinars. The platform is celebrated for its extensive array of tools, encompassing engagement scoring, meeting approval, budgeting, and beyond, all of which converge to enable a seamless and efficient event planning experience. This comprehensive suite of features is designed to streamline the entire event management process, ensuring that every aspect, from initial planning to final execution, is managed with precision and ease.
Unique

Features & Service
Meeting and Budget Management: Cvent's meeting approval and budgeting tools help manage all meetings and events within an organization, enhancing workflow efficiency​.
Venue Sourcing: With access to over 300,000 venues, Cvent simplifies the venue sourcing process for event planners​.
Vendor Sourcing: The platform allows browsing through thousands of service providers to find the right fit for event needs​.
Venue Diagramming: Cvent supports venue diagramming with to-scale diagrams and 3D renderings, aiding in the visualization of event layouts​

Virtual Experience: The software allows for the creation of engaging virtual experiences for attendees
Pricing Modal
Product-Based Pricing: For 1-5 events or specific event types, pricing is based on the products needed, such as event registration, check-in, badging, and mobile event app, and the volume of registrations

Solution-Oriented Pricing: For comprehensive event management, particularly for large events or high volumes of events, pricing is influenced by registration volume and the advanced features required
Rating and User Feedback:
4.3

out of

5

on G2 (

1779 Reviews

) (Last updated in Dec 2023)
Swoogo
Launched in 2015, Swoogo stands at the forefront of event management innovation, dedicated to equipping event professionals with efficient tools to simplify their processes. Renowned for its adaptive platform, Swoogo offers an array of customizable features that cater to a variety of stakeholders, including planners, sponsors, and marketers. Central to its user-centric approach is a highly customizable registration form, complete with unlimited conditional logic and customizable fields, showcasing Swoogo's commitment to fostering creativity and accommodating the unique demands of every event..
Unique

Features & Service
Customization and Flexibility: Emphasizes adaptability with tools that allow event professionals to tailor features to their specific needs

Customizable Registration Forms: Features a 100% customizable registration form with unlimited conditional logic and customizable fields

Robust Tech Integration: Offers a vast selection of tech options and seamless integration with a robust API, demonstrating a commitment to compatibility and user preference

Comprehensive Security: Prioritizes data security with stringent policies and compliance to international standards, ensuring the protection of user and attendee information
Pricing Modal
Tiered Packages: The pricing tiers begin with the 'One' package at $11,800 per year, providing one full user and one reporting user, along with 30+ free integrations​.
Scalable Options: The 'Three' package increases to $15,000 per year for three full users and reporting users, also with unlimited events and registrations​.
Larger Package: For larger needs, the 'Five' package is offered at $24,000 per year, which includes five full users and reporting users​.
Custom Enterprise Solutions: Swoogo also provides custom pricing for enterprise clients, which can be tailored to larger teams of any size
Rating and User Feedback:
4.9

out of

5

on G2 (

115 Reviews

) (Last updated in Dec 2023)
Eventtia
Eventtia provides a comprehensive event management solution that supports organizers from the initial planning stages to detailed post-event reporting. This software stands out for its adaptability, seamlessly transitioning between virtual, in-person, and hybrid events to cater to any event format. Its intuitive system comes equipped with a suite of pre-built modules—such as online registration, bespoke event websites, and precise attendee tracking—designed to streamline the entire event planning process, ensuring that organizers can focus on delivering memorable and successful events.
Unique

Features & Service
Quick Event Setup: Eventtia allows for setting up events within minutes, simplifying the planning logistics into a quick checklist​.
User-Friendly Design: The platform is intuitive and easy to use, with clonable templates for event landing pages to scale event strategies efficiently

Online Registration Segmentation: Features the ability to create segmented registration forms for each attendee type with a variety of field options​.

Event Promotion Tools: Access to a wide variety of event promotion tools to connect with the target audience and increase registration rates​.
Pricing Modal
Express Package: Aimed at in-person events, this package provides 3 admin users, unlimited events, and attendees for 12 months. Starting at US$2,500.

Digital Package: Designed for virtual and hybrid events, offering unlimited events and attendees with 3 admin users, and includes all features in Express plus additional ones such as mobile app, virtual stage, engagement tools, B2B networking, and sponsorship management. Starting at US$2,500.

Enterprise Solution: Includes unlimited events and attendees, 12-month access, and advanced features such as SSO, white labeling, unlimited API calls, audit logs, datalake integration, custom event portals, role-based access, white glove support, and SLA support
Rating and User Feedback:
4.4

out of

5

on G2 (

47 Reviews

) (Last updated in Dec 2023)
EventMobi
With over a decade of expertise, EventMobi stands as a flexible and seasoned player in the event management software industry, adept at servicing a broad spectrum of events—be it in-person, virtual, or hybrid. The platform distinguishes itself with a rich virtual event suite, offering robust engagement tools, live streaming capabilities, diverse sponsorship opportunities, and in-depth analytics to track event success. Moreover, EventMobi enhances attendee interaction and networking through customized mobile event apps, ensuring that every event is an engaging and connective experience for all participants.
Unique

Features & Service
Comprehensive Virtual Platform: Offers a complete range of online event planning and audience engagement tools, with live streaming and measurable sponsorship opportunities

Customizable Branding and Design: EventMobi includes easy-to-use design tools for creating fully branded, immersive event experiences across various formats

Mobile App Engagement: The branded mobile event apps facilitate attendee navigation, networking, and interaction with the event and sponsors​

Engagement Tool Suite: Provides a comprehensive set of engagement tools to entertain and educate audiences, enhancing attendee and sponsor interaction
Pricing Modal
Customizable Packages: EventMobi offers a variety of packages and a la carte selections of event tech and production services, tailored to the specific needs of each event​.
Event App and Platform Costs: Pricing for the Event App and Virtual & Hybrid Event Platform starts at $3,500 USD for a single event, with a reduced rate of $1,458 USD per event under a Multi-Event Annual Subscription​.
Registration and Ticketing: The platform for registration, website, and ticketing begins at $2,500 USD per event or offers unlimited usage for $7,500 USD per year​
Rating and User Feedback:
4.6

out of

5

on G2 (

203 Reviews

) (Last updated in Dec 2023)
gther
With a decade of expertise, gther has carved out a niche in providing bespoke software solutions for exhibitions, conferences, and various events, simplifying complex manual processes, enhancing stakeholder visibility, and eradicating typical organizational obstacles such as version inconsistencies and extensive email communications. Their platform offers a flexible configurator, enabling event professionals to select and use only the tools necessary for their specific event type, ensuring both efficiency and customization. Beyond logistics, gther is committed to crafting memorable events that captivate and retain attendees, fostering loyalty and driving business success.
Unique

Features & Service
Value-Driven ROI: The focus is on delivering tangible value to organizers, improving efficiency for global teams, and providing better visibility, all contributing to significant time savings​.
Data-Driven Growth: Offers tools for multi-show deployment, allowing global teams to leverage data across multiple years and events to enhance sales and performance​
Fully Brandable Portal: VX allows the creation of immersive events with a fully brandable portal, integrating various engagement features in a secure environment​.
Scheduling and Booking: Sync provides centralized booking and scheduling capabilities for various event activities, suitable for events of all scales
Pricing Modal
Offers pricing with options starting from as little as £150/month, suitable for both small and large-scale events​.
Rating and User Feedback:
4.9

out of

5

on G2 (

13 Reviews

) (Last updated in Dec 2023)
Eventbrite
Eventbrite, established in 2006 in San Francisco, emerged as a pioneering force in the U.S. online event management and ticketing arena, going public in 2018. Its global expansion is marked by a presence in diverse locations such as the United Kingdom, Nashville, and São Paulo, among others. The company offers a comprehensive event management system, encompassing event planning, social media marketing, email marketing, and real-time insights, tailored to boost attendance and engagement for a wide array of events, both virtual and in-person.
Unique

Features & Service
AI-Powered Tools: Eventbrite's AI-powered tools enhance event pages, emails, and social media ads, enabling users to write professionally and stand out in the marketplace. These tools, along with customizable event listing pages, help convert more attendees​.

Built-in Marketing Tools: The platform offers powerful marketing tools that simplify event promotion, reaching new audiences, and driving ticket sales. These tools support targeted promotion across the Eventbrite marketplace, social media platforms, and email inboxes​.

Revenue-Optimization Tools: Eventbrite provides tools for monetizing events through strategic ticket pricing, exclusive discounts, and sales of merchandise. Real-time traffic and sales reporting enable users to refine their strategies effectively​

Custom Information Collection

: This tool is particularly useful for conference hosts or events requiring specific attendee information, such as meal choices or t-shirt sizes. The data collected can be easily exported for analysis and preparation
Pricing Modal
Free Plan:

No cost per event for up to 25 tickets.

Flex Plan (Pay per event):


$9.99 per event for up to 100 tickets.
$24.99 per event for up to 250 tickets.
$49.99 per event for unlimited tickets.

Pro Plan (Subscription):

$29 per month for up to 100 tickets.
$79 per month for up to 250 tickets.
$159 per month for unlimited tickets.

Ticketing Fees

Eventbrite charges a ticketing fee for every paid ticket and add-on sold.
The fee includes a service fee and a payment processing fee, where applicable.
Free events do not incur any ticketing fees​.
Rating and User Feedback:
4.3

out of

5

on G2 (

759 Reviews

) (Last updated in Dec 2023)
Bizzabo
Founded in 2011, Bizzabo is a renowned event technology company dedicated to empowering event marketers. It focuses on bringing people together to enhance event experiences. Bizzabo's Event Experience Operating System (OS) caters to event organizers and B2B marketing professionals, offering an end-to-end solution for various event management aspects. The platform is versatile, supporting a broad spectrum of events, including in-person events with efficient check-in and custom badge printing, studio-quality virtual events, seamless hybrid events, and engaging webinars, thus providing comprehensive solutions for diverse event needs.
Unique

Features & Service
Virtual Session Availability: The platform allows easy transformation of events into virtual or hybrid formats without additional cost. It offers options like Bizzabo solution, external solution (link insertion), or embedded player solution (Vimeo/YouTube), along with features like room chat and Q&A for virtual events

Community Engagement: The 'Join the Community' feature facilitates networking by allowing attendees to connect with potential business contacts and set up meetings, even before the event starts. It integrates with social media to help grow the event community

Code Element Widget: Offers a code element widget for embedding custom HTML, useful for adding diverse content like YouTube videos, forms hosted on other websites, and more​
Pricing Modal
Essential Plan:

Targeted at organizations with early-stage event programs and small to medium-sized audiences.
Offers unlimited events and users.
Pricing is based on a per-registrant model.

Premium Plan

Suitable for companies with multiple events year-round, including at least one in-person event.

Unleash Plan:

Designed for event professionals hosting several virtual or in-person events with high-volume registration.
Enterprise Plan:

Aimed at premium brands seeking to deliver a private-label, curated event experience.
Rating and User Feedback:
4.4

out of

5

on G2 (

295 Reviews

) (Last updated in Dec 2023)
Wild Apricot (

Personify)

Wild Apricot, a subsidiary of Personify since 2017, has established itself as a cloud-based software leader, focusing on membership management solutions. This platform is uniquely tailored for small to medium-sized entities such as clubs, associations, nonprofits, and various membership organizations. Its standout feature lies in providing an all-encompassing solution, simplifying tasks from membership management to website creation, event organization, and financial management. Wild Apricot's emphasis on user-friendliness makes it particularly appealing to non-technical users, offering an intuitive interface that streamlines complex tasks, ensuring even those with minimal technical expertise can efficiently manage their organization's needs.
Unique

Features & Service
Membership Management

Automated membership renewals and reminders.

Easy member database management with customizable fields.
Member-only content and directories for enhanced engagement.

Financial Management:

Automated billing and invoicing for memberships and events.
Integration with payment gateways for secure transactions.
Financial reporting tools for easy tracking and analysis.

Customizability:

Options to customize the look and feel of the website and membership forms.
Ability to tailor communications and marketing to specific member segments.
Pricing Modal
Pricing Structure: Wild Apricot offers a tiered pricing model with seven plans, each designed for different sizes of organizations, ranging from small clubs to large global entities.

Annual Discounts: The subscription costs are lower when billed annually, with prices ranging from $54.00 per month for the Personal plan (up to 100 contacts) to $810.00 per month for the Global plan (up to 50,000 contacts), reflecting discounts included in the annual billing option
Rating and User Feedback:
4

out of

5

on G2 (

39 Reviews

) (Last updated in Dec 2023)
Whova
Founded in 2012, Whova has emerged as a key player in event technology solutions, providing a comprehensive mobile event management app complemented by a suite of tools for event management and marketing. Recognized for its award-winning event app, Whova caters to a diverse array of users including event organizers, conference attendees, and non-profit management entities. The app is replete with features like personal agenda setting, interactive maps, document sharing, and offline accessibility, making it ideal for medium to large-scale events that prioritize networking and participant engagement. Significantly, Whova stands out in facilitating hybrid event formats, offering multi-language support and robust virtual engagement tools to serve a broad, diverse audience.
Unique

Features & Service
Award-Winning Event App:

Recognized for innovation and user-friendliness in the event technology space

Engagement and Interactivity:

Includes tools for live polling, mobile surveys, social media integration, and gamification to boost attendee involvement.


Sponsor and Exhibitor Promotion:

Offers digital booths, sponsor banners, targeted lead generation, and promotional tools like giveaways and coupons.

Multi-Language Support and Accessibility:

Ensures inclusivity and broad reach by supporting multiple languages and providing offline access to app features.

Customizability:

Options to customize the look and feel of the website and membership forms.
Ability to tailor communications and marketing to specific member segments.
Pricing Modal
Event App Cost:

Free for event attendees to download and use from the App Store or Google Play.
Event organizers pay for the services, with costs varying based on event size and selected service options​.

Registration Fee Structure:

Whova's registration fee is 2.5% plus $0.99 per ticket, capped at $1,000. This is in addition to Stripe's processing fee of 2.9% + $0.30 per transaction.
If using Whova Payout, the registration fee increases to 5% + $0.99 per ticket, capped at $1,500, plus Stripe's processing fee​.
Rating and User Feedback:
4.8

out of

5

on G2 (

1315 Reviews

) (Last updated in Dec 2023)
VFairs
Founded in 2016 and based in Carrollton, Texas, with headquarters in Mississauga, Canada, vFairs specializes in virtual event platforms, catering to sectors like education, retail, healthcare, and telecommunication. The company offers a versatile platform for in-person, hybrid, and virtual events, gaining recognition for creating engaging, brand-consistent virtual environments. Key features include live streaming, active chat rooms, virtual booths, robust post-event analytics, and interactive tools like live chat, webinars, and forums. vFairs is particularly suited for medium to large companies in tech, education, and healthcare sectors, providing an ideal solution for event marketing and planning teams seeking visually rich and interactive virtual environments.
Unique

Features & Service
Customizable Virtual Environments:

Brand-centric customizations for virtual spaces, ensuring events reflect brand aesthetics​.
Custom-branded virtual venues, exhibit halls, and avatars for enhanced attendee experience​.

Robust Analytics and Insights:

Detailed and refined post-event data tracking for nuanced insights into attendee behavior​.

Interactive and Engaging Tools:

A range of interactive tools like social media walls, photo booths, and more to keep attendees engaged​.
Live chatrooms, meeting schedulers, and smart matchmaking tools for effective networking​.

Advanced Virtual Booths:

Depth of customization and engagement tools in virtual booths, providing exhibitors with superior digital spaces​.
Pricing Modal
Diverse Packages for Different Needs: vFairs offers specialized packages for virtual, hybrid, and mobile events, including features like custom branding, analytics, and live support, with options for unlimited registrations and on-demand access.

Customization and Add-Ons: The platform allows customization with options for extra sessions, booths, and specific accessibility features, catering to unique event requirements and offering tailored solutions.
Rating and User Feedback:
4.7

out of

5

on G2 (

1559 Reviews

) (Last updated in Dec 2023)
RingCentral Events (Formerly Hopin Events)
Launched in 2019, Hopin Events emerged as the first virtual venue aimed at closely replicating the in-person event experience online. Hopin has formed a strategic partnership with RingCentral, involving the acquisition of Hopin's Events and Session products by RingCentral since 2023. The platform offers a comprehensive suite for both virtual and hybrid events, encompassing features like ticketing, registration, customizable event spaces, and dynamic networking tools, all within a user-friendly, no-code setup. Having hosted over 80,000 events since 2020 for clients including the United Nations, NATO, and Unilever, Hopin has established a significant market presence. Its acquisition of Streamyard and other startups has further strengthened its offerings. Distinctively, Hopin focuses on fostering meaningful online interactions, emphasizing participant engagement over mere content consumption.
Unique

Features & Service
Comprehensive Virtual Venue:

Includes a studio for producing professional, high-quality streams.
Offers extensive event marketing capabilities to promote events and drive registrations.
Manages in-person attendee and exhibitor engagement for hybrid events

Event Types:

Specializes in hosting both virtual events that engage entire communities and hybrid events that extend in-person events to a global audience

Support and Education:

Extensive support system to help users with their queries.
Educational resources through 'Hopin Learn' to master the Hopin platform.
Guides and templates available for streamlined event planning
Pricing Modal
Event Types: Offers tools for virtual, onsite, or hybrid events.
Starting Price: Begins at $750.00 per license per year.
Rating and User Feedback:
4.7

out of

5

on G2 (

883 Reviews

) (Last updated in Dec 2023)
Airmeet
Founded in 2019, Airmeet Inc. has rapidly established itself as an innovative player in the online event hosting space. Headquartered in Bangalore, Karnataka, India, this Bengaluru-based company has revolutionized the way events are conducted online. Unlike traditional platforms that focus mainly on broadcasting content, Airmeet emphasizes interactive participant engagement. By offering high-definition video and audio powered by Agora.io, the platform enables real-time, high-quality video chats without the need for additional software downloads or subscriptions. Notably, Airmeet has positioned itself as a secure and privacy-conscious choice, adhering to GDPR compliance and implementing end-to-end encryption. This focus on security extends to private events, where participant authentication is mandatory, minimizing the risks of spam and bots.
Unique

Features & Service
Branding and Customization

:

Airmeet allows for personalized branding and customization of the event platform.

Event Set up Services:

Offers specialized services for event management.

Interactive Features:

Includes interactive stage elements like emojis, polls, Q&A sessions, games, and personalized CTAs.

Dynamic Leaderboard:

A feature to monitor and recognize high attendee engagement.

Extended Experience:

Facilitates interaction beyond the stage with interactive zones.

Unique Data Insights:

Over 64 unique data insights for understanding attendee behavior.
Pricing Modal
Free Plan:

Unlimited small webinars per year.

Limits of 50 attendees per event.

Include up to 90 minutes session duration

Premium Webinars Plan:

Priced at $167/month, billed annually at $1,999.

Unlimited events per year, scalable up to 10,000 attendees.

Unlimited session duration,

Virtual Events Plan:

Designed for branded and engaging virtual and hybrid events.

Unlimited events per year, scalable up to 100,000 attendees.
Rating and User Feedback:
4.6

out of

5

on G2 (

654 Reviews

) (Last updated in Dec 2023)
Eventzilla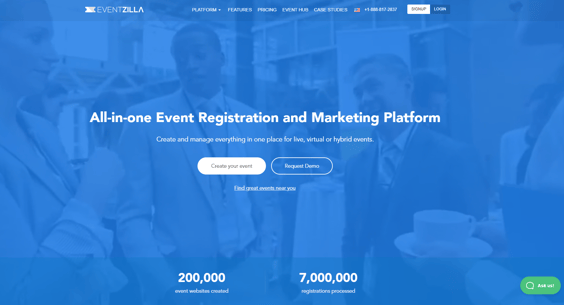 Eventzilla is an online event registration and ticketing platform that helps individuals and organizations create, promote, and sell tickets for events of all sizes. Whether it's a small workshop, a conference, or a large music festival, Eventzilla provides an easy-to-use platform to manage registrations, payments, and attendee communication. With Eventzilla, you can create customized event registration pages, set up different ticket types and pricing options, and even offer promotional discounts. Overall, Eventzilla aims to simplify the event management process, saving organizers time and effort. It provides a user-friendly solution for event registration and ticketing, ensuring a smooth and enjoyable experience for both organizers and attendees
Unique

Features & Service
Ticketing Options

Eventzilla allows you to set up different ticket types, pricing options, and promotional discounts. You can also create add-ons like merchandise or VIP packages for attendees to purchase.

Customizable Event Pages

Eventzilla usually provides customization options, allowing organizers to brand their event pages with logos, images, and color schemes.

Event Promotion Tools

Eventzilla offers built-in promotion features, such as social media sharing options, email marketing integrations, and the ability to embed registration forms on your website.

Analytics and Reports

Eventzilla provides real-time event analytics and reports, giving you insights into registration numbers, sales revenue, and attendee demographics.

Event Promotion Tools

Eventzilla offers built-in promotion features, such as social media sharing options, email marketing integrations, and the ability to embed registration forms on your website.
Pricing Modal
Free Plan

Eventzilla typically offers a free plan with basic features, suitable for small events or organizers who are just getting started. This plan may have limitations on the number of attendees or features available.

Paid Plans

Eventzilla usually provides paid plans with more advanced features, increased attendee capacity, and additional customization options. These plans are designed to accommodate larger events and offer more robust tools for event management.

Enterprise Plan

For larger organizations or events with specific needs, Eventzilla may offer custom enterprise plans. These plans might include additional features, dedicated support, and tailored solutions to meet the unique requirements of the organization.

Additional Fees

It's important to note that while Eventzilla may offer a subscription-based pricing model, there might be additional fees associated with payment processing. Event organizers typically incur transaction fees for each ticket sold, and these fees may vary depending on the chosen payment gateway.
Rating and User Feedback:
4.4 out of 5 on G2 (145 reviews) (Last updated in Nov, 2023)
RegFox
RegFox is an online event registration and ticketing platform designed to provide a seamless experience for both event organizers and attendees. It offers a range of features to streamline the event registration process and maximize event success. The platform supports a wide range of event types, from conferences and workshops to fundraisers and sports events. One of the unique aspects of RegFox is its dynamic pricing feature, which enables organizers to set up rules-based ticket pricing. This allows for special pricing options, early bird discounts, group rates, and more. Overall, RegFox is a comprehensive event registration and ticketing platform that aims to simplify the event management process, enhance attendee experience, and help organizations achieve their event goals.
Unique

Features & Service
Integrated Payment Processing

RegFox provides secure payment processing options, supporting credit cards and PayPal. Organizers can easily collect payments from attendees, ensuring a smooth and convenient experience.

Real-time Reporting and Analytics

RegFox provides comprehensive, real-time reporting and analytics on registration numbers, revenue, and attendee demographics. These insights enable organizers to make data-driven decisions and track event success.

Strong Security Measures

RegFox prioritizes the security of attendee data and implements robust security measures to protect sensitive information.

24/7 Customer Support

RegFox provides dedicated customer support to assist organizers with any questions or issues they may encounter during the event management process.

Onsite Badge Printing

With RegFox, organizers can print professional badges on location, ensuring a smooth check-in experience and improving event security.
Pricing Modal
Flexible pricing




RegFox offers flexible pricing based on event size, features required, and duration of use.
Rating and User Feedback:
4.7 out of 5 on G2 (376 reviews) (Last updated in Nov, 2023)
Gevme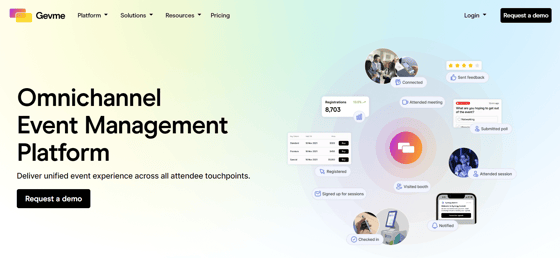 GEVME is an all-in-one event management and marketing platform designed to make organizing events easier and more efficient. With a range of powerful features, GEVME helps event organizers streamline the entire event lifecycle from planning and registration to post-event analysis. The platform offers tools for email marketing, marketing automation, and social media integration, empowering organizers to reach a wider audience and promote their events effectively. Overall, GEVME is a comprehensive event management and marketing solution that simplifies the process of organizing and promoting events. With its user-friendly interface and powerful features, GEVME aims to enhance the event experience for both organizers and attendees
Unique

Features & Service
Seamless Attendee Check-in

The dedicated GEVME mobile app enables quick and efficient attendee check-in. Organizers can use mobile devices to scan tickets, speeding up the entry process and reducing queues.

Integrated Third-Party Systems

GEVME seamlessly integrates with various third-party systems and applications. It allows data flow between GEVME and other platforms, such as CRM systems, marketing tools, and payment gateways, improving overall efficiency.

Real-time Analytics and Reporting

GEVME offers powerful analytics and reporting features to track event performance. Organizers can gain insights into registration numbers, attendee demographics, ticket sales, and engagement metrics to make data-driven decisions.

Advanced Event Marketing Tools

GEVME provides a suite of event marketing tools, including email marketing, marketing automation, and social media integration. These features help organizers reach a wider audience, promote their events effectively, and maximize attendance.
Pricing Modal
Free Plan

Gevme offers a free plan for users to explore the platform with no credit card required. Under the free plan, users have access to the website builder, virtual venue editor, content management and also more than 50 themes & experiences.

Priced plan

To unlock more features, Gevme offers 3 different paid plans (Starter, Pro and Enterprise). Each of the paid plans have different levels of features for users to experience.
Rating and User Feedback:
4.5 out of 5 on G2 (2 reviews) (Last updated in Dec, 2023)
ON24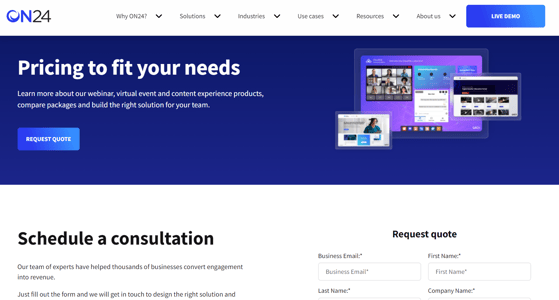 ON24 is a leading webinar and virtual event platform that enables businesses and organizations to create engaging and interactive digital experiences. With its user-friendly interface, flexible customization options, and robust integrations, ON24 offers a seamless end-to-end solution for hosting and managing online events. Additionally, ON24 provides comprehensive analytics and reporting tools, allowing event organizers to gain valuable insights into attendee behavior, content performance, and event ROI. With its robust features, emphasis on attendee engagement, and dedication to data-driven insights, ON24 has established itself as a leading provider of virtual events, helping businesses globally to connect, engage, and succeed in the digital space.
Unique

Features & Service
Flexible Content Delivery

The platform supports both live and pre-recorded video streaming, allowing organizers to deliver engaging content in a seamless manner. This flexibility enables easy scheduling and on-demand access for attendees.

Networking and Collaboration

ON24 enables attendees to engage with each other through virtual networking tools, facilitating connections and collaboration. This fosters a sense of community and interaction among participants.

Global Webcasting Capabilities

ON24 supports large-scale virtual events by offering global webcasting capabilities. This ensures seamless streaming and accessibility to audiences worldwide, enabling reach and engagement across different time zones.

Enhanced Lead Generation and Data Capture

The platform offers lead generation functionality, enabling organizers to capture valuable attendee information during registration and throughout the event. This supports post-event follow-up and nurturing of leads.
Pricing Modal
Custom pricing




ON24 offers custom pricing based on each use case.
Rating and User Feedback:
4.3 out of 5 on G2 (1063 reviews) (Last updated in Dec, 2023)
Aligning Event Goals with Registration Features
In the diverse world of event planning, understanding that different events have varying core objectives is crucial when selecting an Event Management Tool. The saying "not a one-size-fits-all" holds particularly true in this domain. To further explore what kind of event registration tools would be the most suitable for your specific event needs, feel free to chat with our consultants who are ready to provide tailored advice and insights.
Interested in our solution?
Are you looking for a great one stop hybrid event solution for your virtual, physical or hybrid events?
You may want to have a chat with our event consultant.