Effortless Event

.
Exceptional Result

.
Optimize efficiency, streamline manpower,
and concentrate on event logistics for your events.
EventX is
The Complete Event Operating System
designed to
Streamline Operations & Optimize Costs

.
Operational Efficiency
- Streamlining Your Event -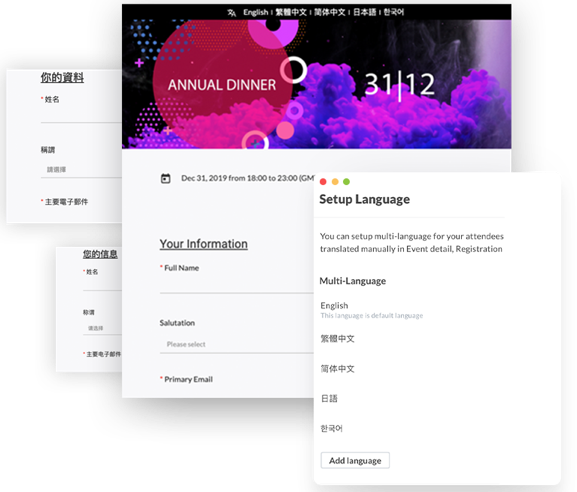 Flexible Ticketing & Registration Form
Digitalise your registration workflow by our affordable event registration system.
Fully Customizable Registration Form
Use our free templates or create your own dynamic event registration forms with just simple drag and drop.
Registration Form Source Tracking
Filter the attendee list by registration form source to see which registration path drives the most sign-ups.

Membership Tier Offering
Verify your membership and purchase different ticketing types depending on your membership.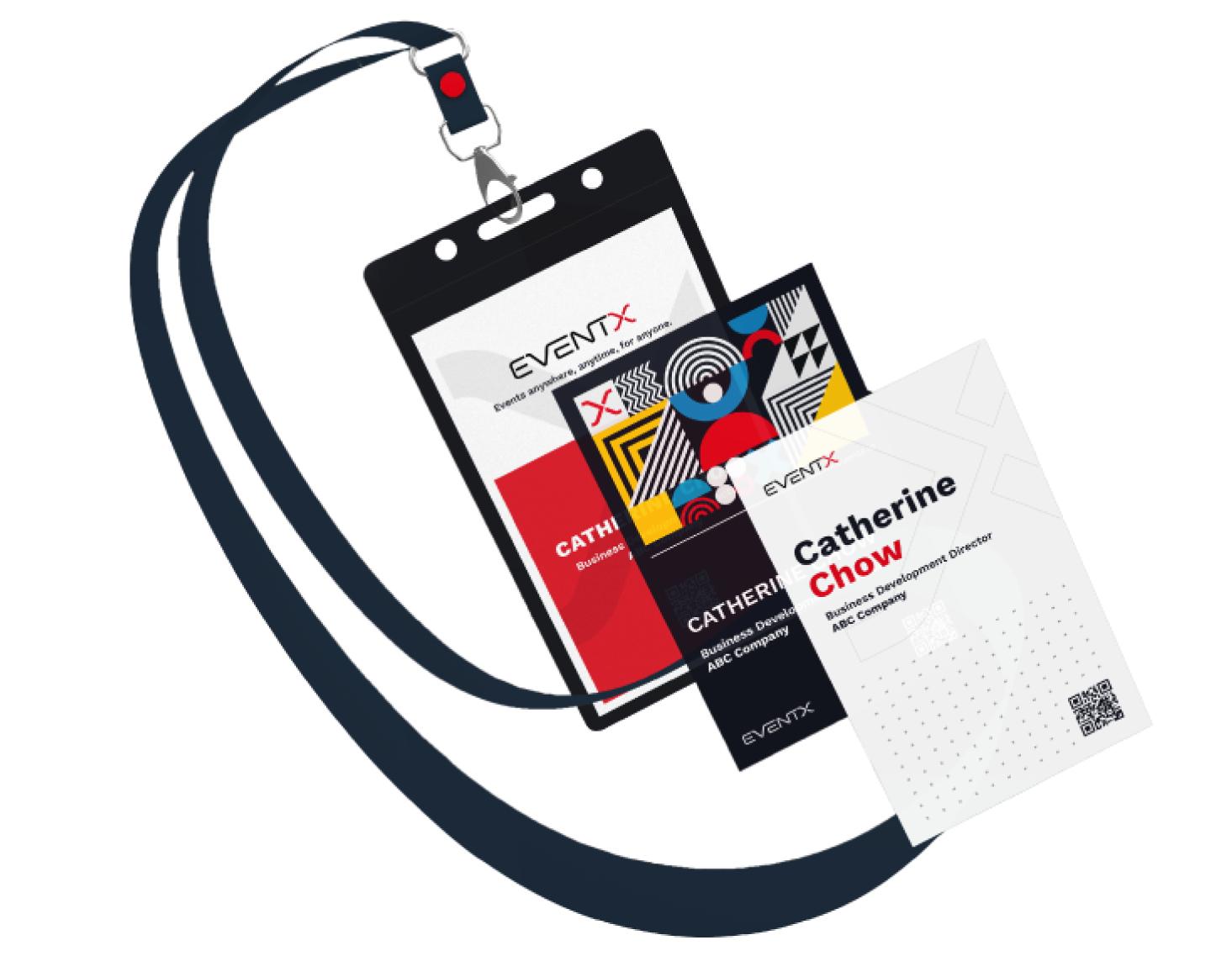 Instant Badge Printing and QR Check-in
Just a second to print a name badge on demand - no more worry about searching the right one table or last minute sign ups.
Custom check-in label design
We offer a range of design options, including the abiluty to upload logos, change size, select fonts, etc.
Portable equipment for Event Organisers
Provide you with high printing quality using a portable machine to save your precious manpower and time.

e-Ticket with Check-in QR Code
Streamlining attendee arrivals with unique QR codes for swift verification and venue access, while offering organizers real-time insights and flexibility.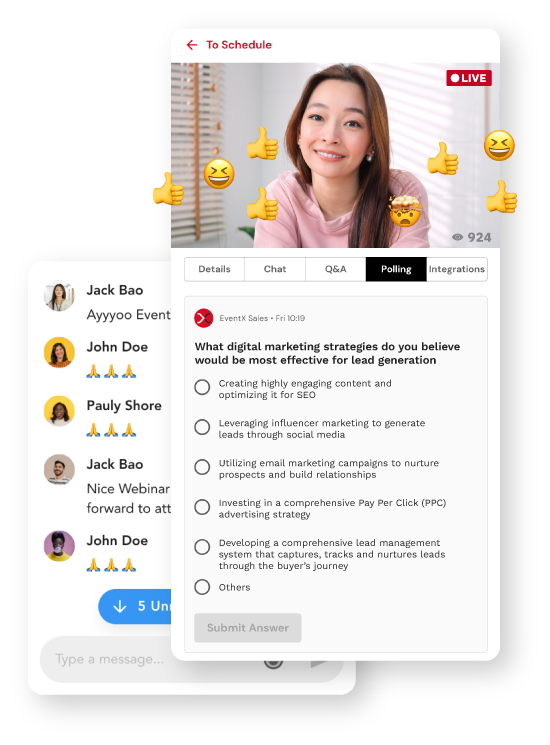 Interactive Engagement Suite
Real-time interaction and engagement among attendees, speakers, and organizers, creating a more dynamic and participatory event experience.
Live Polling
Conduct real-time polls to gather instant feedback, making sessions interactive and tailored to attendees' interests.
Live Chat
Facilitate real-time communication among attendees, speakers, and organizers, enhancing networking and community within the event.
Live Q&A
Pose questions, share insights, and receive immediate responses from keynote speakers and panelists.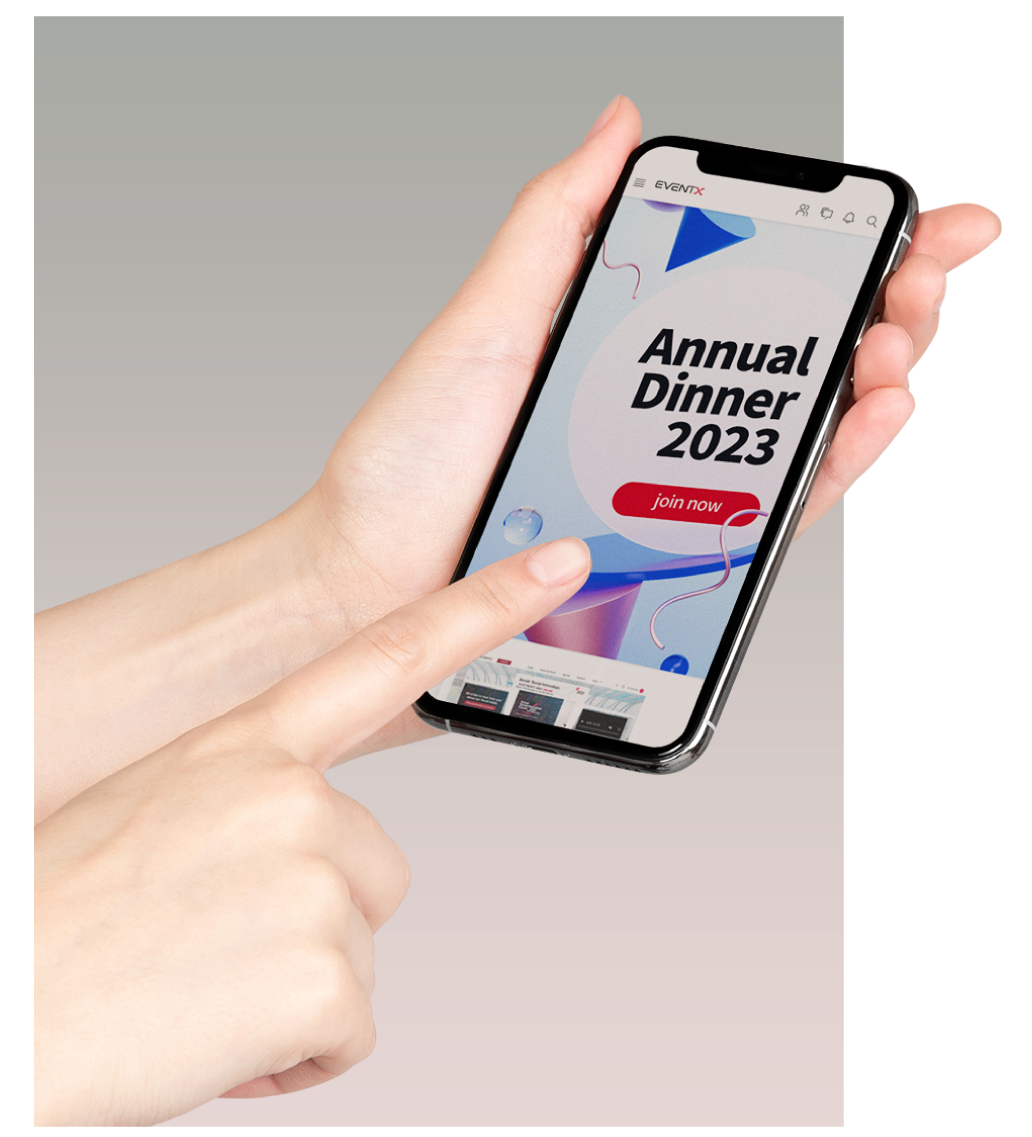 White-labeled Event Web App
You can create a unique, immersive, and branded event experience that leaves a lasting impression on every attendee for both iOS and Android, no installation needed.
Every Interaction a Trackable Event Data
Each interaction within your event offering insights to help optimize your future events.
Event at Fingertips
With immediate access to interactive features, engagement with your event content is always just a tap away.
Seamless Brand Incorporation
Incorporate your unique brand elements into the event experience, fostering a consistent brand presence throughout.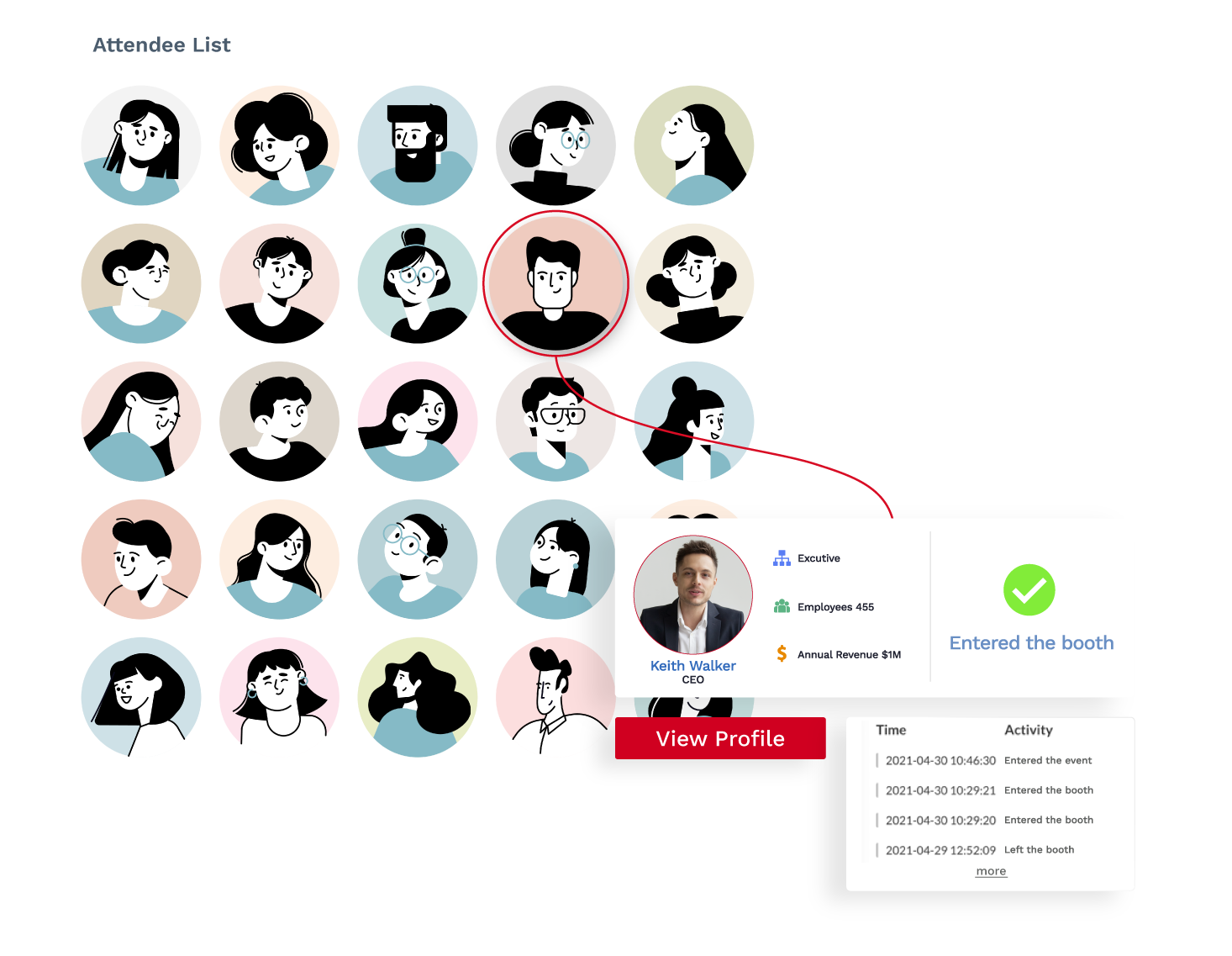 Detailed Attendee Profiles
With a comprehensive understanding of each and every one of your attendees, enabling targeted engagement and a higher conversion of attendees into potential business opportunities.
Customized Registration Form
Transform your attendees into quality leads by tailoring your registration forms. Capture the right information from the onset and gain valuable insights into your audience.
In-event Interaction Data
Enables the creation of engaging, personalized experiences that convert attendees into quality leads.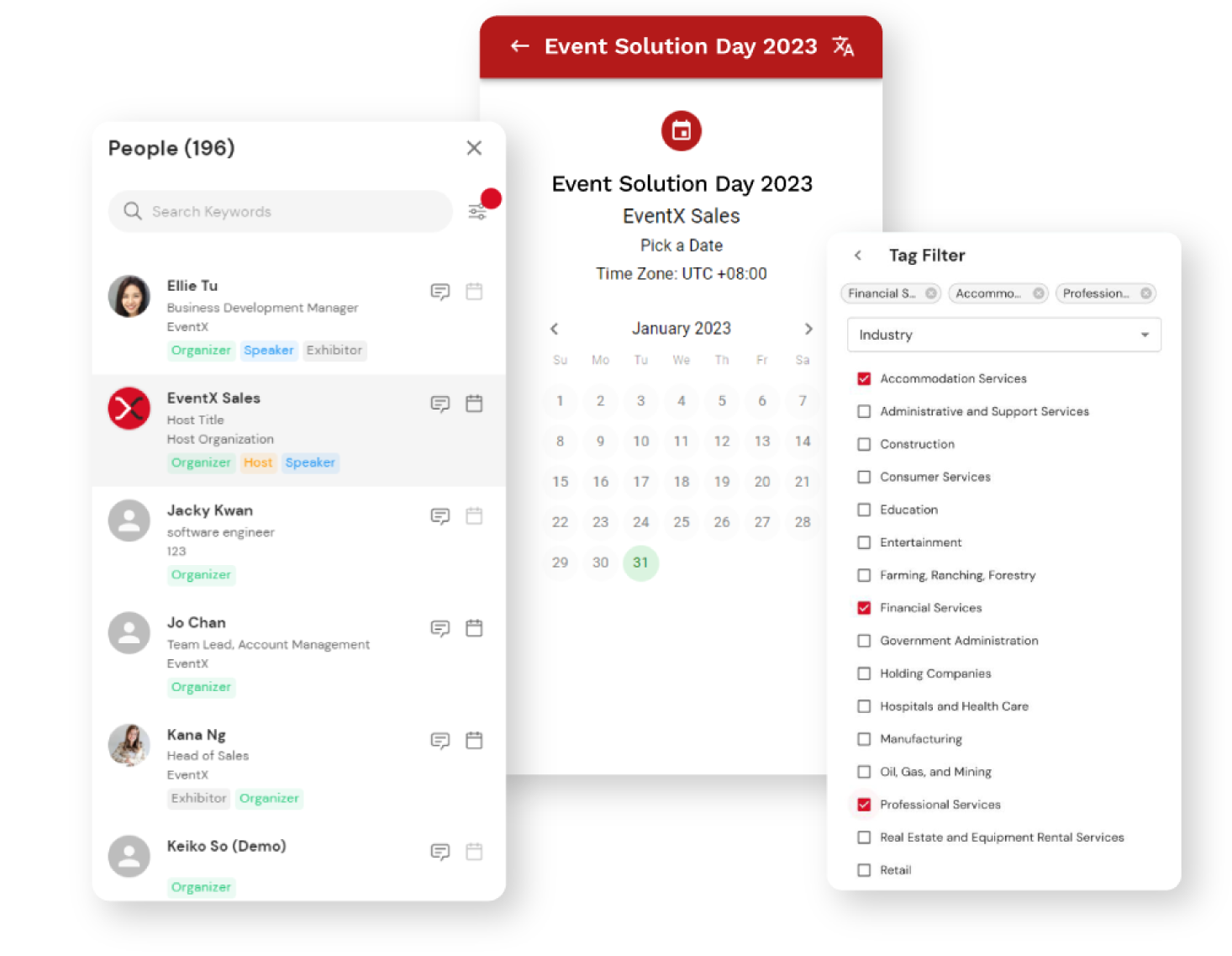 Matchmaking & Networking
Remove the uncertainty from networking, enabling your attendees to form significant connections around their key interests.
Easy Matchmaking
Our matchmaking system swiftly connects top matches based on shared networking interests and goals.
Simple Meeting Scheduling & Location
Setting up a meeting is a breeze with just a few tabs to suggest a meeting time and one to accept or reschedule.
Event Mobile Web App
Our user-friendly event app provides all your attendees need to connect with their matches and securely store valuable contacts in a digital environment.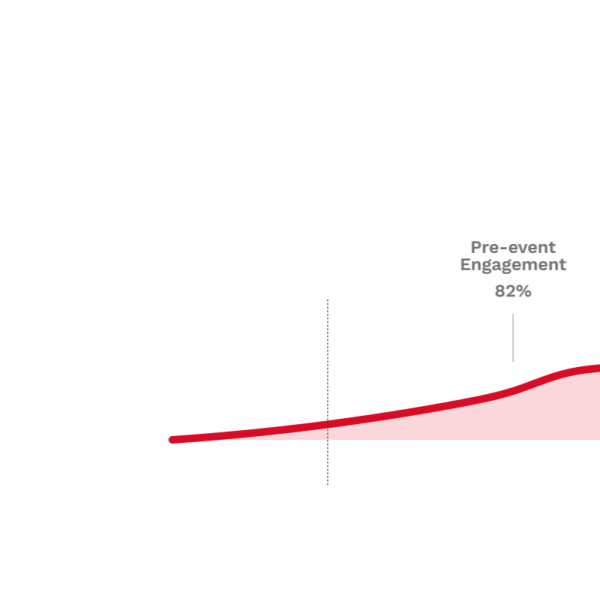 Event Data & Analytics
Track every aspect, down to the minutest detail, to make ROI-maximizing decisions and increase ticket retention.
Content
Gauge your content's influence, identify the most popular sessions, and organize improved events centered around trending topics.
Networking & Matchmaking
Uncover the most sought-after interests, goals, and the number of meetings each attendee had, among other valuable data.
Sponsor ROI
The numbers speak for themselves. Provide a genuinely profitable experience for your sponsors and quantify the business generated.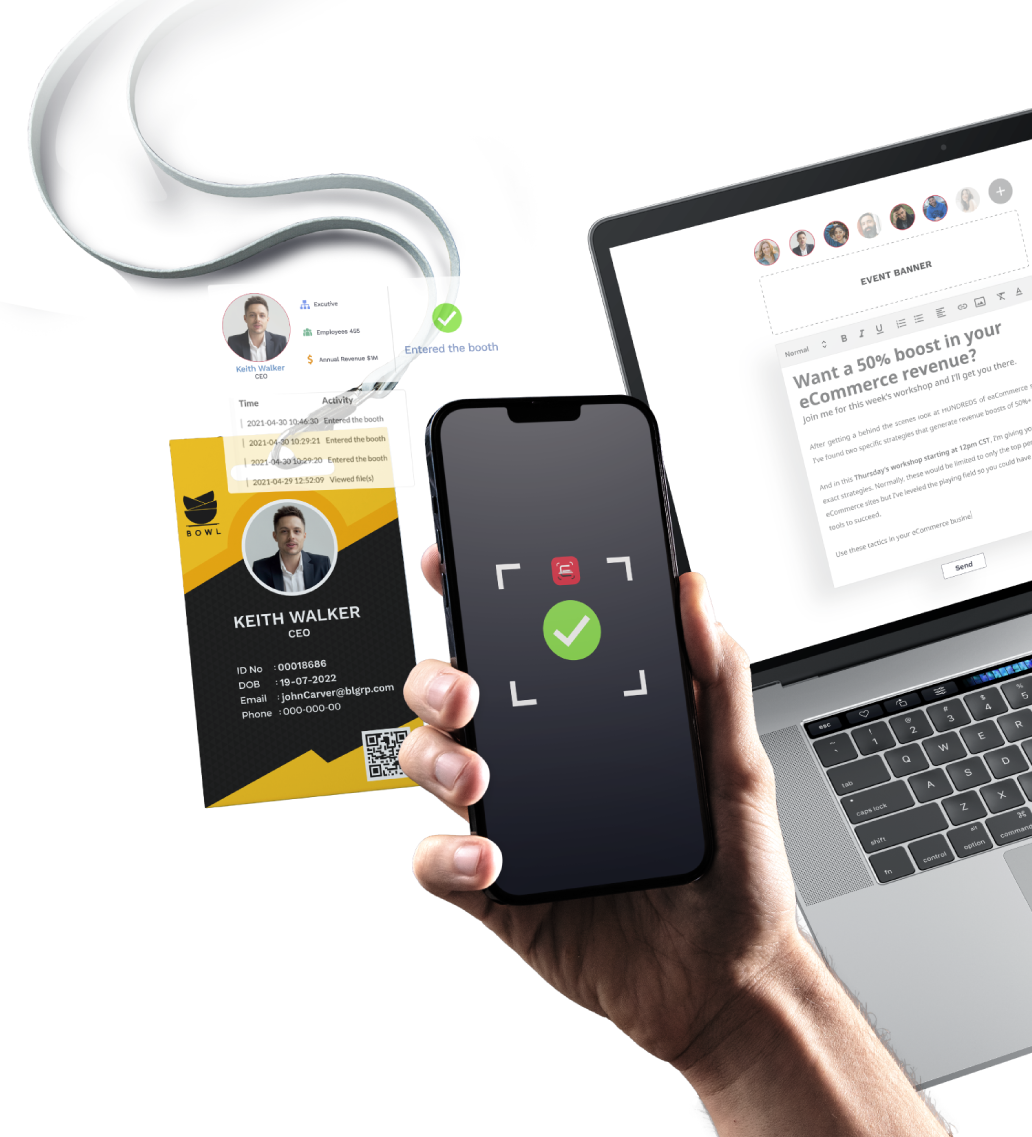 Swift Lead Capture
Boost your return on investment by streamlining the lead capture and management process, paving the way for successful follow-ups and conversions.
Simplicity in Capture
Simplify the process of lead capturing, making it faster and more efficient, enabling you to focus on creating meaningful connections.
Optimized Management
Enhance your lead management strategies, maximizing the potential for successful follow-ups and higher conversion rates.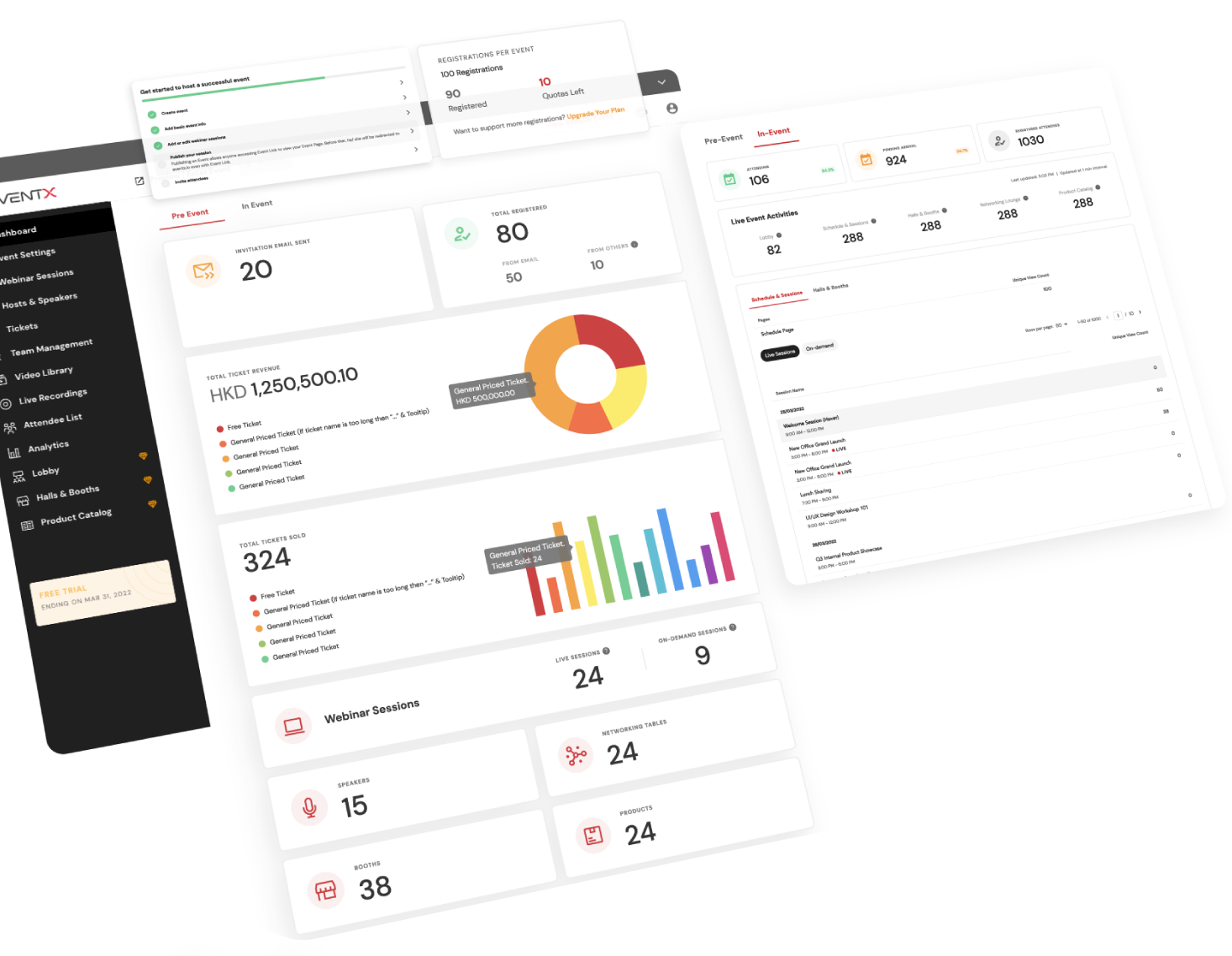 Secure More Sponsors
By demonstrating the undeniable impact of your event with in-depth analytics, including booth traffic, session insights, and much more.
AI-powered Prospect Identification
Leverage EventX's AI-driven algorithms to guide your sponsors to high-value prospects, ensuring more productive meetings.
Customized Matchmaking
Specific sponsors can have their own dedicated matchmaking categories, drawing in the right prospects from the start.
Live Data Metric Access & Export
Grant your sponsors the ability to access and export comprehensive event data such as lead lists, engagement metrics, booth visitor analytics, and beyond.
Cost Reduction
- Better, Faster, Stronger, yet Cheaper -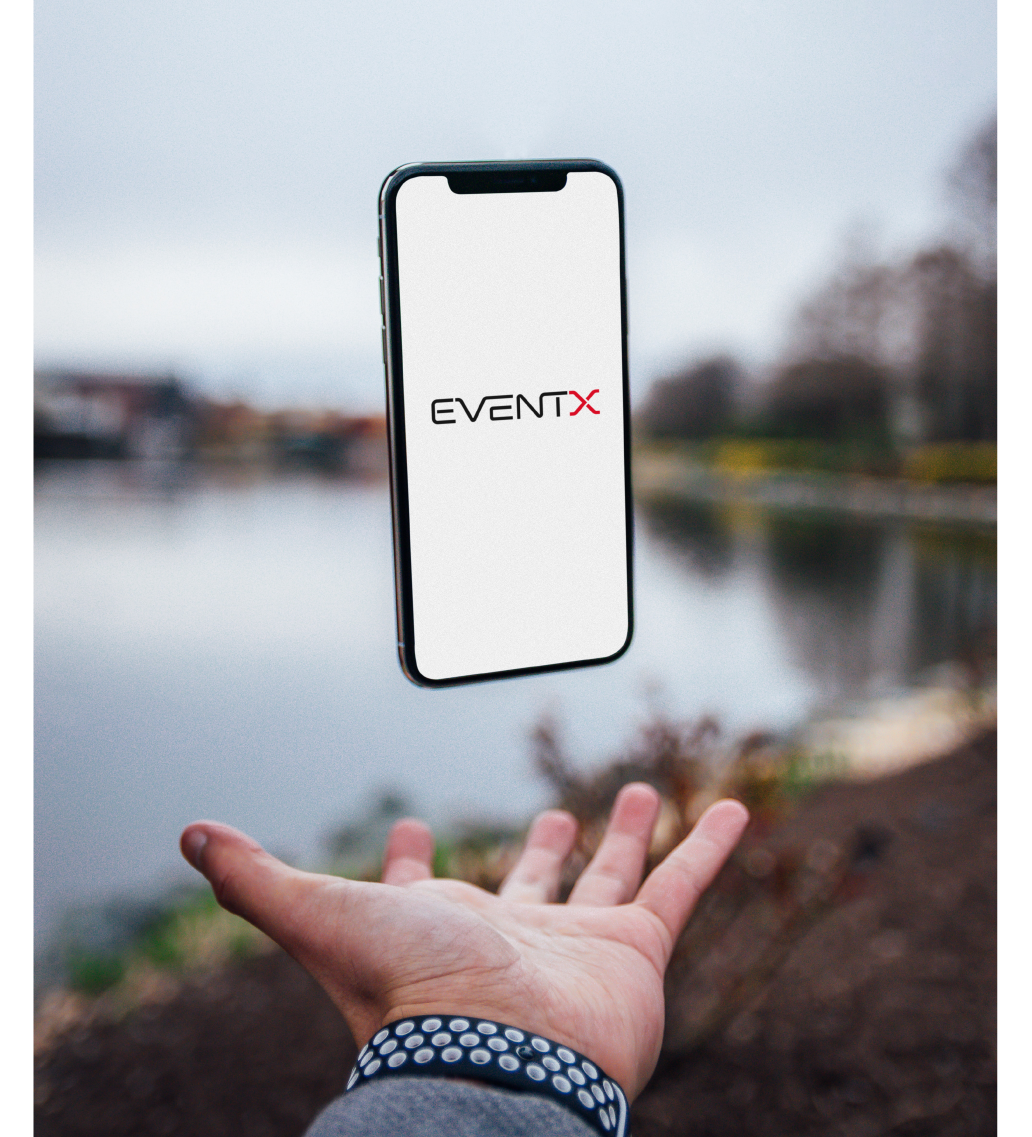 Universal Event Operating System
Experience the ease and efficiency of a unified operating system equipped with all the right tools to make your event a success.
Everything You Need for a Successful Event
Eliminates the need for multiple subscriptions or purchases, streamlining your workflow and reducing costs.
Seamless Integration
All tools within our system are designed to work together seamlessly, enhancing efficiency, reducing manual effort, and ensuring a smooth and consistent experience for both organizers and attendees.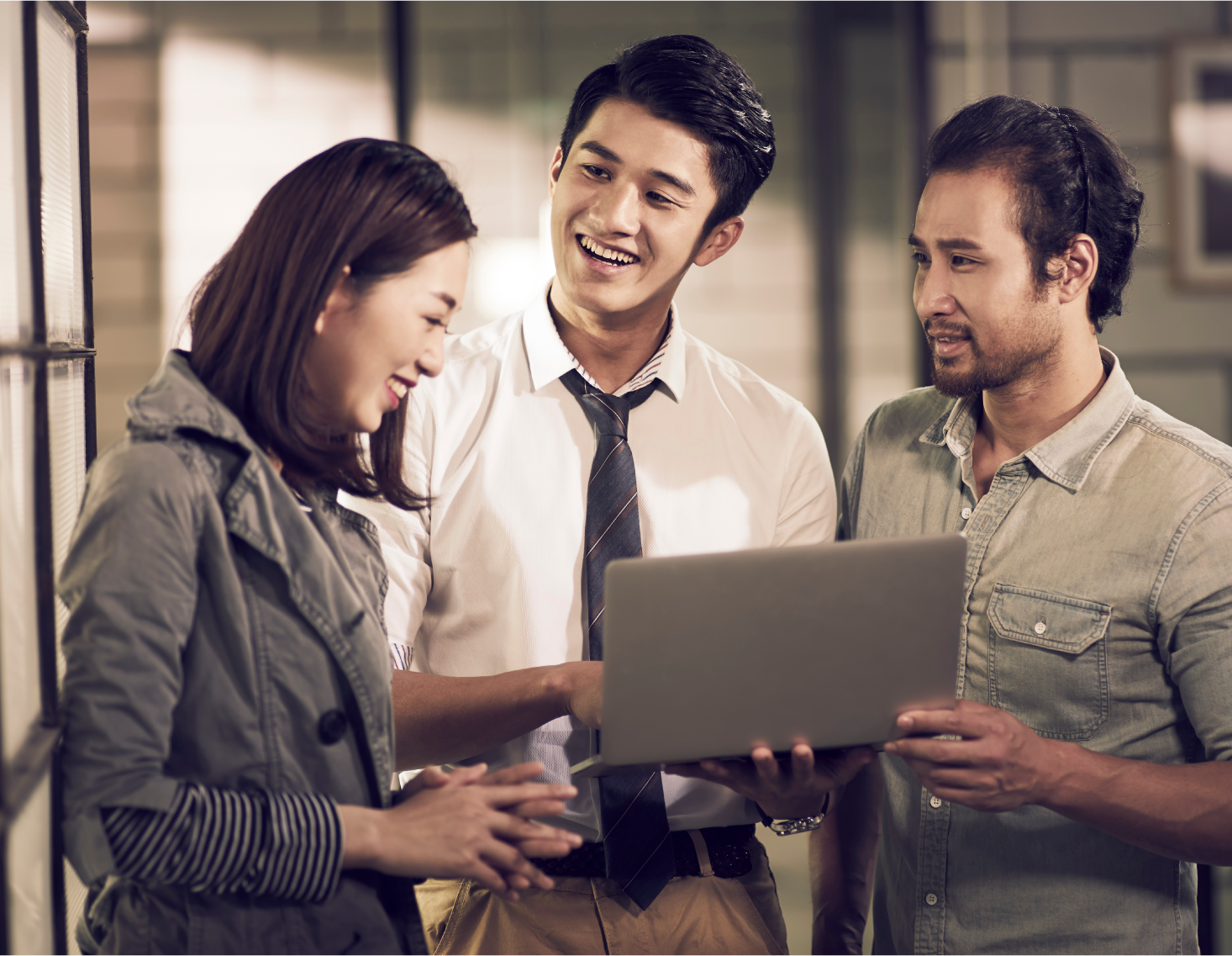 Expertise at Your Service
Our team of experts are ready to support and guide you towards achieving your event and business goals.
Excellent Customer Success Team
With a 96% satisfaction rate, Xuperman and women from EventX CS provide support from Hong Kong, China, Singapore, Taiwan, Korea, Japan, and Thailand.
A Partnership that Yields Results
As we continue to innovate, we'll keep you informed about our latest features, ensuring that our service continuously aligns with your ever-changing event and business requirements.
How can the Lead Finder feature improve my event planning?
The Lead Finder helps identify potential attendees interested in your event, enhancing your guest list and boosting engagement.
Can EventX help with on-site event operations?
Yes, EventX's streamlined check-in process and badge printing services ensure smooth on-site operations and event entry. With our QR code Badge Printing and Check-in feature, attendees receive a unique QR code for registration, simplifying the check-in process at your event.
How can the Matchmaking & Networking feature enhance my event?
The Matchmaking & Networking feature facilitates connections among attendees, fostering a more interactive and valuable experience at your event.
How can EventX enhance attendee engagement during the annual event?
EventX's real-time attendee engagement features enable seamless networking and interaction among guests, fostering meaningful connections.
"I am the senior event manager and my event agency asked me to organize a virtual jewelry show for a client. This product gave me many new ideas and techniques, due to which I successfully organized the jewelry event and got positive responses from the client and my event agency team. I am still implementing this product so that I can easily arrange my other further virtual events related to jewelry with many foreign clients. But, this product did provide me with many benefits that made me think to utilize this product again."
"We were very satisfied with EventX virtual event Platform during our virtual conference last week. From a technical point of view, everything went very smooth and seamless. Our delegates were very positive and they found the platform very user friendly. Well done!"
"We are really happy about the platform. The platform fulfils our expectation for organising the exhibition and bring the real feeling of expo for exhibitors and visitors. Besides, it is an easy-to-use platform which can help our exhibitors build-up booths and registration easily. Thank you very much for your team working hard to make us a successful exhibition."
BLOG POSTS
Have a glimpse of how we can help you...
Your pain? We understand. This is why we do what we do, and can provide you with an experience like no other.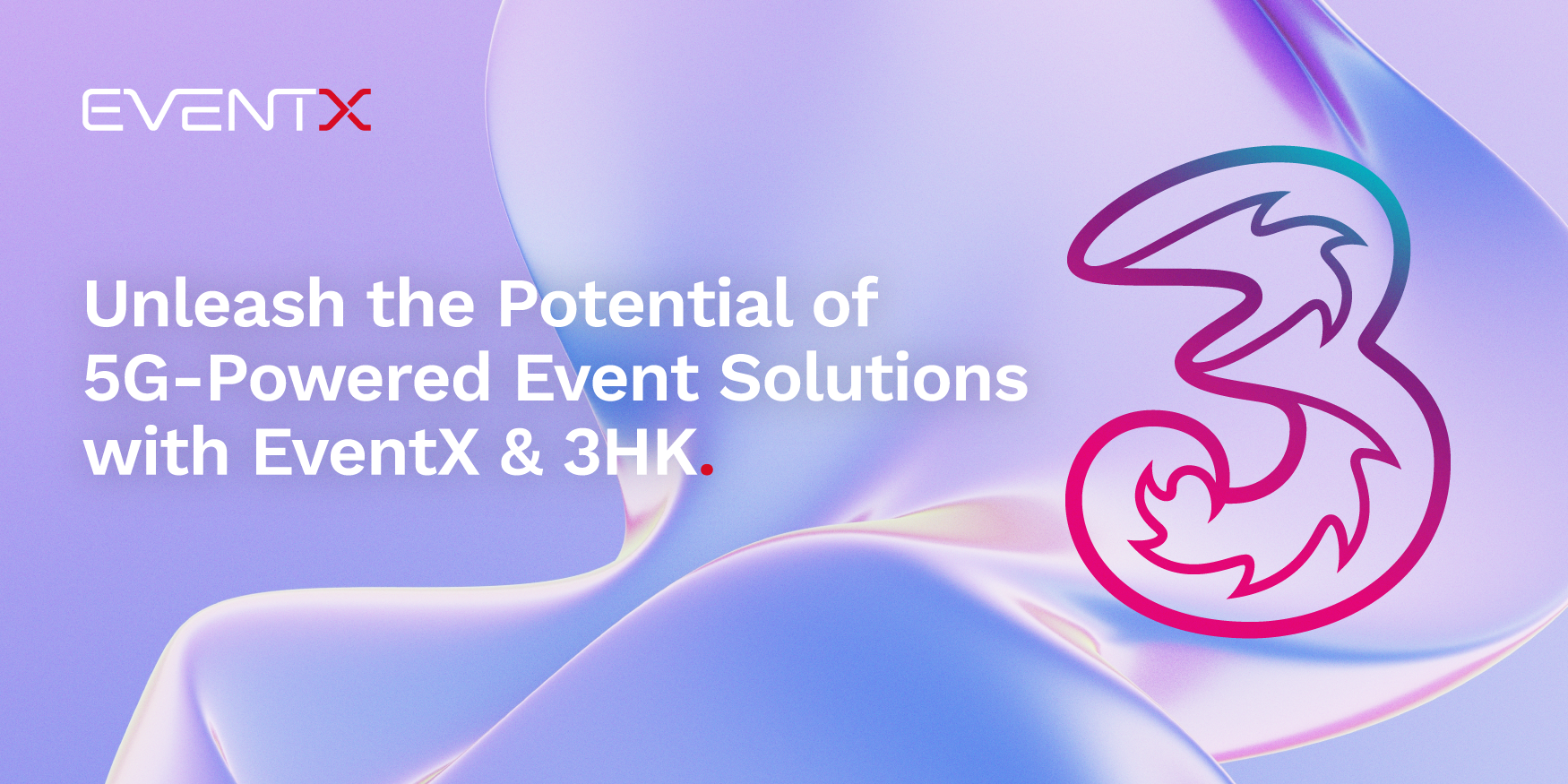 EventX partners with 3HK to provide One-stop Exhibition Solution
This dynamic duo merges EventX's cutting-edge event management technology with 3HK's world-class 5G network connectivity to offer an unrivaled integrated solution for Hong Kong's exhibition industry.
Read More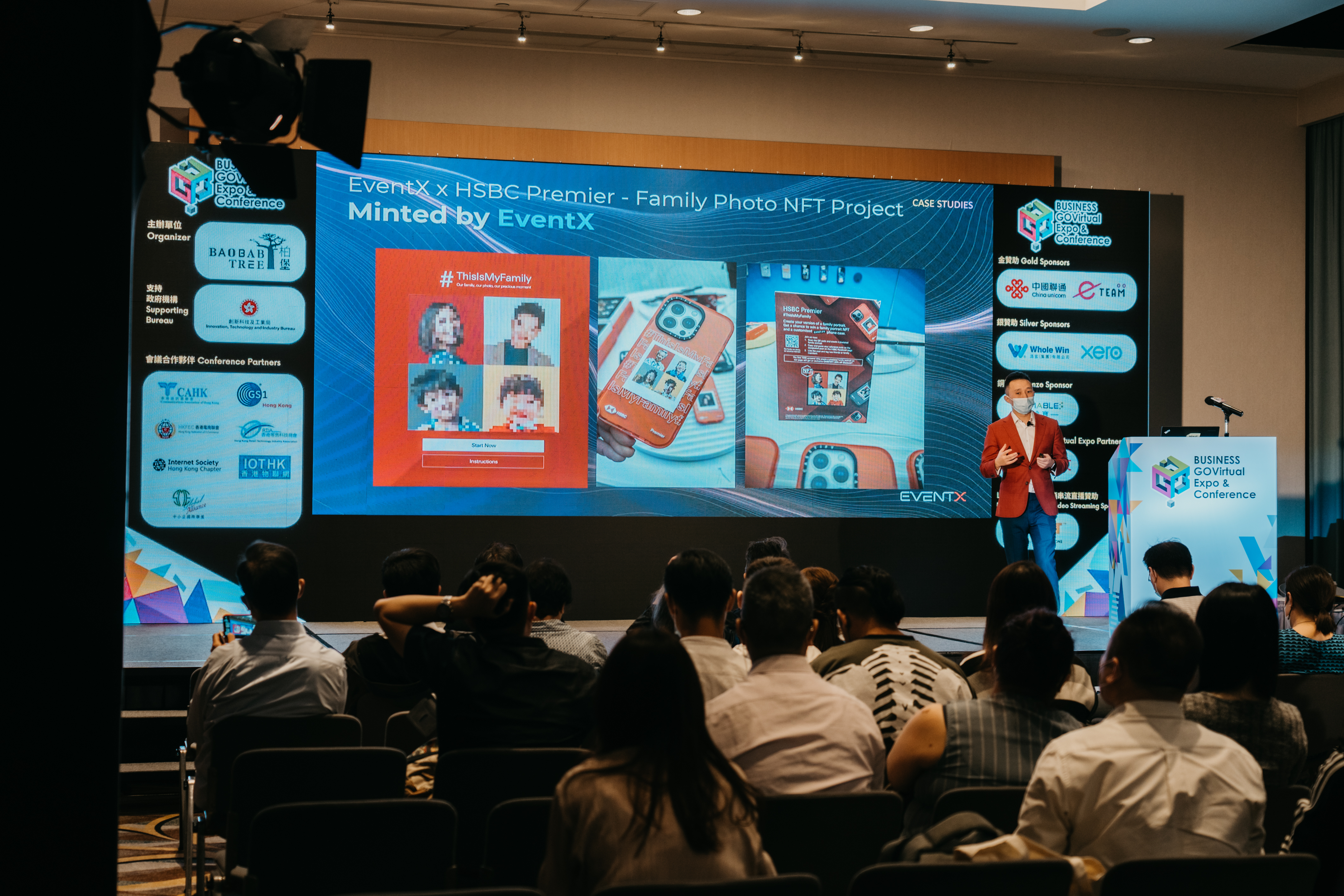 What are MICE Events: Definition, Opportunities, and Solutions
As the scale of companies and corporations expands, the need to publicize your product is greater to generate more business interactions. 4 main components, namely Meetings, Incentives, Conferences, and Exhibitions (MICE), comprise the business interaction model.
Read More