Enterprise Grade (ISO 27001)
Event Registration System

Streamline your event management with the leading online event registration platform. Make organizing events easier and attract more attendees while delighting them with a seamless online registration experience — powered by EventX's all-in-one events management and ticketing platform.
(4.9 out of 5 stars)
A robust and easily customizable platform
for collecting online registrations for your event.
Free or Paid Registrations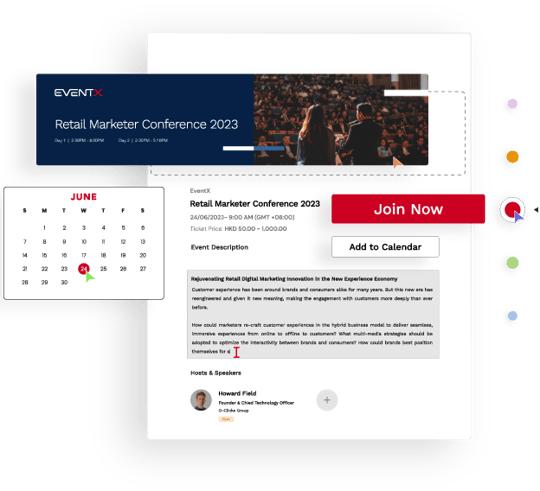 Build Registration Sites
Design entire event sites from a single software, all in a few minutes.
Drag & drop widgets
Set brand styling sitewide
Support multiple languages
Event templates and libraries
Multiple forms for different purpose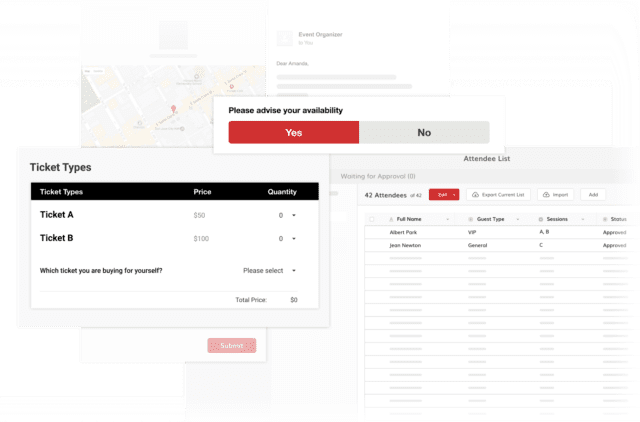 Promote Event
Reach a wider audience and grow your attendance.
Email marketing tool
Robust ticketing system
Promo code system
Ideal audience targeting
Social media sharing tool
Embed to any website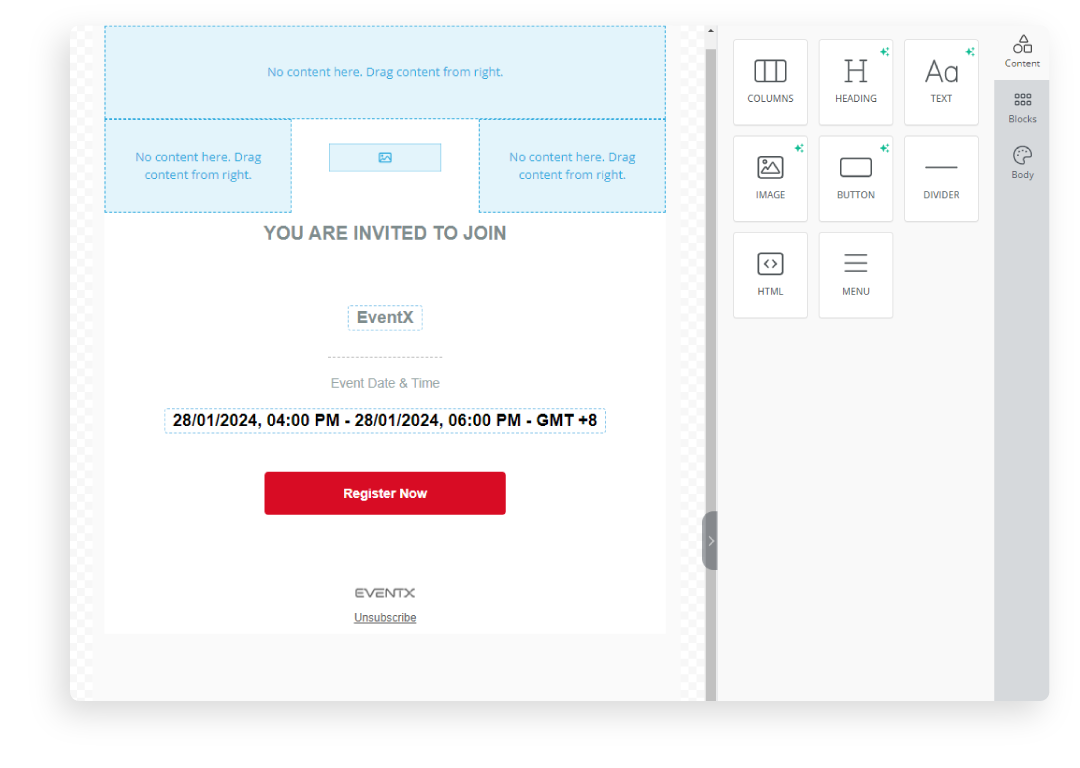 Personalise Invitation
Deliver a custom and unique experience by addressing your attendees.
Send personalised email
Powerful email campaign builder
Customise SMS / WhatsApp contents
Push event app notification
Customise your event URL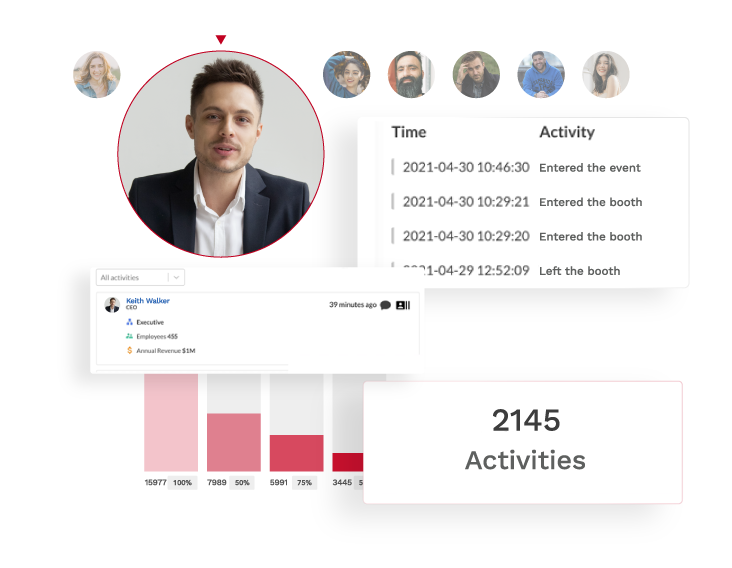 Analyse Event Data
Collect all data before, during, and after your event to prove your ROI.
Visual dashboards
Monitor traffic using source tracking
Get attendee feedback
Track your registration count
Make data visible to stakeholders
Export all event data in 1 click
Streamline Registration in one place
EventX offers powerful, secure and easy registration for nearly any type of event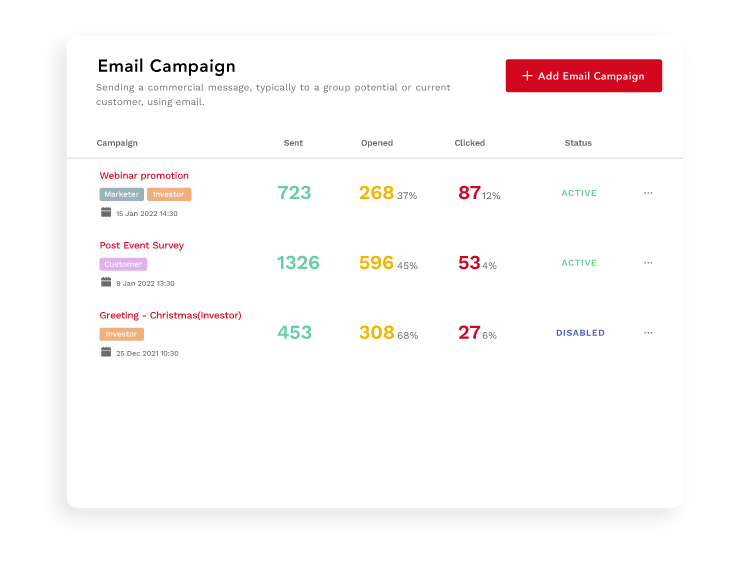 With 10 years of experience in the event industry, we know what you care about.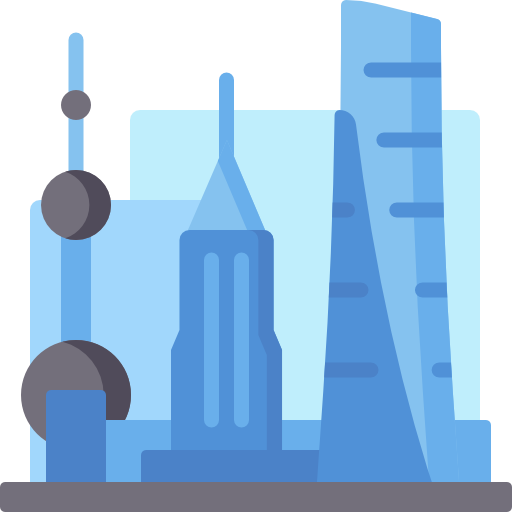 China Network Accessibility
Enhance your business' accessibility with the use of any events in China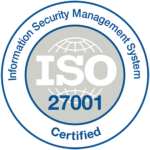 ISO 27001 Certified
EventX was the first Asia-based event management software platform to obtain ISO 27001 certification.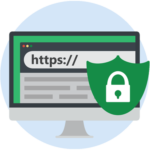 SSL Encrypted
All EventX customer data is encrypted and transmitted via Secure Socket Layers (SSL) technology.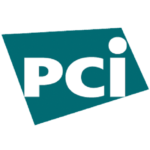 PCI Controlled Payment
EventX employs PCI Controls provided by Stripe, our official payment gateway partner.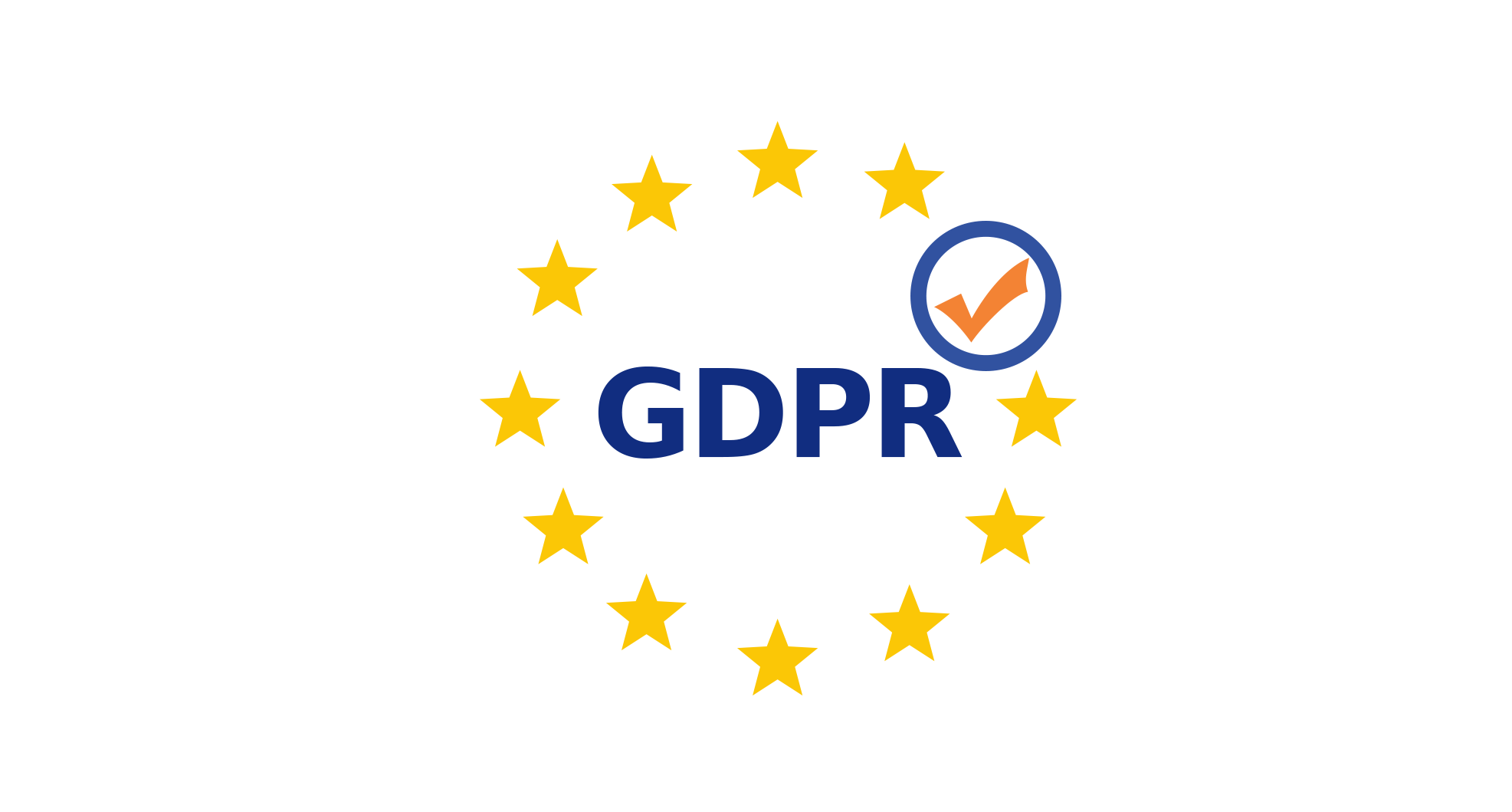 General Data Protection Regulation (GDPR)
Since May 25, 2018, EventX has complied with the EU's General Data Protection Regulation (GDPR) privacy law.
"We're glad we found EventX. Their solution has been the easiest to understand, to explain to potential exhibitors and attendees, to set-up, and to navigate. All of the core experiences we wanted to make our trade shows virtual, EventX helped us make possible. Best of all, the platform just keeps improving. We're amazed by how quickly this team has been able to adapt to the changing times, helping event organizers like us to do the same. Here's to more years of fruitful partnership between us!"
"We were very satisfied with EventX virtual event Platform during our virtual conference last week. From a technical point of view, everything went very smooth and seamless. Our delegates were very positive and they found the platform very user friendly. Well done!"
"We are really happy about the platform. The platform fulfills our expectations for organizing the exhibition and brings the real feeling of the expo for exhibitors and visitors. Besides, it is an easy-to-use platform that can help our exhibitors build up booths and registration easily. Thank you very much for your team working hard to make us a successful exhibition."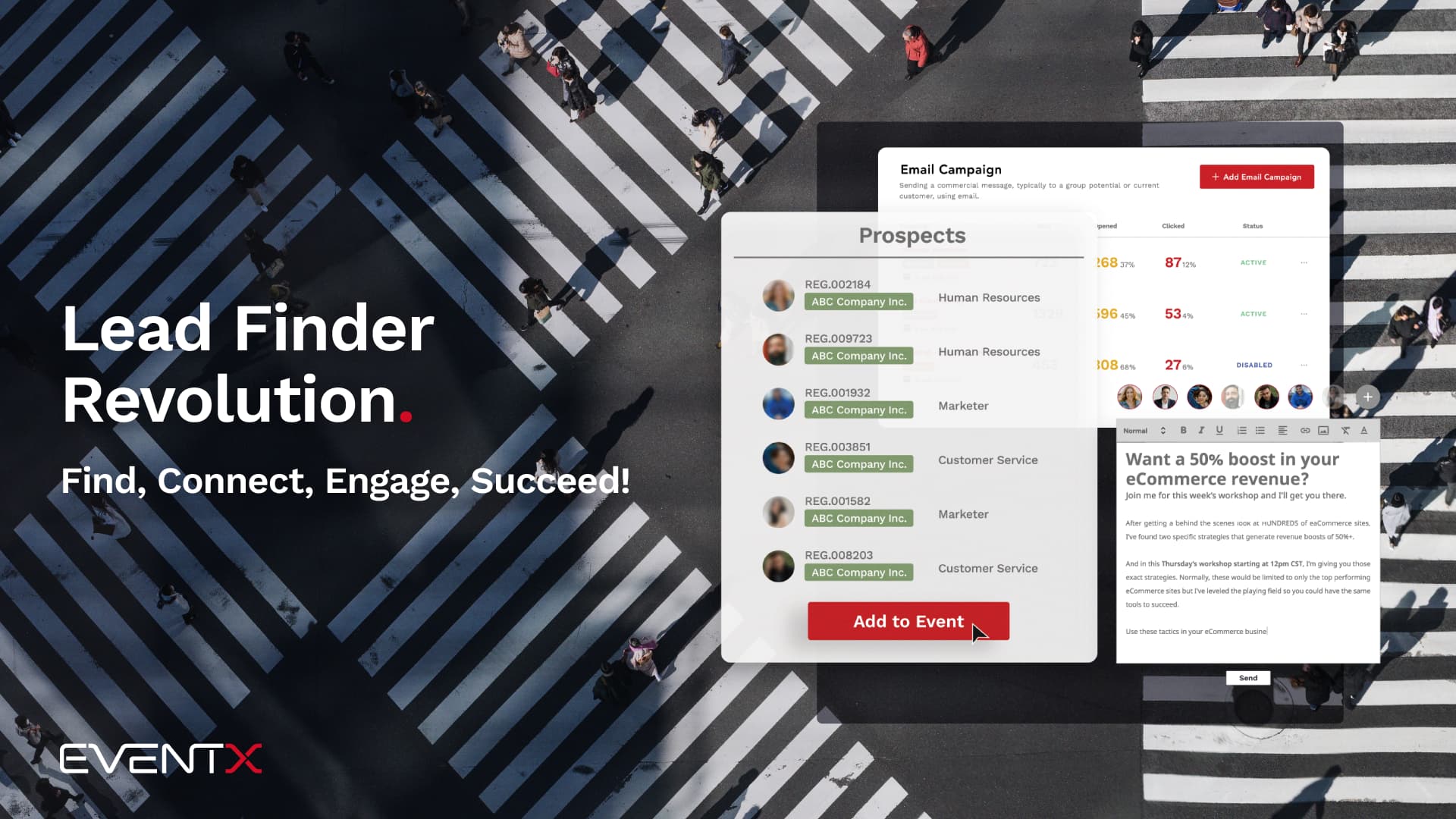 Access to Our 113+M Database
Struggling about finding attendees for your event? EventX's living database of 113M+ contacts from different aspects has you covered.

With the accurate B2B database of 113+ million professional profiles, EventX helps you invite prospective clients beyond your current marketing list.
Check Out Our Clients' Success Stories
Frequently Asked Questions
How should I decide the right online event registration software for my event?
When picking the suitable online event registration software for your enterprise, it's beneficial to examine each of the requirements that will directly impact your success. Some crucial questions to consider include the following:
Is the online event registration software dependable?
Does the registration software offer the simplicity and intuitive features necessary for your complete event management process, encompassing your event registration website and event registration app?
Will the online event registration software for nonprofits back your website's complimentary online event registration and free event registration site or app?
Does it encompass the customer support services you might need before, during, or post-event?
Will it ensure a positive user experience, encourage attendee engagement, and offer the reporting functionality to precisely gauge key performance indicators?
How do I create an event with EventX's free online registration system?
Creating unforgettable events is easier than ever with EventX Lite of free event management solutions and online event registration software.
To get started, log in to your EventX account, and click "Create event."
Enter your event details [event name, host or organizer, event type, location, and dates].
Add your event description and preferred image. You can now set up your online events page, then add your ticket types.
Before publishing, be sure to set up your ticket order form and add your payout details.
You can view more detailed step-by-step instructions on our support page in the EventX Help Center.
Does EventX support in Mainland China?
We are localized for Asia with China's streaming license so we can help your event access in China. With our 96% of Customer Satisfaction Score (CSAT), we will ensure your events run smoothly with our platform along with our in-person and virtual event solutions.
Do I need to download EventX app or software to host/attend events?
To attend or host events on EventX, you do not need to download a software. EventX is accessible across devices and browsers. Using a laptop/desktop ensures the best experience for organising events.
How does EventX ensure the security of users' data?
EventX is the first Asia-based event management software platform to obtain ISO 27001 certification. All our customer data is encrypted and transmitted via Secure Socket Layers (SSL) technology with regular backup. We comply with the EU's General Data Protection Regulation (GDPR) to ensure users' data privacy. We also promise that your data will not be used for advertising purposes.
What is an online event registration system?
An online event registration system furnishes the technology to enable an effective, user-friendly ticket buying and checkout procedure for your event participants.
The foundation of a successful online event registration system is a strong digital transformation that simplifies the end-to-end online journey for attendees by eradicating all manual operations and paper forms.
A smart online event registration system offers event planners with unique benefits. These may encompass customer relationship management (CRM) features, the adaptability to tailor features depending on the size and nature of the event, and heightened efficiencies that accompany digital workflows and smooth automation.
How do I use EventX?
Just sign up to create your account — and then start creating your events. Trusted by millions of attendees and more 20,000 event planners around the world, EventX makes it easy to create, manage, and promote your events. From email marketing to social media integration, you'll discover advanced tools designed to help you reach more audience and grow your business — all in one place. Discover more on how to use EventX.
Hosting a large or complex event?
We offer tailored plans for event pros with unique needs. Get personalized support, customized pricing, and more by partnering with our sales team.
Event Registration Software Considerations