If you are planning an event, you know a lot is on your plate. From finding a venue, and coordinating with vendors to managing the budget - there are many details to attend to, and it can be difficult to keep track of them all. That's where Event Management Software comes in to help make the process easier and more organized. Are you ready to discover 8 top event management software programs available today? Look no further! In this blog post, I will cover all your needs!
Questions to consider when choosing an event management software
Before selecting an event management software, it is essential to ask yourself some questions to narrow down your options and find the perfect software for your needs.
Your needs

: What types of events will I be managing? What are my specific requirements for the software?

The app

: is the app all-rounded and has the features you need for your event? Does it support attendee check-in and personalized content based on ticket type? Does it integrate with your CRM?

Interface

: is the software interface user-friendly?

Pricing & payout

: How much does the software cost? Does it charge a monthly or yearly subscription? If you are using the platform for ticketing, how much does the platform charge for transaction fees?
Finding the ideal event management software for you can be straightforward if you have an idea of what to look out for. The best programs should provide easy navigation, allowing users to quickly and effortlessly create and manage events. Additionally, the best option will come with helpful features such as scheduling tools, ticketing systems, and payment tracking capabilities - making event planning much more accessible than ever!
Top 8 Event management software
Here, 8 top event management apps are chosen based on reviews from Capterra, a platform to help businesses to choose better software. Comparisons are based on their ratings, popularity, pricing, relevance to event management, comprehensiveness regarding their features, etc.
1. Webex Events (formerly Socio)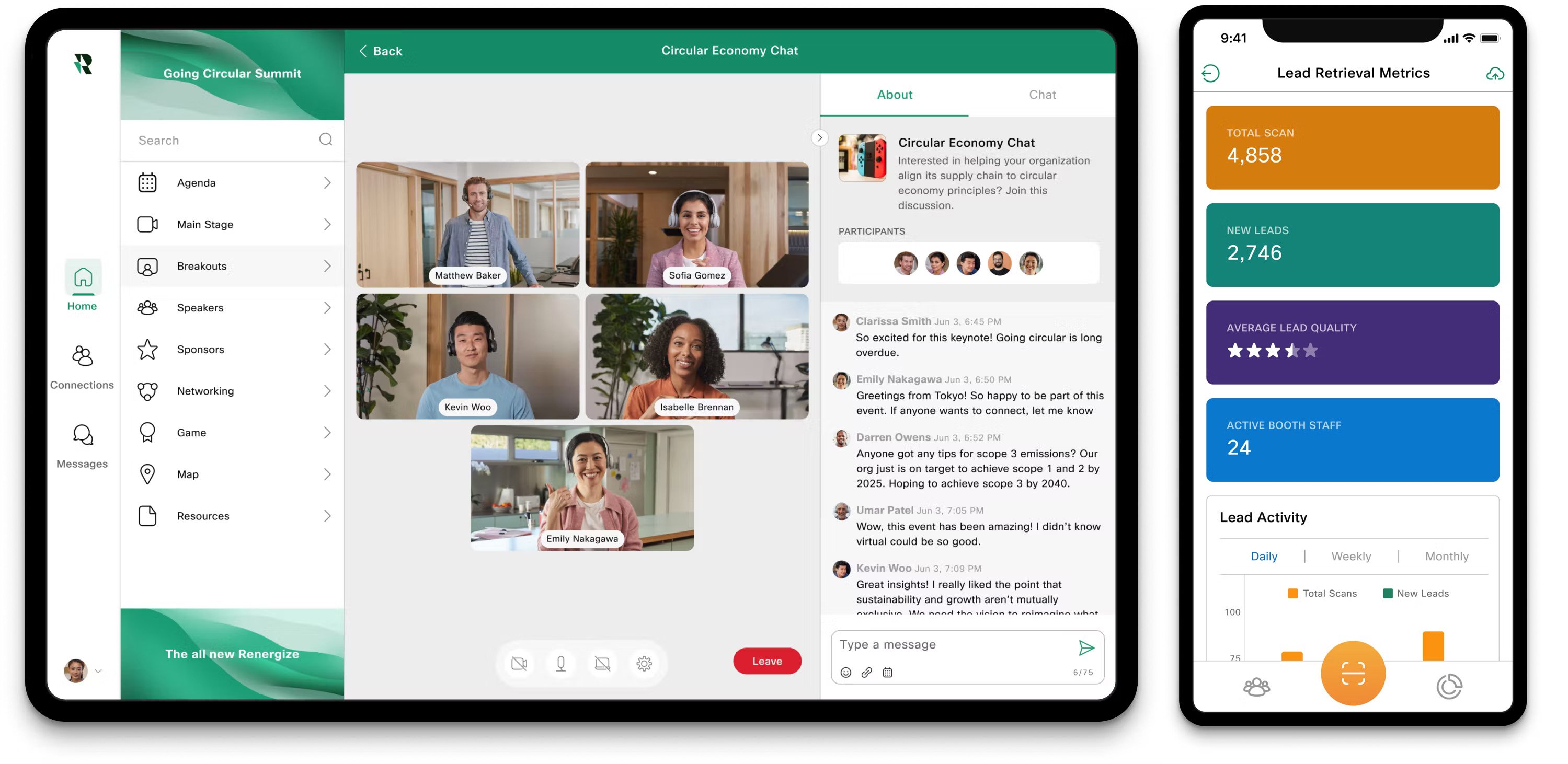 Webex Events is a game changer for in-person conferences with comprehensive features available. Revising agendas and notifying conference attendees about the changes are no longer a hassle, as the software takes care of that for you! Furthermore, this software offers interactive features such as games and sponsorship showcases which will help keep your guests engaged. Everything is highly customizable, and its front and back end are equally user-friendly to navigate.
Pro:
Webex focuses on video and video conferencing. I find Webex Meet one of the most user-friendly platforms for meetings, and its picture and function are very similar and concise to similar properties such as zoom and Skype.
It is worth mentioning that it has perfect interactive functions, such as its own Q&A column and voting.
Different interactive options and functions
Con:
Limited function on the mobile app
However, I do wish that some of its features, such as polling, were available on the mobile app. Switching between apps can also be a hassle, as messaging requires using an additional app called Webex.
Polling is unavailable on the mobile app
2. EventX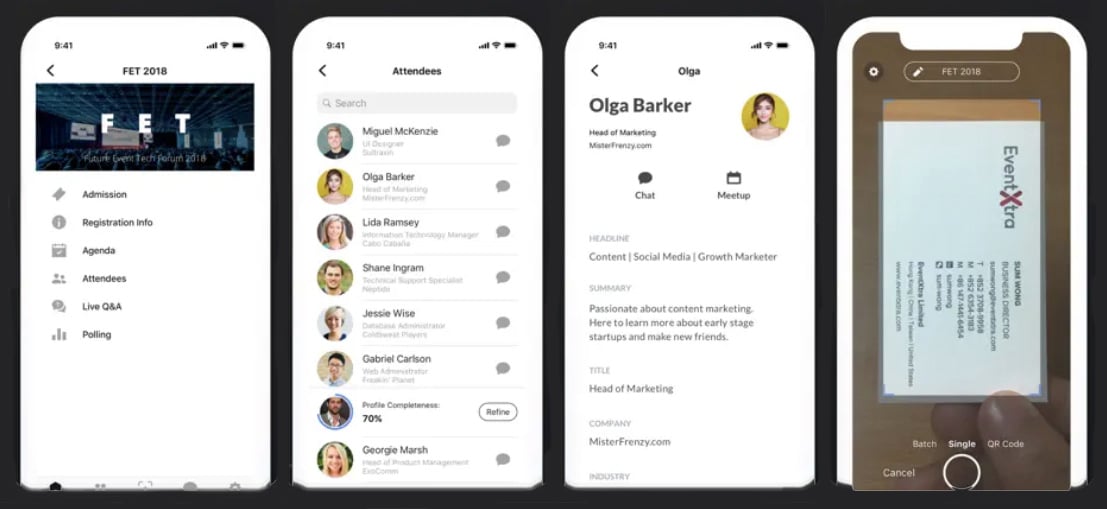 If you're looking to expand into Asia Pacific regions, EventX is the ideal tool for your business. This award-winning virtual event platform specializes in Asia. It provides streamlined event management experiences with features like event registration, sending emails to guests, onsite check-in and badge printing, survey, reports, etc. Customers are raving about its all-rounded performance in event management. In addition, it allows easy access to audiences in China, which differentiates the platform from others. However, it may be less popular due to its relative infancy than other event management platforms.


Pros:
All-roundedness and streamlined event management process
Access to audience in China
Cons:
3. Whova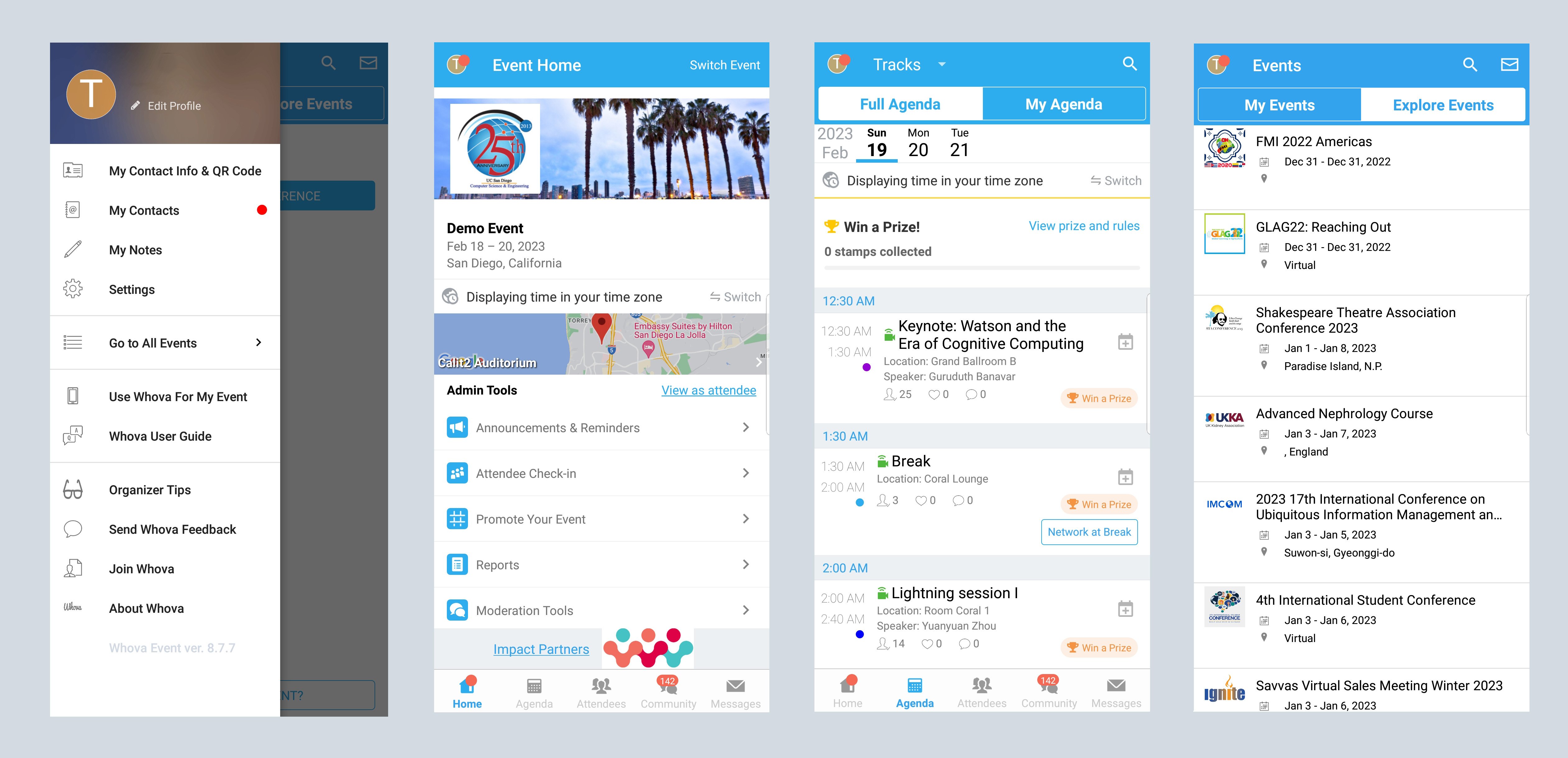 Whova is one of the most highly rated and well-established event management platforms with all-rounded functionality. One of the best features of Whova is networking. Event attendees can upload their personal profiles on the app, find information and connect with one another easily on the platform. There are also some thoughtful features, such as a page to look for event information and updates and a map feature that indicates the venue of the event.
Pro:
Whova offers a comprehensive range of incredibly convenient functions for event organizers, from preparation and registration to participation rate reporting, all in one application. I love the addition of features like Floor Maps, photo galleries, and passport collections.
Admin Tools and Exhibitor Hub for preparation and review
A separate platform for online and offline activities
Another great feature of Whova is that it offers separate platforms for online and offline activities, allowing organizers to choose the best option for their needs.
Con:
However, I do wish that Whova had a live stream function, as it can be inconvenient to have to switch to another platform for online meetings and events. If you want to watch live broadcasts on Whova, you need to paste the URL in the program after the live broadcast on other websites. You may need additional equipment.
4. Cvent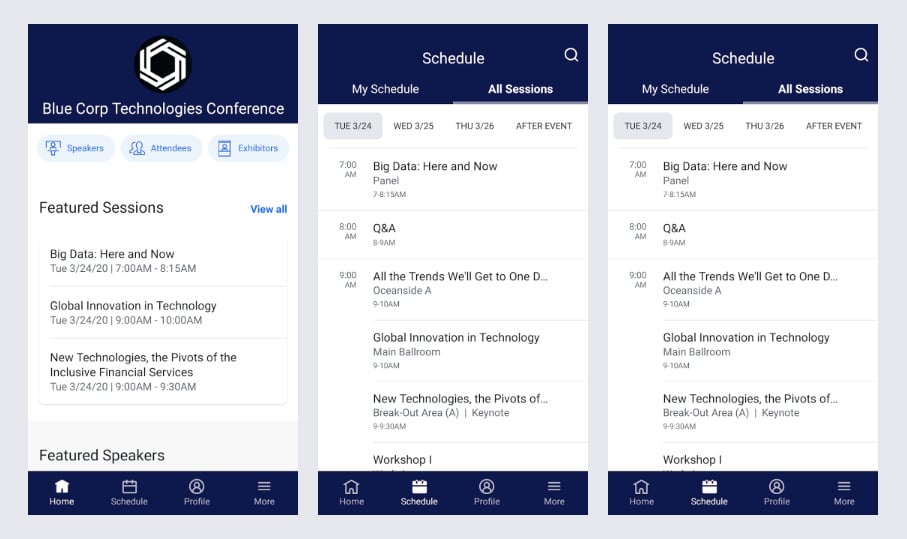 Cvent boasts an all-in-one platform for event management. It is one of the apps that has the most features, including but not limited to badge management, surveys and feedback, ticketing, exhibit/vendor management, sponsorship management and even gamification. Customers enjoy the customizability of the app. Unfortunately, the stability and the ease of navigation of their application has been a major source of frustration for individuals, and many reflected that the app requires a long time to respond and even just to save profile. Luckily, the customer support service has been very accessible and helpful around the clock.
Pro:
Private and confidential access to information
Cvent is an excellent option for private and confidential event access. It allows users to unlock the event only by entering the event ID provided by the organizers and checking in via QR code, ensuring that event details and participation remain confidential.
Event ID is requested to access the event.
Informative and customized user interface
I appreciate that Cvent has an informative and customizable user interface. In addition to basic activity materials such as the time and place, list of participants, and speakers, Cvent can also display activity schedules and venue maps, which is relatively more practical for participants. Organizers can also customize their event user surface.
activity schedules
venue maps
Customized event cover and intersurface
Con:
Incomprehensive and laggy
The information displayed in Cevent is more of a notification nature. Unfortunately, it does not have any interactive features, such as polling and Q&A, which need to be implemented by the organizer in a third-party application or platform. Also, the application can be quite laggy and not user-friendly at times. I think it can be quite frustrating when trying to navigate through large amounts of information.
5. Eventbrite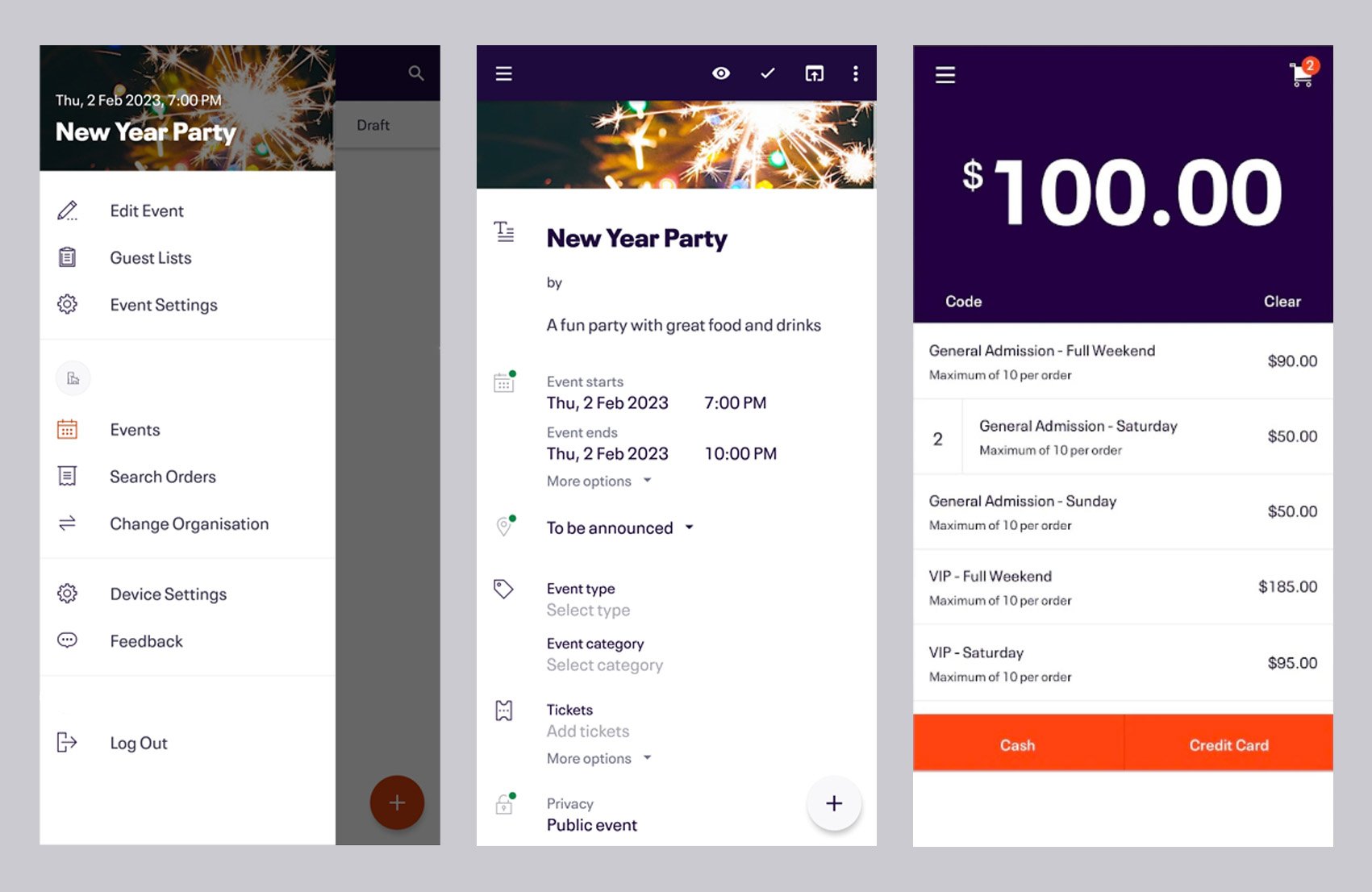 Eventbrite is an event management platform with all the essential management features. Focusing on cultural, community and commercial events, the platform is best for event organizers of this type and smaller businesses. With a page that shows trending events, the app greatly helps event organizers to promote their event and event goers to find some fun around the community. While Eventbrite is an amazing platform for free events, it may be less desirable for paid events - their transaction fees for each ticket sold are one of the highest in the market. Also, the lack of customer service or help FAQs makes it difficult for customers to set up their own event sometimes.
Pro:
1.User-friendly
The most appreciated feature is its registration process. It is very straightforward and user-friendly that makes event registration a breeze. After logging in your account, the app will automatically fill in your contact details, so you do not need to enter any complicated information. The whole process is very smooth.
(You can add your ticket into Apple Wallet!)
2. Comprehensive customization
I also found it convenient that Event organizers can customize the event page with their branding, images, colors and summary, even with agenda and FAQ. The size and word limits are reasonable as well.
Con:
1. Switching between app and websites
The biggest problem is that the organizer app users need to keep switching between the app and the website to enter information, and the Eventbrite Organiser's app can't set any event messages, so the app could be more useful.
(When you enter the mobile app, it will jump to the browser and you have to enter all information through its website.)
2. Limited support
Eventbrite's support is only available during business hours, and users cannot contact them over the phone.
6. Eventzilla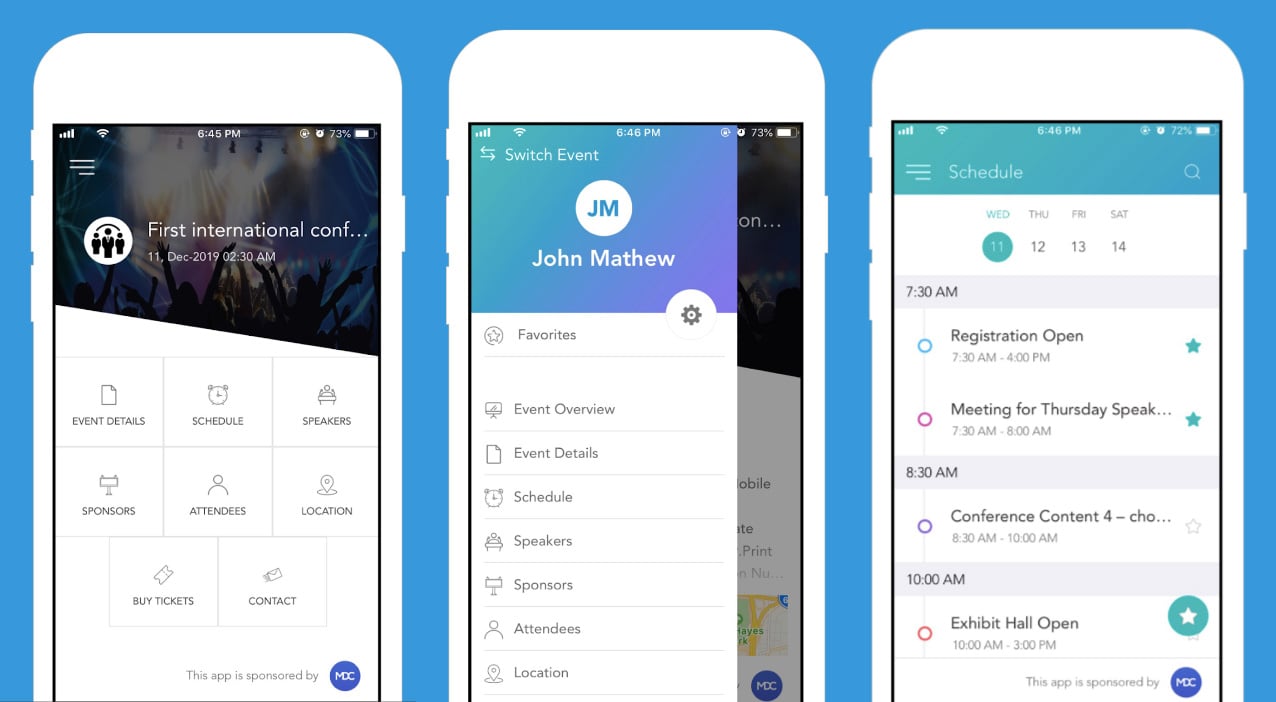 Eventzilla has secured its place in the highly competitive event industry by providing a free yet high-performing service. It is considered as the best rivalry of Eventbrite - with the edge of a lower transaction fee in ticketing. However, the interface is not as intuitive, and customer services may not be prompt enough to respond to your emergent needs. In addition, some technical issues were found within the app, such as unable to log in with registered email. Nonetheless, the app is constantly updating its software to stay competitive, and seriously, what can you ask for with such a bargain?
Eventzilla is an online event registration and ticketing platform that allows event organizers to create, manage, and promote events. Some of the key features of Eventzilla include custom branding, social media integration, multiple ticket types, and a mobile app.
Pro:
Custom typography and branding
I appreciate the custom branding options available on Eventzilla, which allow event organizers to personalize their event pages with their branding, logos, and typography, which is less common on other websites.
(very flexible and intuitive design)
2. Multiple ticket types
Eventzilla allows event organizers to create multiple ticket types, such as early-bird, regular, and VIP tickets, so that organizers can better arrange their participants.
(you can even set any name or feature for your special ticket group or genre here!)
Con:
Long registration process
One trouble is that new users must go to the website to register as they cannot do so through the app directly, and the verification time of the mailbox is relatively long. A few minutes are needed to direct to the registration page after you click into the verification link.
(It takes some time for you to go through the whole signup process on the website.)
7. Airmeet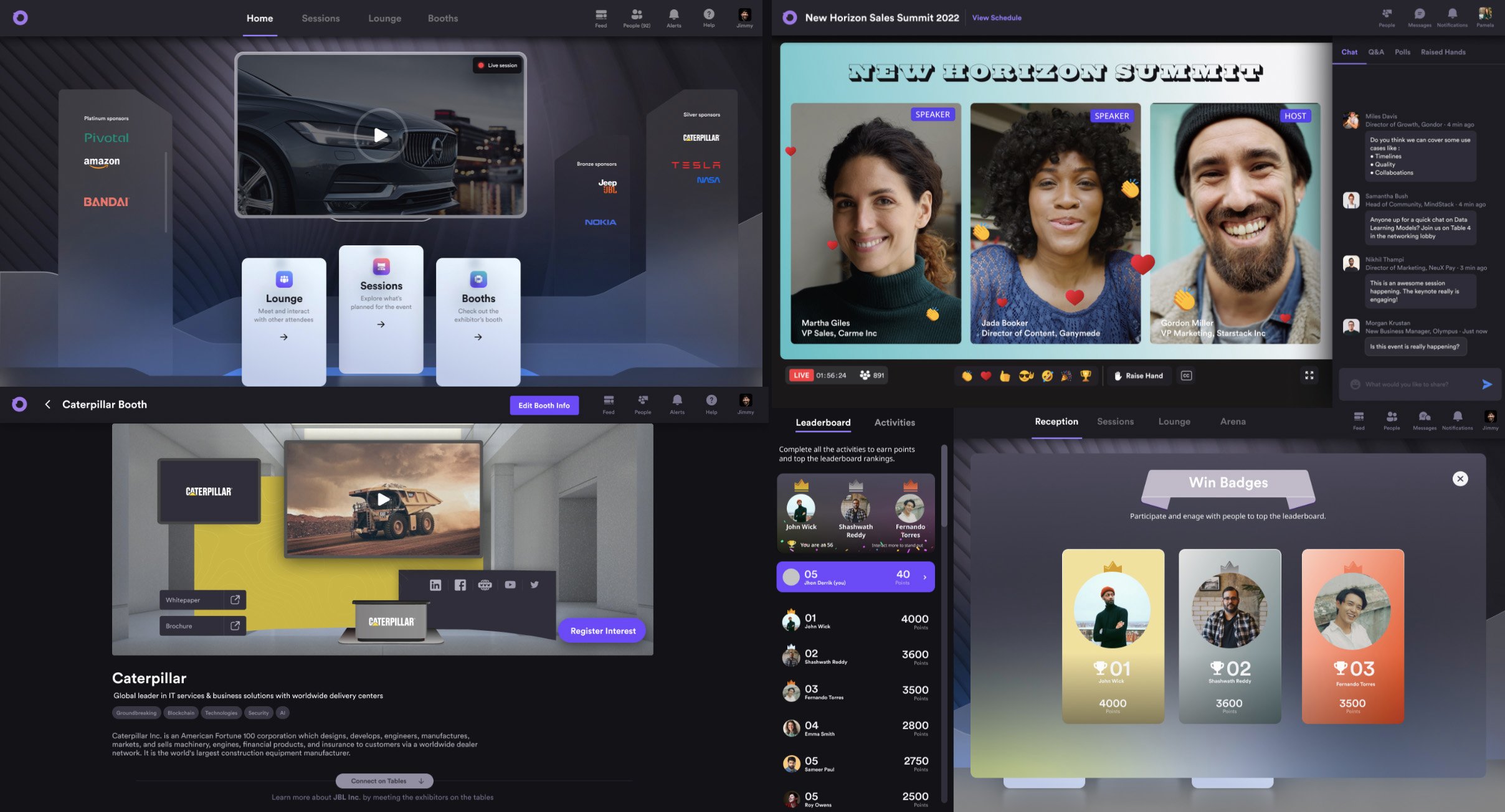 Airmeet is a top performer on virtual events. Even its free version contains a wide range of advanced options for virtual events, such as networking based on discussion tables, exhibitor booths, customizable branding etc, which offers an immersive virtual experience that simulates the real life. Yet, the mobile experience may not be compatible with the web experience. Glitches are also found here and there, such as insufficient control over email reminders, inability to share system audio etc. Fortunately, the development team are constantly seeking for growth of the platform.
Pro:
Low-cost livestream platform
If you are looking for a more affordable livestream platform, Airmeet is a good option for virtual events. plus organizers can directly open seminars or meetings via the website instead of switching to or linking up other platforms.
(You can enter any table for group discussion.)
2. Strong interactive features
Airmeet offers a variety of interactive features, such as live Q&A sessions, live polls, and tables for group discussions.
Con:
Limited integrations and customization
However, I do wish that Airmeet had more customization options for event pages. As mentioned above, organizers can create meetings through this website, yet it does not offer many integrations with third-party tools or applications. Also, while Airmeet allows for some customization, the platform does not offer the level of customization that other event organizers mentioned here may require.
8. Evite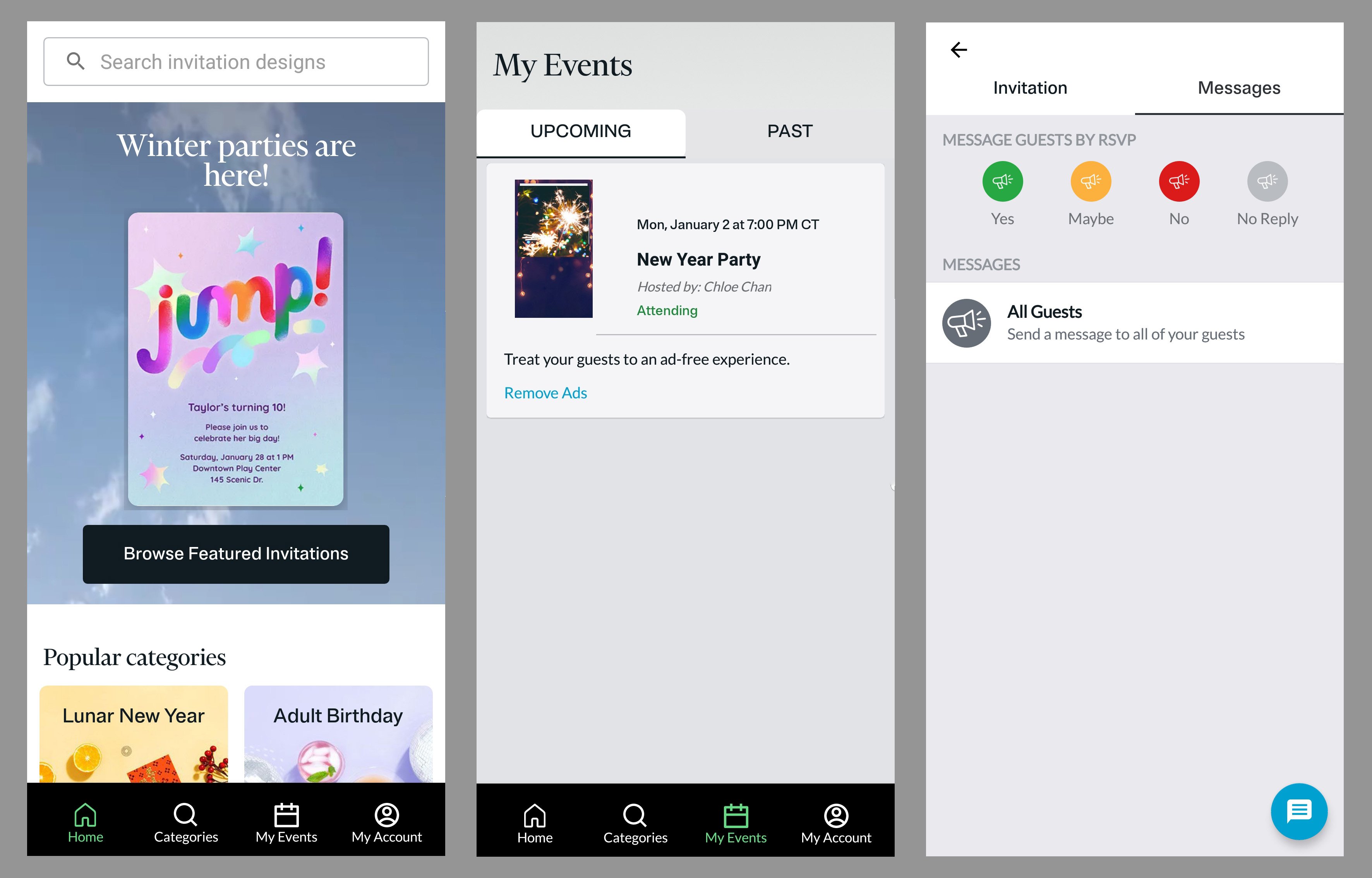 An emerging player in the event field, Evite is an event management platform suitable for personal and small-scale events. Despite having a limited set of features, the platform is extremely helpful when it comes to sending out online invitations and managing RSVPs. Its ease of use and simple interface is what customers adored, and has even got the best ease of use event management software in 2021 and 2022. What's more, beautiful event invitation templates and management for RSVPs can be used for free. Yet this comes with a price - the free version has quite a number of advertisements, and invitation templates are not sufficiently customizable.
Pro:
Easy to use
I think Evite is a great option for those who need to quickly and easily send out event invitations. The website is clean and intuitive, you do not need much time to learn how to customize the design of your cards and messages.
2. Many free aesthetic templates
One of the biggest pros of Evite is the many free templates available. Even if you don't have design skills, you can still create a beautiful invitation with a professional look. The templates are organized by occasion,so it's easy to find one that suits your event.
(The grey area is the customization area.)
Con:
Lagging problem
One problematic issue is the frequent lagging on the app. This can be frustrating if you're trying to make last-minute changes to your invitations. Additionally, the platform doesn't have an auto-save function, so if you're doing complicated customization, you run the risk of losing your work if the app crashes.
(There has been a lag of around 5 times when customizing this card template.)
2. Limited functions and occasions
Another limitation of Evite I've found is that it's primarily designed for invitation creation and management. If you need other event management functions like promotion and reporting, you'll need to use other platforms. Additionally, while there are plenty of free templates available, most of them are not suitable for formal events, so you may need to purchase other designs.
(For big events, you have to purchase unlimited invitations.)
Comparison Table
Platform
Webex Events
EventX
Whova
Cvent
Price

no free version

no free trial

N/A

with free version

with free trial

N/A

no free version

with free trial

N/A

with free version

with free trial

from $2950/year

(usage-based)

Best for...
formal events, large companies
formal events, medium to large companies

formal events, large companies

formal events, medium to large companies
Rating
4.9
5.0
4.8
4.4
Popularity
3.0
1.0
5.0
4.0
Feature comprehensivity

4.2

4.2

4.0
5.0
Top features

badge management, ticketing, survey & feedback

social promotion, ticketing

social promotion, exhibit/vendor management, gamification, survey & feedback
budgeting/ forecasting, social promotion, survey & feedback
Ease of use
4.8
5
4.6
4.0
Customer service
4.9
5
4.6
4.5
Features
4.6
5
4.7
4.3
Value of money
4.7
4.6
4.6
4.1
Platform
Eventbrite
Eventzilla
Airmeet
Evite
Price

with free version

with free trial

N/A

with free version

with free trial

(works well with free version)

from $1.5/registration

(by registration)

with free version

with free trial

(works well with free version)

N/A

with free version

with free trial

(works well with free version)

Evite Premium: $14.99 - $79.99/ event based on size

Evite Pro: $249.99 billed annually

Best for...

cultural & community events, small to medium companies

small to medium companies

virtual events, small to medium companies

personal events, small companies
Rating
4.6
4.4
4.4
4.6
Popularity
5.0
3.0
2.0
3.0
Feature comprhensivity
4.0
4.0
3.8
2.0
Top features
ticketing
social promotion, ticketing
real-time chat, recording
Ease of use
4.6
4.3
4.3
4.7
Customer service
4.3
4.2
4.5
4.5
Features
4.5
4.2
4.3
4.5
Value of money
4.5
4.5
4.4
4.6
Conclusion
Event management software is a must-have in today's digital age, and our list should help you make the right decision that will enable you to create events as unique as your organization. However, we recommend testing out a few softwares yourself to ensure that you find the best fit for your needs. Good luck!