Video conferencing software has been part of business processes and communication platforms utilized by millions of businesses around the globe. From streamlining communication processes to ensuring a personal link between employees, video conference platforms are continually becoming a crucial part of every brand's success. While these types of software have been available for years, their necessity has been bolstered by the global pandemic – especially when lockdowns demanded the need for work-from-home setups. If you're an owner of a business and you're looking for the best video conference or webinar hosting platforms to facilitate a streamlined communication process for all your employees or target audiences moving forward, we've listed five of the best applications for your online meetings or conferences in this article. We'll delve into their advantages, features, and price points so that you can find the best fit for your workplace.
What Led to the Rise of Video Conferencing Software?
While the reason behind the proliferation of video conference application usage cannot be linearly traced, certain factors that may have led to its boom. From international companies building satellite branches in different countries to the establishment of dynamic setups, video conferencing software has become a crucial part of promoting business continuity. These platforms have allowed international companies to become up-close and personal with their staff even when they're hours or even continents away. Quarterly visits to satellite offices have become decreasingly needed as management transitioned to a more accessible method through online communication.

However, the growth of video conferencing was not as apparent as before the global pandemic. After almost two years of constant lockdowns and distancing efforts, companies from around the world shifted to online communication schemes to get updates, clear schedules, as well as complete tasks even when employees are miles away from each other. For agencies, these hosting platforms lend them a secure avenue to facilitate communication between clients – to either communicate campaigns or even close deals.

For various industries, online meeting platforms allowed companies and institutions to operate and support customers, consumers, and patients in the medical industry amidst the uncertainty of the present global conditions.
Top 5 Video Conference Software Today
Now, let's delve into some of the best video conferencing software that companies and even individuals can use for both business and social purposes. This list will include some of the biggest names in the video conferencing market, as well as promising start-ups that offer impressive features that can rival even the more established platforms today.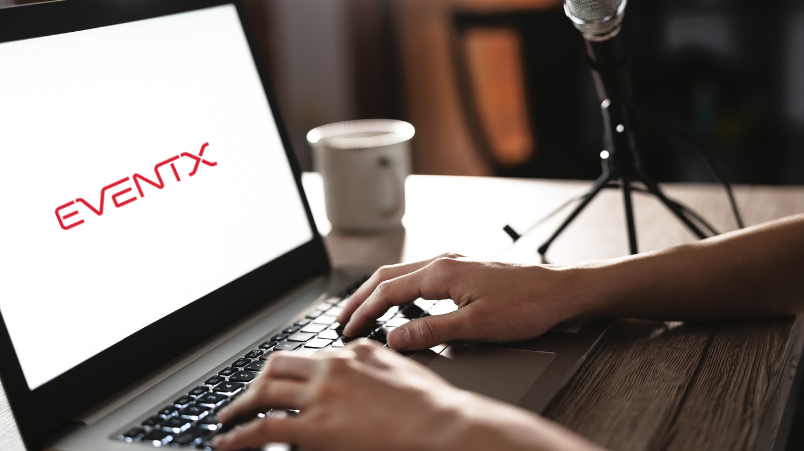 1. EventX
EventX is a powerful online meeting platform that aims to simplify and revolutionize the way that online events and video conferences are done. It offers world-class event management software solutions that help enterprises as well as educational institutions to hold successful conferences and online events in a secure and collaborative platform that promotes maximum interaction between hosts and audiences.

While EventX is a start-up software company, it has made a name for itself and has been well-received by many users – mainly because of the high-quality video conferencing services it delivers. It provides comprehensive event management as well as virtual exhibition support for a top-tier customer experience. It also offers flexible price plans designed for different event sizes. You won't have to pay for features that you won't be needing for your enterprise, but you will have the freedom to switch plans when the need arises.

If you're curious about EventX's features, here are some unique advantages that it can offer your company:
• Maximum Hours Coverage – EventX has three modes: Lite, Pro, and Virtual Event & Expo. Out of all video conference software, EventX offers the longest hours for event support in its free version – offering two hours of free event management for each user.

• Virtual Settings – As a trusted virtual event hosting platform, EventX has designed virtual settings that offer enterprises a unique exhibition experience wherein they can showcase their services and products in an immersive virtual environment, similar to in-person exhibits and booths.

• After-Event Analysis and Reporting – With EventX, there's no need for manual reporting or data processing after each event that you hold. You will be provided with in-depth data analysis and automated reporting for all the information that you will need to measure event performance.

• QR Code Attendance Marking – Enjoy automated attendance checks with QR code-based marking. Attendees are provided with QR codes that they can scan at the beginning of the online event, which effectively removes the need for manual attendance checks and sheets.

• Competitive Cloud Storage – Online events and video conferences can be stored on your designated EventX cloud, which offers 1 TB of storage for each enterprise/user.


However, while EventX is a highly competitive video conferencing software, one downside that it has is its relatively complicated interface. Beginner users will need to be briefed to locate features and maximize the use of the platform. But this can easily be solved through exposure to the video conferencing application and walkthroughs.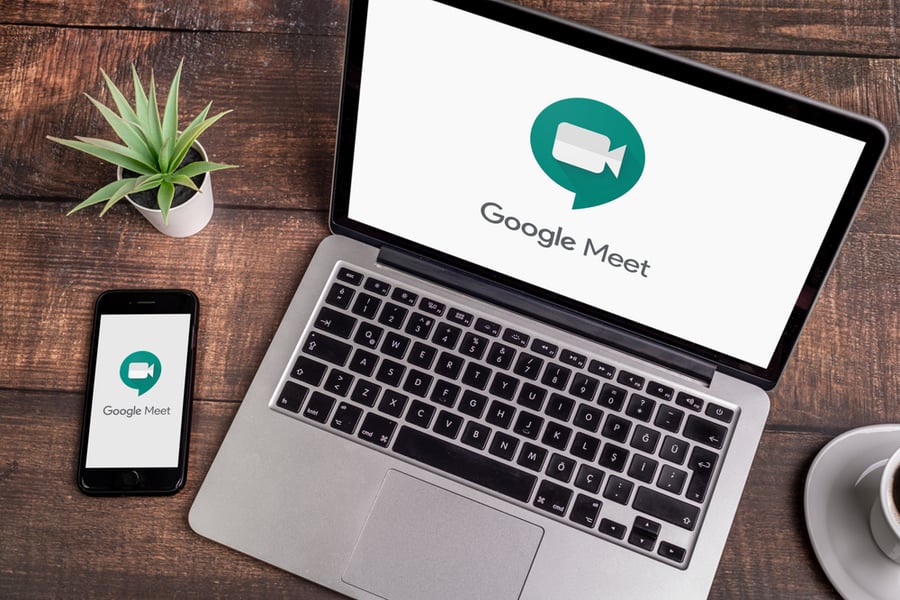 2. Google Meet
Google is one of the most powerful technology companies in the world, specializing in search functions, advertising, cloud support, as well as artificial intelligence. As an all-encompassing company, it's not surprising that it remains to be one of the most utilized platforms for companies all over the world – from email exchanges and file sharing to schedule tracking. It also offers support for all your high-quality video conference needs, offering a user-friendly interface that can easily be navigated even by beginners.

Because of its integration into the Google ecosystem, a lot of enterprises choose Google Meet for all their communication needs, whether through audio or video. While it is one of the simplest video conferencing platforms on the web today, it may still be considered one of the most powerful, thanks to the following advantages:
• Gmail and Google Calendar Integration – As one of the leading platforms for email communications, Google offers seamless integration between email and Google Meet. You can send invites through Google calendar and notify your contacts in just a single platform, removing the need for switching between applications just to facilitate a meeting or conference. It is also an effective event registration platform since it allows attendees to seamlessly confirm or deny meeting invitations through email or their work calendars.

• Beginner-Friendly Interface – Google Meet has one of the easiest interfaces to navigate, with all buttons and navigational features strategically placed on the screen. Whether you're a professional holding an online meeting or conference or you're a beginner still getting the hang of online meetings, Google Meet offers an easy-to-use interface that anyone can use.

• Unlimited Meetings – One of the unique offerings of Google Meet is the unlimited meetings that it offers users. You can easily schedule short meetings or video conference calls at any time without worrying about meeting number limits.

However, while Google Meet is a favorite, there are a few disadvantages that may hinder users from getting the maximum experience for online video conferences. Because of Google Meet's basic interface, communication between facilitators and guests is limited to text chats and voice reactions. Hosts cannot share files, documents, or pictures through the chat box, which means that you will need to use a third-party application for file sharing.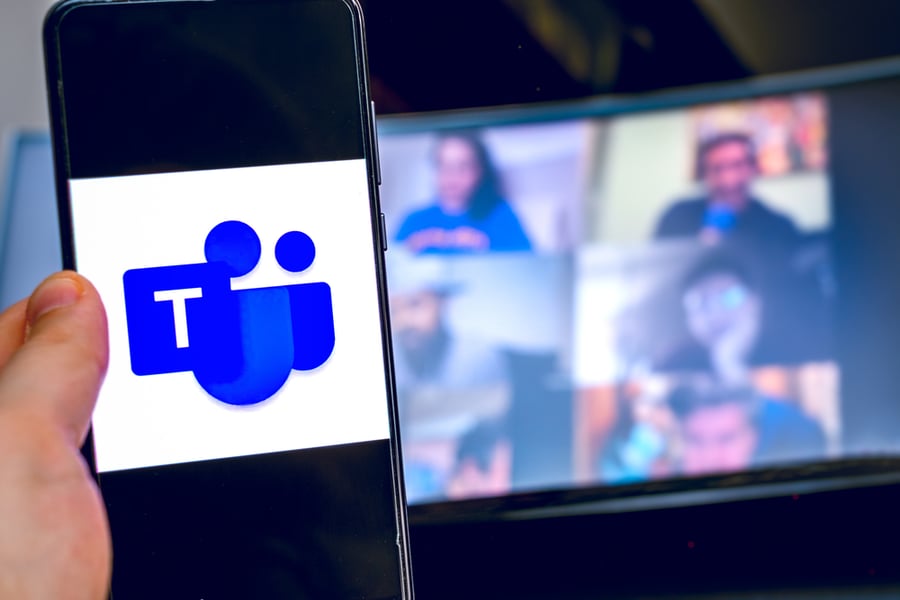 3. Microsoft Teams
One of the most popular communication tools across all industries, Microsoft Teams has helped employees and management to simplify communication and file sharing within a single application. It offers high-quality video conferencing as well as screen sharing for more effective presentations. However, one of the reasons why Microsoft Teams have become a favorite for all types of enterprises is because of its Microsoft Office integration, making file sharing and organization a breeze. It also offers almost 2,000 applications inside the software to better support your company's communication processes. To better clarify its advantages as a video conferencing platform, here are some of the benefits you can get with Microsoft Teams:
• Ease of Online Meeting Invitations – Microsoft Teams streamlines the process of meeting and video conference invitations. Because everything happens on the platform and all employees are signed on, you can easily contact and initiate an online meeting through a team channel.

• Virtual Whiteboard – The integration of Microsoft Whiteboard into Teams easily allows members to collaborate and share ideas while in a video conference, which may boost the effectiveness of meetings and brainstorming sessions in organizations.

• Large File Sharing – Thanks to the integration of Microsoft OneDrive into Teams, users can easily share large files on the platform. You won't need to resize files or divide them into sections and parts just to upload them on the platform. With a maximum file size upload of 250GB, you can upload them on Teams and allow other members of your organization to access it with the same quality.
However, because Microsoft Teams largely depends on the Microsoft Ecosystem, integration may not be as simple, especially with users who use other work applications. To be able to maximize this video conferencing software, all users in the organization will need to install and sign up for some of the core Microsoft applications.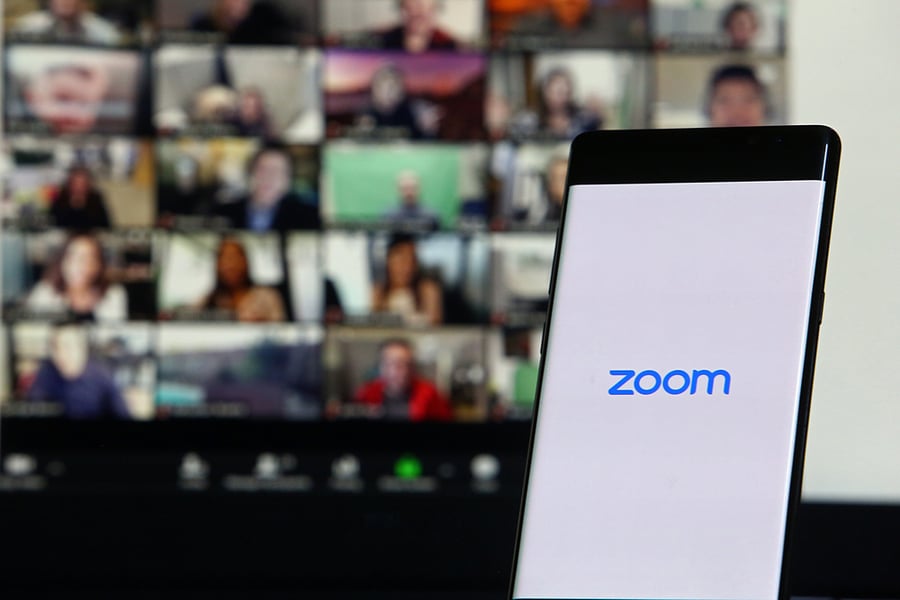 4. Zoom
When the pandemic hit, one of the video conference platforms that took the stage is Zoom, with almost all companies trying out the video conferencing application as they shift to the new normal. But what caused the boom in Zoom calls and video conferences? This might be rooted in the powerful features it offers as well as its sleek interface that simplifies all the important elements online meetings need – including recording, screen spotlights, and stable screen sharing. It's easy to use and it's accessible through different devices, including internet browsers, the Zoom software, or the mobile app. Aside from these, other advantages of Zoom include:
• Raise Hand Function – Zoom addresses the age-old problem of overlapping voices during video conferences and collaboration meetings with the raise hand function and emote functions. Audiences can easily ask for a chance to speak from the host by simply hitting the raise hand button so that they can be unmuted during an online session.

• Breakout Rooms – Zoom is a conducive platform for educational sessions and events that typically include exercises and activities. With Breakout Rooms, facilitators and hosts can easily divide the audience into groups and let them talk amongst themselves for a specific period.

• Facebook Streaming Function – Zoom features a livestream option that allows hosts to stream their online conferences on one of the largest social media platforms in the world. This will not only allow you to reach more people but may also help you improve your social media impressions and interaction.
While Zoom is still one of the biggest video conference platforms in the world, it has not been free from controversies and issues. Numerous reports have stated concerns over the platform's security and safety due to instances of hacking and problematic encryption. While Zoom management has now addressed some of these problems, some organizations still refuse to go back because of the concern over data loss and unauthorized access to meetings.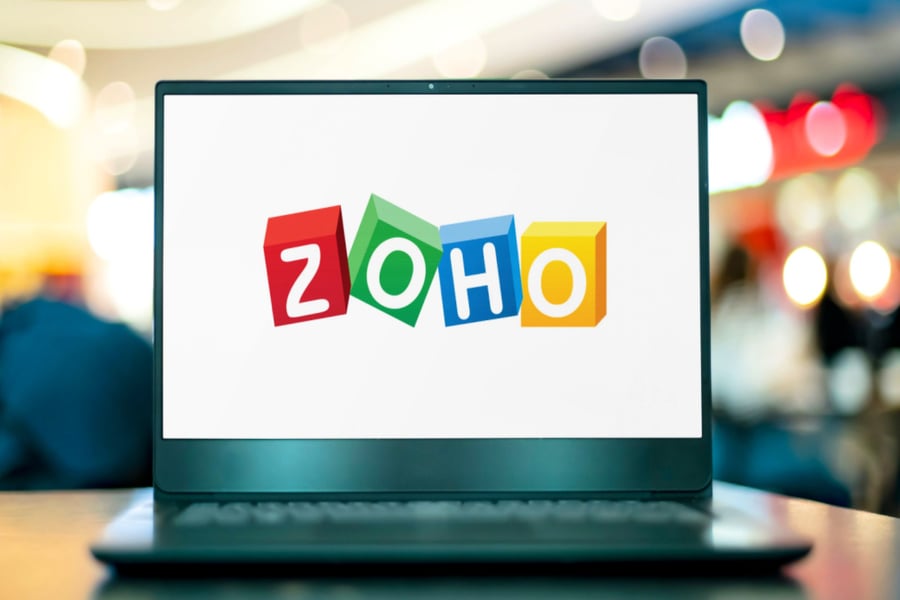 5. Zoho Meeting
Zoho is a company that offers cloud-based services for companies and enterprises to streamline their management processes, communication procedures, as well as financial management. As part of their cloud services, Zoho also offers software specifically designed for remote work, including applications for online chat functions, remote access support, and video conferencing for online meetings.

For enterprise video conference needs, Zoho Meeting offers high-quality video support for all employees within the organization. You get a secure video platform that is conducive to remote collaboration and private meetings between clients. If you've already signed up to the cloud ecosystem of Zoho, switching to Zoho meeting for your webinar and online meeting needs may be a great move.

But aside from the usual support that video conferencing software offers, Zoho also offers multiple features that make it a good contender to some of the most well-known video conferencing applications available today. These include:
• Affordability – Zoho is a video conferencing software that offers highly scalable video conferencing solutions at affordable and cost-effective prices. You won't need to pay for features that you don't need, which is especially useful for small to medium-sized businesses. As your organization grows, Zoho can offer you upgrades and plan changes so that you get the video conferencing requirements that you need.

• Online Meeting Security – Zoho Meeting has a lock feature for webinars and online meetings so that you can ensure that a private conference remains secure, and all the sensitive data that is being discussed through the platform is kept safe.

• Webinar Broadcasts – Zoho Meeting offers a webinar broadcast feature that allows you to hold online seminars for up to 24 hours. You also get in-app recording features so that you can store meetings for future uploading and streaming.
Which Video Conferencing Software Is the Best?
Different online video conference software have their advantages and disadvantages, depending on every enterprise's needs. Due to their different features and offerings, a lot of companies use more than one – effectively switching depending on the meeting's agenda and goal. While this may be efficient, in some cases it's not cost-effective since they'll be incurring more charges just for a few features. If you're part of a management team who've been scouting for a reliable and stable video conference platform, here's a table that summarizes all the strengths, weaknesses, as well as price points of all the video conference meeting software mentioned above:
Free Version of Video Conference Platforms
| | | | | | |
| --- | --- | --- | --- | --- | --- |
| Software | Google Meet | Microsoft Teams | Zoom | Zoho Meeting | EventX Lite |
| Maximum Number of Participants | 100 participants | 100 participants | 100 participants | 100 participants | 100 participants |
| Maximum Meeting Time | 60 minutes | 60 minutes | 40 minutes | 60 minutes | 120 minutes |
| Advantage | Google Ecosystem Integration | Microsoft Office Application Support | Ease of Access and Facebook Streaming Support | Online Meeting Security | Designed for Corporate Seminars and Events |
| Disadvantage | Basic Meeting Functions | Inability to Integrate Employees not on the Microsoft Ecosystem | Security and Safety Concerns | Online Stability Needs Improvement | Interface Needs Getting Used To |
Paid Version of Video Conferencing Platforms
Software
Google Meet
Microsoft Teams
Zoom
Zoho Meeting
EventX Lite

Maximum Number of Participants



150 Participants

300 Participants

100 participants




3000




Participants


3000
Participants


Maximum Meeting Time



24 Hours

30 Hours

30 Hours

24 Hours

72 Hours


Basic Plan Price Per User



USD 8

USD 2

USD 4.20

USD 3


Cloud Storage



100 GB

10 GB

1 GB

10 meetings per host

1 TB
Interested in our solution?
Are you looking for a great one stop hybrid event solution for your virtual, physical or hybrid career fairs?
You may want to have a chat with our event consultant.