Introduction
Event marketing has become a crucial component of modern marketing strategies. With the rise of digital marketing, businesses are constantly looking for ways to create meaningful connections with their target audience, and events offer a unique opportunity to do so. Among the various types of events, conferences stand out as one of the most effective channels for businesses to showcase their products or services, engage with customers, and network with industry professionals.
Why Conferences Are Effective
There are a lot of marketing strategies, and I am sure you have done several marketing before, such as paid advertisement, social media, and cold email. This kind of push-marketing might indeed bring some conversion to you. However, conferences, as a pull-marketing might be one of the most efficient ways to generate quality leads.
For more detail on push-marketing and pull-marketing check out our SumThink series
Why your marketing strategy needs events
Let's take a look at the strength of organizing a conference:
Conference Facilitate Face-to-Face Interaction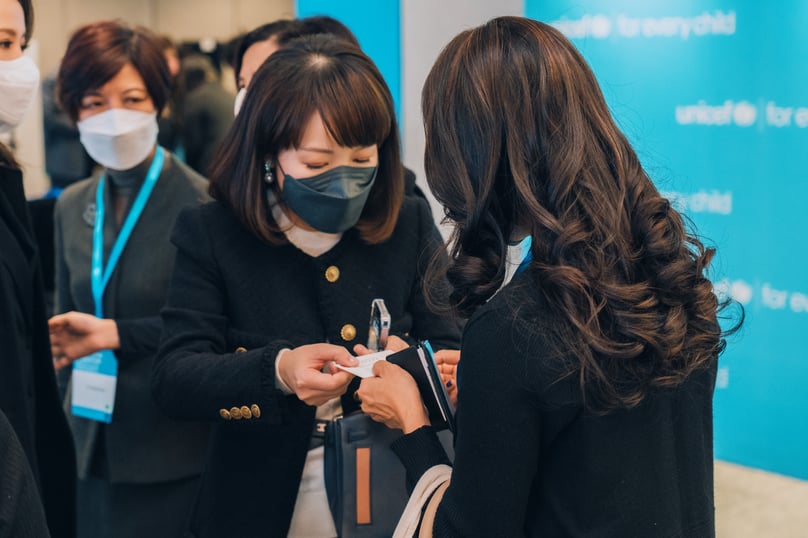 In today's digital world, face-to-face interaction has become a rare commodity, especially after the pandemic started. While it's true that we can connect with people from all over the world through the internet, nothing can replace the value of in-person communication. Conferences provide an opportunity for attendees to network and engage with others in their industry, share their knowledge and experiences, and learn from experts in their field. This type of interaction can be invaluable in building relationships and establishing connections that can lead to long-term partnerships.
By hosting a conference, businesses can create an environment where their target audience can connect with their brand on a more personal level, leading to increased loyalty and engagement. Moreover, conferences can provide an ideal platform for businesses to showcase their products or services, share their brand story, and establish themselves as thought leaders in their industry. Overall conferences can be a powerful tool for businesses to engage with their target audience, build relationships, and establish their brand presence in their industry.
Take a look at how EventX helped organize the Largest Tech Conference in the Philippines
Conferences Build Brand Awareness
Conferences are an effective way for businesses to build brand awareness. By participating in conferences, businesses can reach a highly targeted audience that is interested in their industry or niche. Through sponsored sessions, booths, and signage, businesses can increase their visibility and create a lasting impression on attendees. These branding opportunities allow businesses to showcase their products or services to a captive audience, and potentially generate leads and new business partnerships.
Additionally, conferences provide businesses with a platform to position themselves as thought leaders in their industry by presenting new research, speaking on panels, or leading workshops. By doing so, businesses can establish themselves as experts in their field and increase their reputation and credibility among their peers and target audience.
Conferences Provide Valuable Insights
Organizing a conference not only provides a platform for attendees to gain insights and knowledge but also offers valuable opportunities for organizers to learn and stay up-to-date with the latest industry trends and best practices. As organizers plan and execute a conference, they gain insights into what topics are most relevant to their target audience and what kind of sessions and activities are most effective in engaging attendees. They can also learn from keynote speakers and industry leaders and use this knowledge to improve their own business operations.
But you might face some difficulties...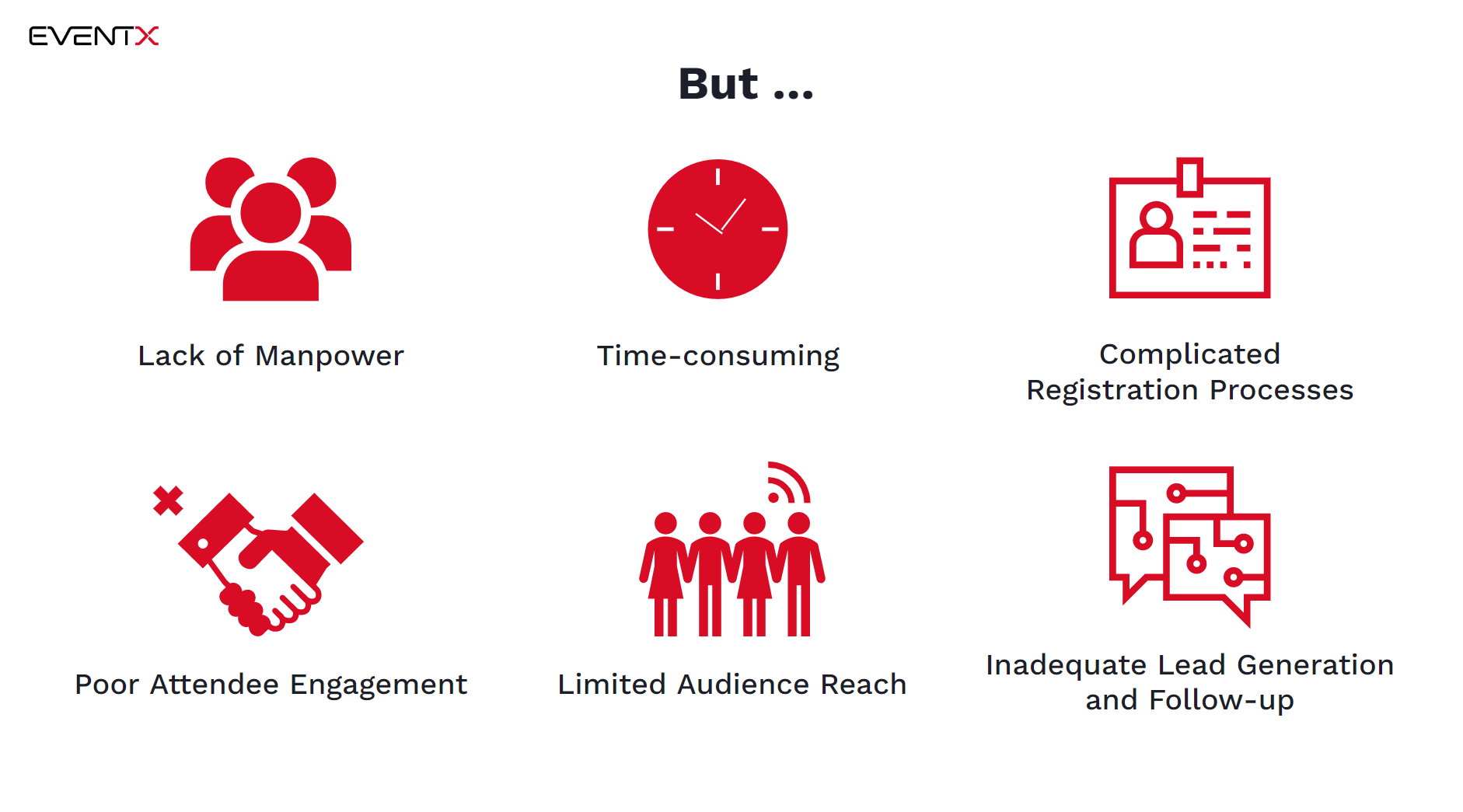 A conference can be customized down to the last detail, including finding the right attendees, inviting the right speakers, booking the best venue, managing logistics, and processing data collected from the event. This provides businesses with a very high degree of flexibility. However, it also means that it is an overwhelming process to handle, even for professional conference creators.
Lack of Manpower, tedious work being too time-consuming, complicated registration processes, poor attendee engagement, limited audience reach, inadequate lead generation and follow-up... These are lists of illustrations of the possible pinpoints one can face when organizing a big conference. But no worries, we are here to help.
How EventX Can Help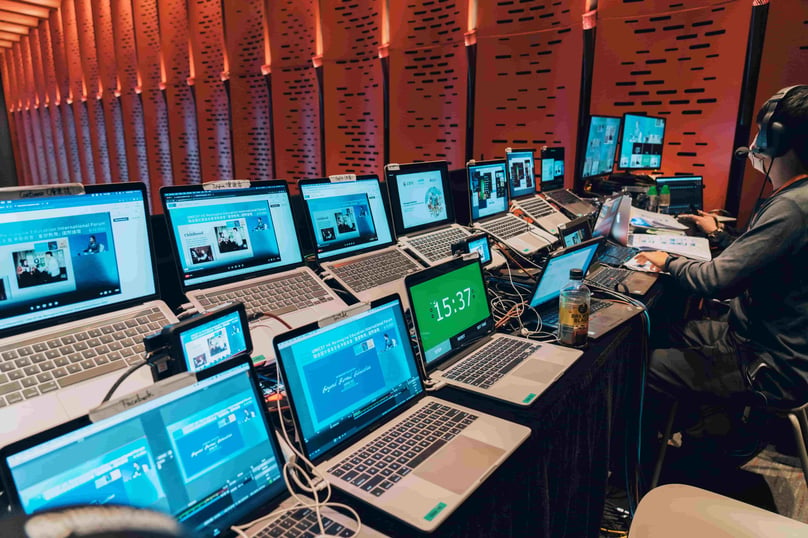 As an event management company, EventX has extensive experience in planning and executing conferences of all sizes. By partnering with EventX, from start to finish, businesses can benefit from every step of their event:
Pre-event
EventX is a comprehensive solution for businesses looking to plan successful conferences and events. Our end-to-end planning services cover everything from creating dynamic email registration forms and landing pages to generating attendee lists. We understand that planning an event can be overwhelming, which is why our team of experienced event planners is here to help. We work closely with businesses to understand their unique needs and objectives and use our Event Management System to create a seamless planning process.
During event
For in-person conferences, with our tech-first solutions, organizers will find their attendance management has never been so easy. We help digitalize their conferences to create interactive experiences and the whole management process will be streamlined. Impress attendees at the moment they arrive at the event reception with our check-in app. Reception can check-in guests easily with QR code scan through a tablet and mobile, then they can print a name badge for each guest in a few seconds. If you want to check and control attendees' data, just simply make use of our apps.

For virtual conferences, we value human interaction and strive to provide each participant with the most engaging virtual experience. From Polls, Chat Boxes, Q&As to reactions, different Interactive Audience Engagement functions are available. Furthermore, we understand that networking is a crucial aspect of any event, and at EventX, we make it easy for attendees to connect. Our networking lounge offers a range of features, including virtual business card exchange, matchmaking, and networking table.
Post-event
We believe that the key to event success is not just in the planning and execution, but also in the post-event follow-up. That's why we have developed a comprehensive suite of features that enable businesses to visualize their event performance, improve their strategies, and ultimately succeed.
One of our most valuable post-event features is our lead retrieval system. With this system, businesses can speed up the lead generation process, making it easy to follow up with potential leads right after the event. Also, with our post-event survey, businesses can gather feedback from attendees and gain valuable insights into what worked well and what can be improved. Moreover, our analytical report is designed to help businesses visualize their event data and track their progress toward their objectives. Finally, our follow-up email feature enables businesses to automatically send a personalized follow-up or thank-you email with a few clicks.
Conclusion
In conclusion, conferences are a powerful tool for businesses to engage with their target audience, build brand awareness, and gain valuable insights into their industry. By partnering with EventX, businesses can maximize their ROI and create a successful conference that leaves a lasting impression on attendees.
Q&A section
Q: Why do you need EventX for your in-person conference?
A: Planning, marketing and executing an event is a highly complex endeavour. With EventX's all-in-one Conference platform, you can have all of the tools and resources you need at once to host an awesome event. With simple one-click functionality, EventX makes event organization easy for anyone in any industry, whether they've been hosting in-person, virtual, or hybrid conferences before!
Q: How long does it take to plan a conference with EventX?
A: The timeline for planning a conference with EventX depends on various factors, such as the size of the conference and the services required. Contact us to get an estimate of the timeline for your conference.
Q: Does EventX offer virtual conference services?
A: Yes, EventX has developed new all-rounded event solutions, from pre-event to post-event, including in-person events, virtual events, and hybrid events.
Q: What are some of the technology features included in EventX's event management platform?
A: EventX's event management platform includes a range of technology features, such as Attendee Registration, Networking Lounge, Event Analytics, and Post-event Survey.
Interested in our solution?
Are you looking for a great one stop hybrid event solution for your virtual, physical or hybrid events?
You may want to have a chat with our event consultant.