Engage and impress your customers with technologies - from the first impression to their experience with you. Especially in this fast-paced era of web 3.0, digital technology and data decentralization is the future.
New technologies make marketers' life easier! More and more digital tools and platforms emerge to facilitate lead generation and customer experience and strengthen customer loyalty. We have developed a versatile yet friendly software program to quickly get your hands on the new technology in presenting your products and services. In addition, by organizing highly accessible webinars, building your loyal online to the offline community, and ensuring effective event management, we have opened up the gateway to more potential worldwide customers.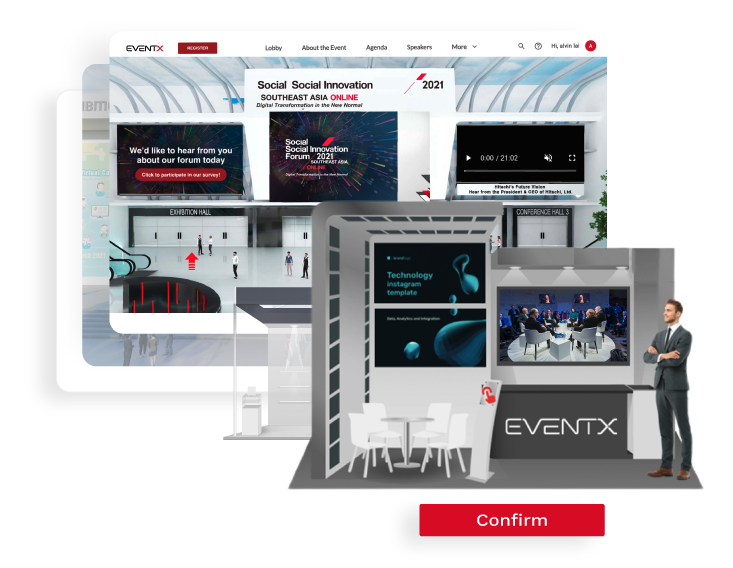 We recommend using the below technologies with our one-stop platform to connect customers, create engaging, immersive experiences, and more!
1. Breakthrough the anonymity of Gen Z
Creating face-to-face consumer engagement opportunities might be tricky when your target segment avoids such interactions. Millennials avoid phone conversations or in-person meetings in favor of the anonymity of text or email, so meet them where they live - on social channels like Instagram and Snapchat - and you will have better insights into the best opportunities to engage face to face. Having anonymity during virtual events/webinars encourages the audience to engage with the events more than having your name and face displayed. With our technology, attendees can build up their own avatars to join the events and happenings virtually. To create a more immersive experience, introduce your new collections with AR/VR simulated features. Let the boys try out the latest sneakers at home with outfit mix and match, and let the girl gang enjoy the lipstick launch in a cafe with BFFs. Who says Gen Z won't be enjoying themselves and sharing with their peers!
2. Couple technology with human insights
If technology were to understand the nuances of human emotion, there would be no need for dating apps. However, there are 2,600 available today. While technology can certainly help uncover human desires, the actual experience can be very complex. The best brands couple the use of both data and technology with human insights to foster deep, meaningful relationships together with us.
Through our years of event organizing experience and marketing expertise, we have compounded our findings and experiences with the support of data to create the one-stop platform. Our technology helps organize the most efficient virtual events through data analysis. Collecting demographic data of visitors and all interactions throughout the event with the clicks and footprints to booths empowers you with complete, in-depth target audience analytics. Track the attendance and conversion funnel performance, and this acquires all the intelligence to improve your upcoming events further. Optimize your strategy to connect with the audience better.
3. Enable automation to facilitate communication at anytime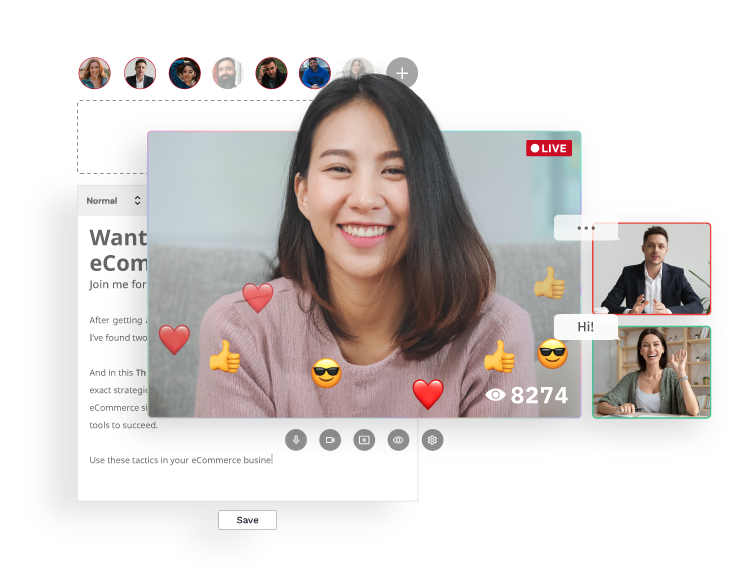 Managing your team, overseeing marketing efforts, and managing operations all at once will have you spreading yourself thin. Focus on these tasks enough, and you might miss out on opportunities to scale your business and stay competitive. Instead, enable automation on messenger channels and emails, where you can schedule and plan what to expect and how to respond. Subtract resources while ensuring timely response to the customers.
With our customizable email templates, you could bring customers through the eDM journey at ease without any coding. Our event-hosting technology also offers you an intuitive layout for automating all the email sequences to get items right at the desired time and conditions. So expect and prepare the best for your prospect. Our automation can be helpful in many sectors, to name but a few, customer service and event invitations/countdown teasers/follow-up surveys for efficient marketing, webinars, and virtual events.
4. Host a professional hybrid or virtual event
Bring potential customers into a virtual realm you build. As renowned brands are all getting their domains on metaverse and fashion brands holding their fashion weeks online, why not ride on the trend and host the new product launch event in the virtual world? Welcome your guests with an immersive 3D lobby, and guide them to tour around the booths and exhibition areas with templates customizable with brand identity. Make it as academic, artsy, or stylish as you wish - it's all upon your imagination, at your fingertips.
To appeal to a global audience, don't get bound by language. Instead, manage event venues and all content with multi-lingual support to organize and blast content in one go.
We understand you may want to keep some happenings on the ground in your flagship store to engage with more customers. Consider holding a hybrid event. In fact, the EventX software program helps boost your hybrid event attendance by up to 43%. With no transportation costs and up to 3,000 attendees capabilities, you could bring in more celebrities and honored guests to witness the grand events, letting them spread the exclusive experience with their audiences.
5. Go live to demonstrate products anywhere
While audiences are getting more used to watching live videos of influencers and commercial brands, keep them updated on your branded videos! Take the stage to present your hero products and promote their unique selling points over your competitors. Bundle with some live-limited or campaign-limited discount codes to retain attention. Launching a webinar stream does not require any app installation with our technology today. Everything can be done stably and seamlessly on the browser, regardless of any device.
Hosting live or on-demand webinars help the brand in building a professional image, while you could educate customers to leverage all your product functions! By explaining the design rationale, and research behind the idea, you are winning over your competitor. Video conferencing/video on demand is more mainstream in the modern era, where it takes less effort to join an event or webinar hosted on online platforms.
Webinars are now taking further than just engaging content. Instead, it acts as a stepping stone to broader marketing of your products - generating leads, nurturing leads, building a loyal relationship with customers, and eventually forming a community. Click here to learn how we do webinar marketing.
6. Utilize live social features
Have a glimpse at trending Discord and Twitter channels of NFTs, and learn how a loyal crowd can strongly support your business. Some virtual event platforms with community-building features, like us, help you create happenings and fosters real-time community engagement. Integrating and adapting technology in light of social media, speakers can encourage real-time interaction with polls, and gamified Q&A, while attendees could express emotions with real-time on-screen emojis! These tools enable further discussions while helping measure and quantify engagements.
During breaks between sessions, let the audience get into breakout rooms in the Networking Lounge for deeper valuable conversations! Sorted by interests in topics/speakers or project teams, seize the opportunity to grow closer relationships and exchange information for more possible collaborations. What a great way for your team to know and interact with different audiences from around the globe who share mutual interests!
7. Host worldwide events and monetize them
As a business-to-business digital marketing company, we assist clients with the sales process. Hosting paid events can help you generate revenues everywhere. Paid events are always accessible for most of our worldwide clients with excellent protection secured by PCI Controls, powered by Stripe. Hosting worldwide events for your business is more efficient than ever at EventX, with much more possibilities.
EventX is here for you
Everything you need for bringing things digital is ready right here and now. We understand that a digital transformation is never easy, but inevitably, it is a world of potential global audiences your business would want to explore. And it is high time to explore and expand. That's why we have been proactively improving our all-in-one platform with the most advanced technology to help you streamline the work and get the most out of the benefits the digital world has to offer.
EventX, in collaboration with well-known brands, respected event agencies, and leading trade bodies in Asia, has supported over 10,000 events with 5 million attendees and offered event marketing services in over 135 countries. Every feature we provide will help your business connect better with customers step by step. For example, webinars and virtual events are now much easier to host than ever before. Hosting and marketing your webinars with us is a way to bring 10X growth for your business, and we have every tool required to host the most successful hybrid or virtual event. Check reviews on G2 to learn about our client's experiences.
With us, you can expect effective digital integration of business with minimal in-house technical support. Experience our ultimate software program, insightful data analytics, and customized event support to save time and resources, embrace new technology, and connect with your global audiences in seamless integration.
Interested in our solution?
Are you looking for a great one stop hybrid event solution for your virtual, physical or hybrid events?
You may want to have a chat with our event consultant.