BENEFITS
Customizable Virtual Booths Make The Best Exhibitions!
No event would truly be complete without exhibitor booths, a place for vendors and exhibitors to share products or information with attendees. Virtual events are no exception and EventX's virtual booth tools will give your guests a digital marketplace to browse and connect.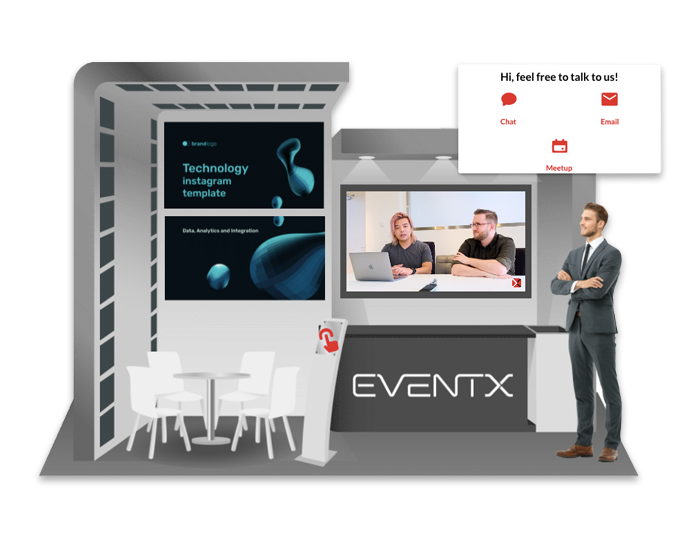 Virtual Booth Exhibition Hall
Event attendees can browse a gallery of all the virtual booths present at your event in one convenient window.

The entire vendor directory can be presented in its full glory or — in order to assist navigation — can be filtered by whatever criteria an organizer decides. In addition, individual booths can be found through the search function.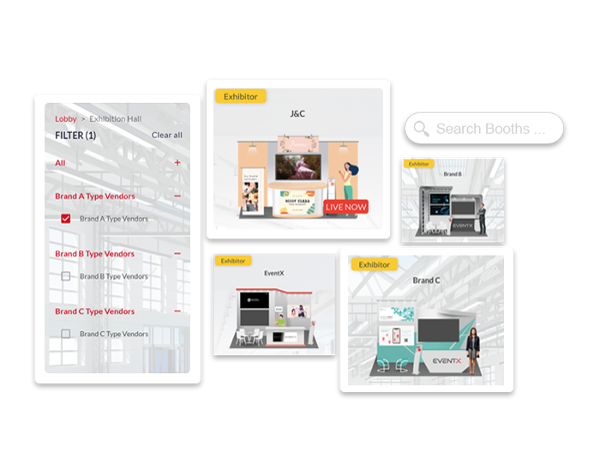 Virtual Booth Customization
We know how important your brand is, which is why our virtual booths are highly customizable. Exhibitors can be highly creative, working off of one of our beautiful existing templates and color schemes, or by creating their own customized designs.

Exhibitors can also make their brand clearly identifiable, by uploading imagery such as logos and banners, and even have videos on display that play when visitors arrive.

Lastly, to make sure that when visitors leave a booth they do so knowing everything they can about your brand, we have given exhibitors the ability to not only present their info but to provide all manner of multimedia documentation (such as leaflets and brochures) to their guests.
Virtual Booth Chat
When visitors come to your virtual booth, you will see them arrive, and when they do you can chat with them in several ways.

Firstly, you can use the public chatroom function and say a big hello to everyone there!

But let's say you need a little privacy to discuss matters, in that case, you can set up a private chatroom for just a few select people.

And if you just want to reach one person directly you can always send them a direct message. There's chat for every occasion!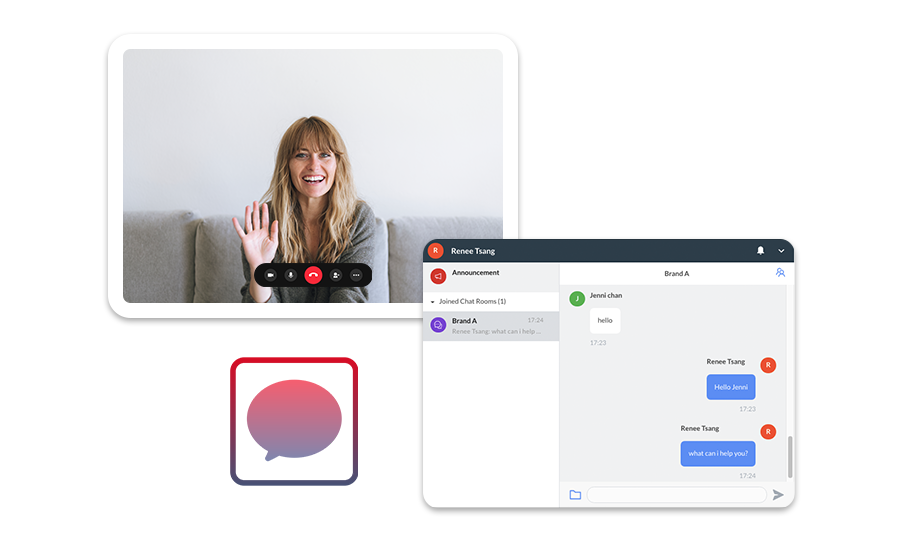 Virtual Booth Dashboard and Data Enrichment
Knowing as much as possible about who visits your virtual booth is extremely helpful, especially when they could be potential customers.

This is why we have incorporated a selection of features to inform exhibitor interactions. The virtual booth dashboard has been infused with data enrichment functionality that will allow exhibitors to view information guests have consented to be shown such as their job title, organization, and what products at the virtual event they have shown an interest in. This information could make all the difference to how a conversation starts and what the end result will be.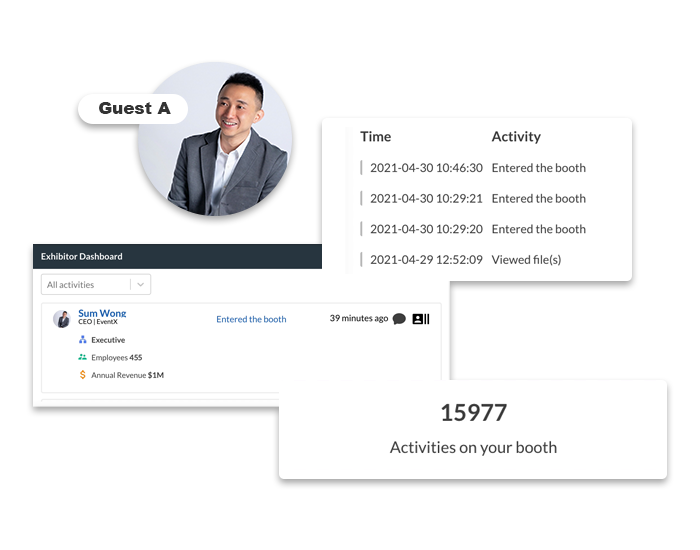 Frequently Asked Questions About Virtual Booths
What is a virtual booth?
Similar to a booth in physical events like conventions or exhibitions, a virtual booth is a space within a larger virtual event where various assets can be displayed. Assets like images, text, logos, banners, video and even a chatbot can be displayed in virtual booths to encourage the attendee engagement and interaction during the virtual event.
What online events are virtual booths suitable for?
Virtual booths are suitable for online events like virtual trade shows, virtual expo, virtual product launch and any other events you can think of. Here's a question that may help you determine if virtual booths are suitable for your virtual event: If the event was held in person, would you plan for a physical booth? If your answer is yes, then virtual booths would be suitable for your virtual event.
What are the benefits of having virtual booths?
Virtual booths provide a great opportunity for you to interact and engage with your online attendees. Booth visitors will be able to get a clearer picture of your products and services when they interact with the assets at your booth. These assets could be in the form of a gallery of images, a video, links, opportunities to speak with the exhibitor and more.
How to make the most out of a virtual booth?
If you're hosting a virtual booth, there are some things you can do to make the most out of the booth. The most important thing would be to make it easy for your audience to engage with you and your brand, perhaps through a chatbox or a downloadable handout. If you're selling a product, ensure that it is easy for your audience to make a purchase. After which, you can also use your virtual booth to acquire the contact details of your audience.
Want to start event in minutes?