Champions

of Online Meeting and Virtual Event

SAY HELLO To Super Convenient Video Conferencing!
Greater event experience for Greater China!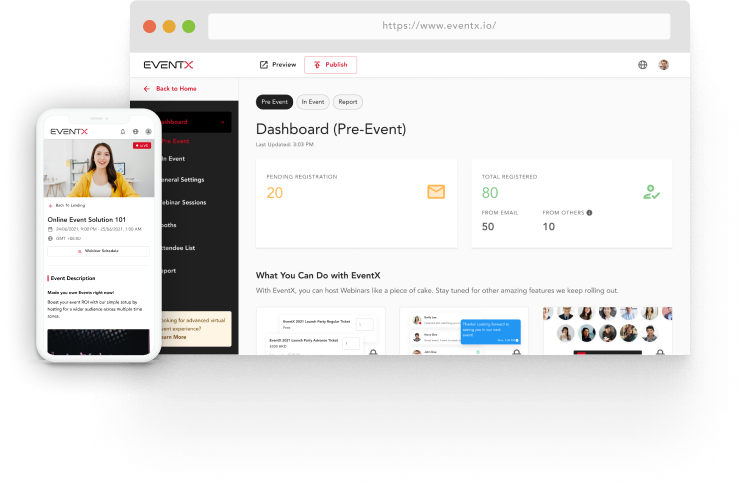 OUR ADVANTAGE
Why Choose EventX?
NEW PRODUCT - EVENTX WEBINAR
EventX Webinar Use Case
Online Classes

Workshop

Live Broadcast

Annual General Management

Host online classes with ZERO cost
You can host a class with up to 1000 students with an ease-of-use interface.
In-built live streaming supports engaging, smooth and high-resolution experience.
Engage students and parents with using breakroom, live chat, polls, and Q&A.
Post-class analytics to understand the most engaging moment in the sessions.
Remote Focus Group
You can engage with target audience in their natural environment and at their convenience.
Gather qualitative data and in-depth insights from target audience to drive brand growth.
Interactive social lounge to connect with audiences and build authentic relationships.
No need to install any application to run your webinars, neither do your participants in order to attend.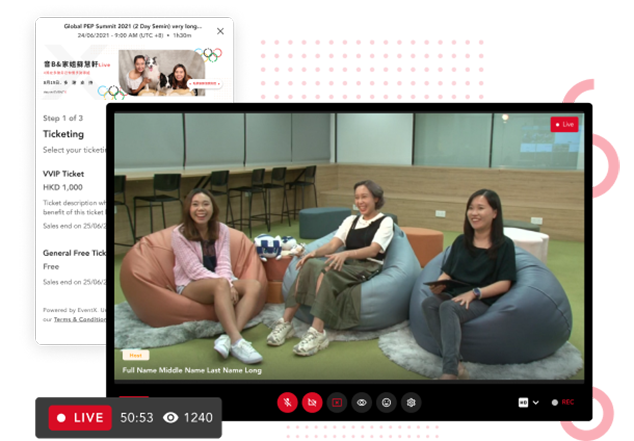 A Start Was Born. Show Time!
You don't have time limit in the free version - focus on your performance!
Comprehensive admin controls over cams, mics and screens of all your attendees.
Full-stack live show capability for everyone, everywhere and everytime.
Save your time by using our automatic landing page with registration and auto-reminders.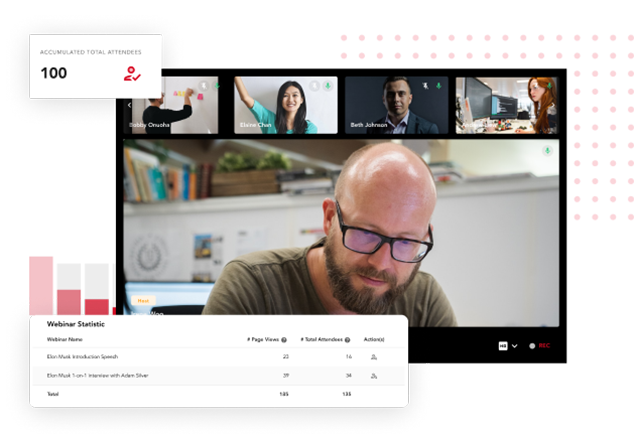 Run hackathons or Town Halls. Just Do It!
Save your time by using our automatic landing page, calenders integration and auto reminders.
Share your screen with sound, present slides on-screen, and play your favorite videos.
Generate detailed post-event report of your attendees' interactions in your live sessions.
Schedule your virtual networking happy hours and celebration events with your teams.
BRING VIRTUAL EVENTS TO LIFE
Lobby, Booth, Streaming, Networking. All you need for hybrid event!
When your attendees arrive at your virtual event, you want to make an impact, wowing them within moments while presenting your brand identity clearly and proudly.

Welcome your attendees to an area that recreates the central physical spaces of traditional events, such as conference venues, luxury hotels, and university campuses.

The settings for your Virtual Lobby can be customized as needed. Colors, images, text, and buttons can be changed to suit your needs.

A virtual lobby is a perfect place to showcase your event's sponsors and participating brands. Put logos and messaging on banners! Showcase content on embedded videos!


Connect Talent with Global Employers
Chinese University of Hong Kong conducted 5 career fairs and over 1000 mock interviews for their students from different faculities and departments. Job hunters and HR departments conduct real-time interviews at the lounge attached to the booths. The booth branded with employer details, brochures, and downloadable job descriptions.


Experiencing the Future of Commerce with BNext
With over 100,000 attendees and 150 innovative brands shared and experienced the Future of Commerce. The Business Next hosted the 7th "Future Commerce Expo" which aimed to provide businesses with solutions and resources for transformation such as AR Immersive Experience.


Japan's Largest Sales/Marketing Show
The largest sales and marketing trade show in Japan. It was the pioneer virtual trade show in the japanese history during the pandemic with close to 200,000 attendees and over 7,000 domestic merchants showcase their award-winning designer products and national tranditional handcrafts.


HTC VIVE 2021
HTC VIVE shared the most exciting, immersive, forward-leading VR technology with globe. In this annually product launch event, HTC showcased the latest VR technology, go-to-market products, and the future applications as the strategic alliance of EventX. More virtual reality events to come!
EventX, your all-rounded professional virtual event buddy.
Your pain? We understand. This is why we do what we do, and can provide you with an experience like no other.